Can the internet really help me find Jesus?
Discover the best Catholic content online.
Grow closer to Jesus.
Be inspired.
Step out in faith.
I'm looking for Catholic…
Disclaimer:
Catholics Online does not embrace or endorse all the views and opinions of its members.
We support their work inasmuch as it is faithful to the Catholic Church.
Social Media Prayer Lock Screen Wallpaper
Want to be more intentional about your social media use?
Give your cell phone an inspirational makeover with this brand new prayer. Penned by Amy Brooks and designed by Sara Estabrooks, this lockscreen/phone wallpaper provides a reminder to pause and pray before going on a social media platform.
This free digital download includes 10 designs to choose from.
Can be used on all smart phones.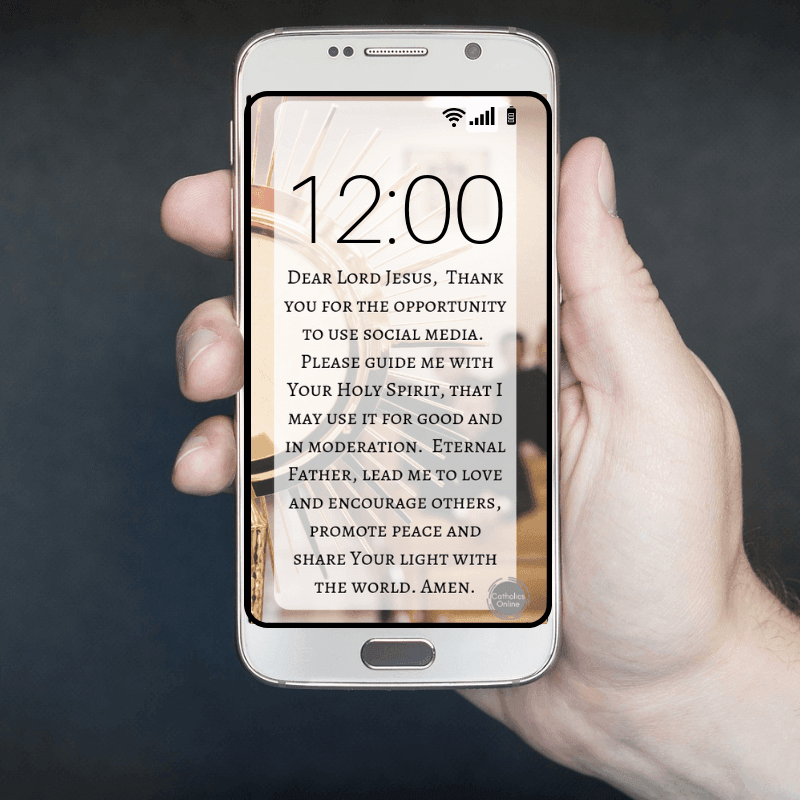 Are you a Catholic speaker, writer, artisan, or ministry? Then this video is for you!Learn more here: https://catholicsonline.net/apply/

Posted by Catholics Online on Monday, September 17, 2018
If you're looking to increase exposure for your blog, product, or business; you're hoping to obtain paid opportunities for your speaking gig or shop; or you're searching for a sponsor or business partner to connect with, the Catholics Online Directory is the place for you.
Catholics Online is a community of dedicated Catholics who seek to inspire all people to love and grow closer to Our Lord Jesus.
As social media influencers, directory members work to shine the light of Christ in the darkness. Each ministry listed provides a source of inspiration for Catholics to pray more, participate in the sacraments and share their faith on social media and within their communities. We believe inspiration is the first step towards holier individuals, families, and communities.
Catholics Online's mission is to help each directory member achieve his or her goals. Inspiration was the first step in starting their business and/or ministry. We seek to help with the next steps and goals once they begin and assist in continuing to thrive. Whether our members goals include
more exposure,
a community that provides constructive feedback,
acquiring tools that will provide growth,
or monetization,
we seek to provide the information and resources needed.
We believe in the power of prayer and the importance of Christian love and fellowship.
Join the Catholics Online Directory
and be welcomed into our team of influencers.
Not only has Catholics Online helped me understand some of the practicals of blogging and marketing, but it has also opened my eyes to the wonderful, supportive community of Catholics who desire to support one another in a common mission to share the love of Christ on social media. God is truly glorified in this community!
Catholics Online is a great group of talented writers, artists, and small business owners who show a genuine interest in each other's endeavors. Thanks for allowing me to be a part of this special group of individuals!
When I found Catholics Online, I was amazed. Women and men were interacting with each other online, giving feedback on each other's work, and providing that community I'd desired for so long. Because of my membership at Catholics Online, I've improved my blog, writing style, and most importantly, have found amazing friends. Membership to Catholics Online is highly recommended!
By helping one another, the members of Catholics Online are united in the common goal of spreading the love of Christ no matter where our specialties lie, and there's no greater feeling than that.