This post is contributed by Amy Brooks, Founder of Catholics Online and Author of Prayer, Wine, Chocolate.
When I was young, I didn't fit in with the the other girls.
Even though we had similar interests.  Even though we were in the same grade, on the same team and lived in the same neighborhood.
I was awkward.  I was a late bloomer.  I wasn't all that attractive.
I thought I was one of the few who often felt left out.
Looking back, I realize many girls feel this way in what is now called "middle school."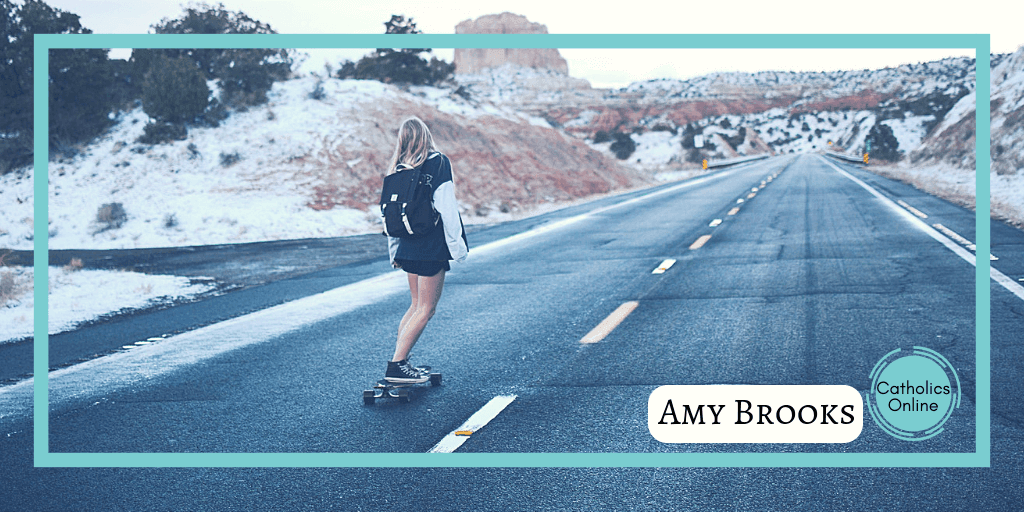 It's a rough age – even if you are pretty and not completely awkward.
Since feeling out of place and "not cool" often hurt my heart, I would go to my Aunts and my mother and confide in them.  It hurt my feelings that I often wasn't included and seemed to have a tough time making friends.
The advice I often received was:
Just be yourself.
I remember thinking.
What does that even mean?
Who am I?
How do I "just be myself"?
At the age of 13 I couldn't tell you what my talent was – in fact, I was certain I did not have one.
I could give you a laundry list of what I wasn't good at . . .
I tried every sport, and even though I enjoyed playing, I wasn't a star player.
I tried art . . .nope, no talent there either.
I couldn't play an instrument.  I was only an okay student.
It was a tough age then . . . and we didn't have cell phones, social media and the constant pressure to do "all the things".
Looking Back
Looking back, I can see one of the greatest decisions I ever made was to cling to my faith, believe that God was listening to my prayers, and use His Word in Scripture as guidelines for my choices.
I can't go back and give my 13 year old self a gift.
But to any young lady who is asking:
Who am I and why am I here?
The journal, Be Yourself: A Journal for Catholic Girls, is a gift from me.
I want every tween and teen girl to celebrate the fact that:
God created her for a reason – a reason only she can fulfill.
God wants her to be cheerful and embrace hope.
God has a mission for her and needs her to act out of love each and every day.
God is there during the rough times, and that those times will not last  forever.
God really does give the best advice.
I wrote a book titled:
I had so much fun writing this journal!  I got to be young again!
There are pages that remind the journaler that God made all of creation for us to enjoy . . . and fun questions and games like "would you rather pick flowers or pick pumpkins"???
There are simple short answer questions and thought provoking writing prompts.
I try my best to help anyone who is searching a glimpse of God's love and plan in my book:
I would be so grateful if you ordered a copy today!
If you are still on the fence, you can read reviews on PrayerWineChocolate.com and Amazon.
The latest review on PrayerWineChocolate was written by Doug Johnson (husband of Abby Johnson – both are portrayed in the movie Unplanned). Doug and Abby's 12 year old daughter Grace loves her Be Yourself Journal!
Here is what Doug says in his review (after giving it 5 stars!):
"What's harder than getting a 12 year old girl off of her phone? Not much!!!

Don't get me wrong. I love that our oldest child enjoys being social with her friends, can FaceTime her mother who travels a lot, and has found some fun ways to be creative with her phone. But there is something to be said about cracking open and actual book and reading. Something happens in our heads and our hearts when we put pen to paper to share our thoughts and feelings through creativity. And that's the magic of this journal!!! We love Amy's book because it is a good break from those things that can distract us from our faith and prayer time. Be yourself is a perfect way way to stay connected. Grace has approached us several times to discuss the themes and shows us her creative musings.

Grace would even tell you that it's easy to get caught up in this journal. She'll plan on spending 5 minutes working in it and before she knows it, an hour has passed by. She enjoys reflecting parts she has already read or worked on as well as exploring new parts of the book. Again, just a great tool for catechizing and connecting young girls to their faith"
Buy Now
Buy a copy of the Be Yourself Journal for the tween girl you know who could use some encouragement to Be Herself!