Have you convinced yourself that you need to be doing big dramatic gestures to make your marriage thrive?
So often it's the little things we do that really make a difference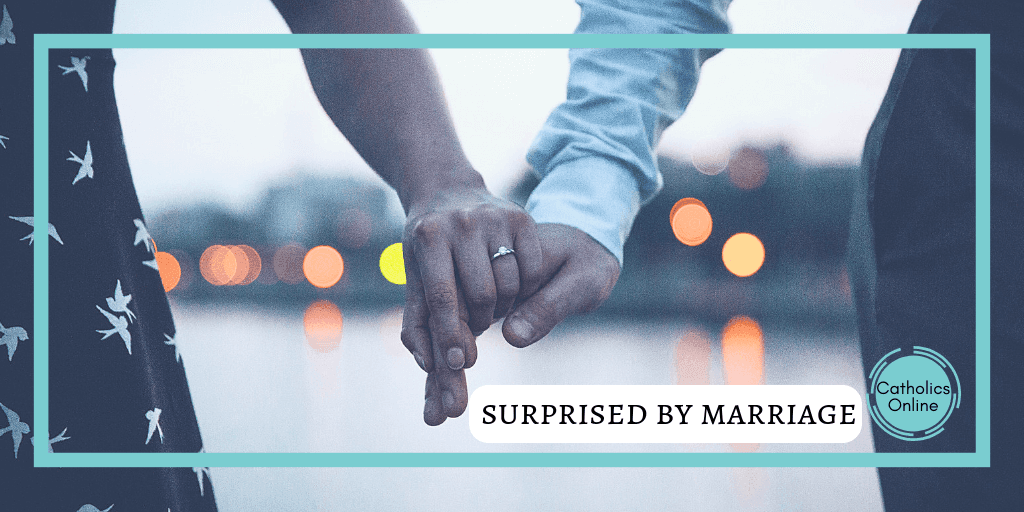 One of the reasons we started Surprised By Marriage is because we realized how much of a difference it makes when we're both putting a consistent effort into our relationship through small daily acts.
And we also realized that is how we will get each other to heaven!
Small steps towards holiness.
Maybe you're in a phase of life where you don't have enough brain power at the end of the day to think of what you can do to foster your relationship with your spouse.
Or maybe you just want a little bit of help. If that's the case, we can help!
Here are 3 tools you can use that help you be intentional with your marriage:
1. Weekly marriage challenges.
We post a challenge every Monday on Instagram and Facebook using the hashtag #marriagemondaychallenge.
You can also get the challenges via email if you sign up for our weekly newsletter!
The challenges range from spiritual things to do together, a conversation starter, or a fun relationship activity like planning a date night.
Some weeks the challenge are fun, and some weeks it's more on the serious side.
2. A Month for Your Marriage Challenge cards.
These were inspired by our weekly challenges – they're just on cards!
You print them out, cut them out, and put them in a box or similar container.
Even though the name suggests you complete it in a month, you can use them however you'd like. There are 31 challenge cards, each with a challenge and suggestions on how to complete it.
You can pick one a day for a month, or pick one a week, or just pick one whenever you feel like you need to do a little something extra together.
Find out more info here.
3. Better Together marriage journal.
We've learned how important it is to come together on a weekly basis, to talk about different areas and to make sure we're on the same page.
Our marriage journal provides a weekly page to fill out together (including a prompt asking how you will make your marriage a priority that week), as well as a several extras – like a date night bucket list and a quarterly check-in page.
Find out more details here.
Your Marriage Needs God
Remember to keep God at the center of your relationship and to do something each day for your marriage.
You'll be amazed at what that consistent effort will do to transform your relationship with God and with each other.
We'd love if you tell us: What do you do to be intentional in your marriage and keep God in the center of it?
Surprised By Marriage – Sharing the struggles and graces of Catholic marriage
We're Logan and Jen, high school sweethearts who married in 2009 and parents to 3 young boys. After being surprised by so many trials in marriage, we realized just how awesome and grace-filled marriage can be when we're striving to put God first and our marriage second. Although we take our relationship seriously, we like to have fun in the process! Through our videos, blog posts, and more, we hope to encourage others to make their marriage a priority. Join us as we share all the ways we've been Surprised By Marriage!