Putting on jewelry is one way of saying, "this event is a special occasion."
Whether it's going to Mass on Sunday, a friend's wedding, a job interview, business meeting or simply a day outside the house- jewelry helps you "put on your best self".
Wearing Catholic jewelry and religious medals is one way you can reassure yourself and the world that no matter what, you can do all things through Christ who strengthens you.
If you are looking for a gift that will be unique and enjoyed?  We have several ideas for you and your loved ones!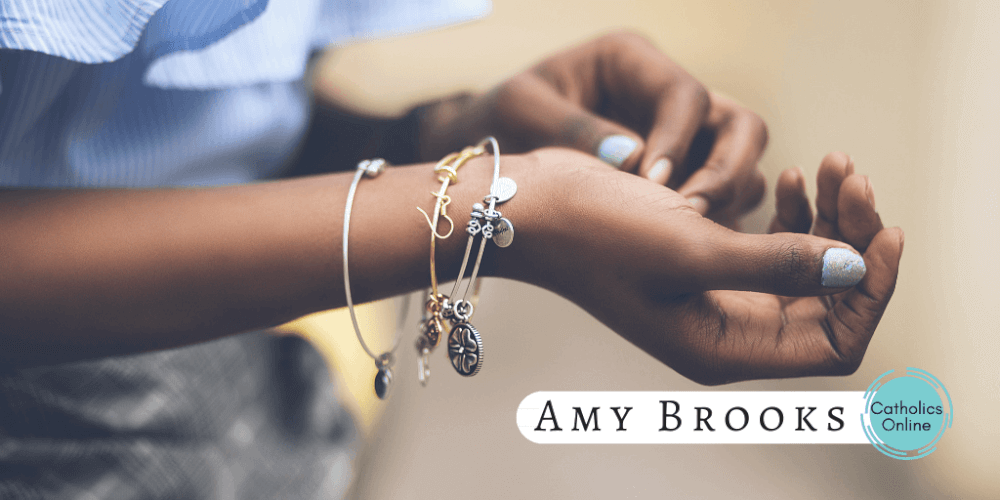 Catholic Earrings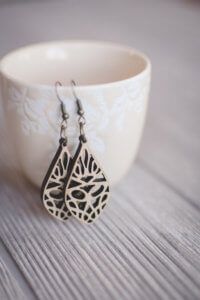 Pink Salt Riot's The Lettered Lace collection features a variety of words hand lettered from top to bottom and mirrored to create unique geometrics with a hidden meaning, like the word LOVE in these earrings.
Totally obscured when worn vertically, the word comes into focus when laid on its side.
These pieces speak to humanity's duel desire for truth and beauty in the lovely lines of the geometrics and the deep inspirational spark the words themselves invoke – the two functions woven seamlessly together.
The wood is finished maple, and the the earrings themselves are effortlessly lightweight. Each design is hand drawn by our Creative Director and cut in our studio with a laser before the earrings are assembled by hand by our team of makers.
Christian Bracelets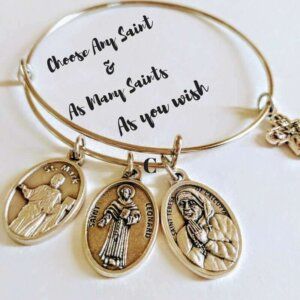 A custom Saint Bangle Bracelet 
Cherubbella makes custom bracelets.  You can pick any saint and add as many saints as you wish!
Personalized Rosary Bracelets from Mary With You
Personalize Rosary bracelets, water resistant, adjustable and you can pick your bracelet color from over 20 colors, add your initial and pick the style you like the most!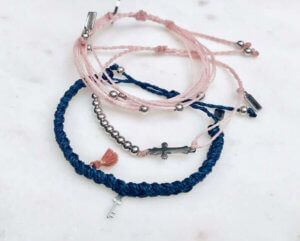 Joyful Mystery dried flower bracelet- each flower represents a different mystery of the rosary.
Includes a card with an explanation and meaning behind each flower.
Unique, gold Catholic bracelet featuring dried flowers representing the Joyful Mysteries of the Rosary! Each flower used is chosen based on the medieval names in a Mary Garden.
The Marian names are meant to help call to mind the Joyful Mysteries of the rosary. Each bracelet is made with high quality 24k gold plated links, with a hinge clasp, and fits a 7″ wrist.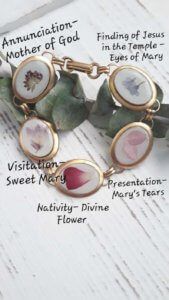 Faith centered rings
A Gorgeous Ring from Telos Design
Beautiful Sacred Heart rings in gold and silver.  Telos also has incredibly trendy and uniquely designed rings.
Our favorite – the VERSO L'ALTO RING SET
This stunning vermeil style stacking ring set features a rustic hammered band paired with an abstract mountain form.
The set reminds us that while the journey is long is rough, our ultimate goal of heaven is worth our constant striving to reach the summit.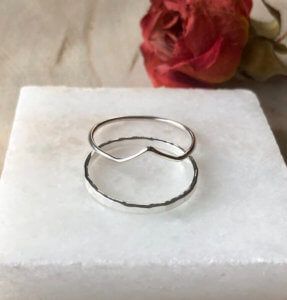 Set is inspired by Bl. Pier Giorgio.Pier Giorgio actually wrote these words himself on the back of the photo which was taken by a fellow climber on June 7, 1925. Because of Pier Giorgio's sudden death one month later, it turned out to be his last climb.  So, although it was never his personal motto, "Verso l'alto" became representative of Pier Giorgio's earthly life — a constant striving to reach the summit of eternal life.
It has become the motto of many people who have a devotion to him
Holy Necklaces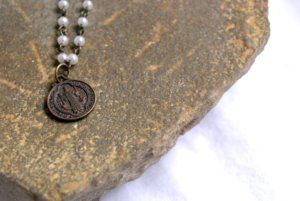 A Miraculous Medal Pendant Necklace from SaongJai
Catholic Diffuser Necklaces by Happy Nest Home Goods
Catholic Vintage Saint Benedict Necklace from Rakstar Designs
Remember, not only do these gifts bring style to the recipient, they also bring hope to the artisan and small business owner.  Each of these shops seek to be a light in the darkness and bring more souls closer to Our Lord Jesus.  These are truly wonderful gifts to give in honor of our Savior's birth!
Want more encouragement for your faith life?
Subscribe to our newsletter!