This Advent, you can prepare for Christmas without being a Scrooge.
You can still decorate your house, go shopping and celebrate while you prayerfully prepare for Our Lord's birth!
Over 30 Catholic influencers are providing resources and activities that make waiting for Jesus meaningful and memorable. These bloggers, artisans and ministries offer fun ideas for you and your family!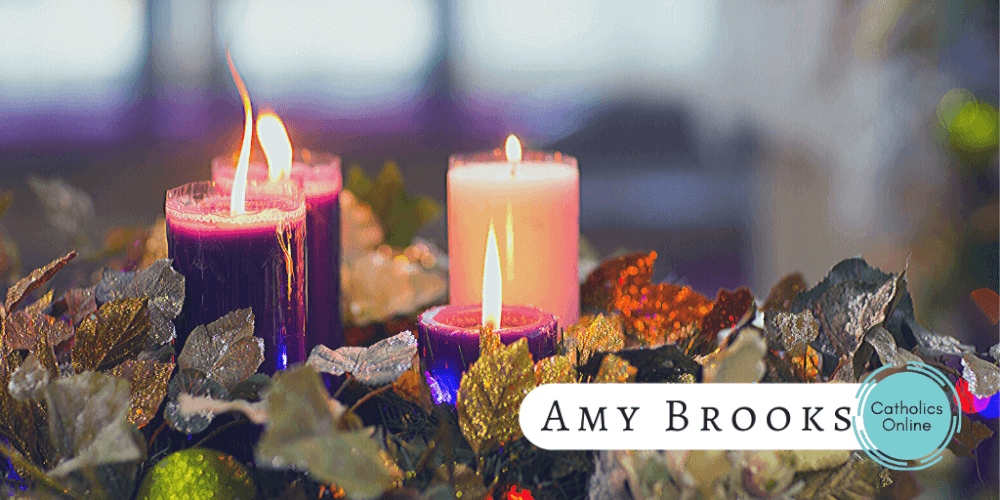 We are breaking these resources down into 5 easy steps:
Decorate
Play
Pray
Celebrate
and Stay Connected.
If you want digital resources for that will help you with these steps – purchase the Mom Bundle! The Advent Mom Bundle is only available this week!  It contains 24 helpful resources – that purchased separately would cost over $300.  You can get them all for $25!!!
If this list seems too long – check out our Advent Preview here and come back to this one later! A Sneak Peek at the Best Resources for Advent 2019
1. Decorate Your Home
Sweet Little Ones Advent Wreath Banner
Prayerfully celebrate this Advent with this Advent Wreath Banner!
The purple, pink, and  , holly prints have a beautiful watercolor background, and the center 'candle' of Christ is written in golden yellow.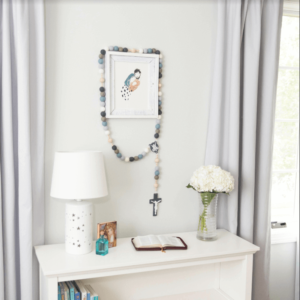 These are not your grandma's wall rosaries 🙂
These rosaries are made from felt balls and wood beads.  These are intended to be hung on the wall.  Currently, there are over 20 different designs, making them a great piece to showcase in any room in your home.  Each felt ball is made of 100% sheep's wool and are 2cm in diameter (about the size of a quarter).  They are strung on a cotton cord with small natural wood beads separating the decades.
Add Holy Ornaments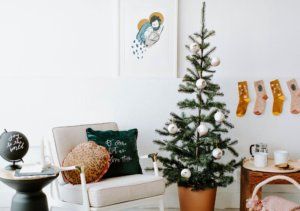 We love the brand new ornaments from Be a Heart!O Come Let us Adore Him Christmas Ornament
Celebrate the Holy Family and the real joy of the Christmas season with these non breakable ornaments. The painting was drawn by hand and placed on each ornament. 
Packaged in a beautiful box with the image and lettering, it makes the perfect gift for Godchildren, hostess gifts, ornament exchanges, teachers and more.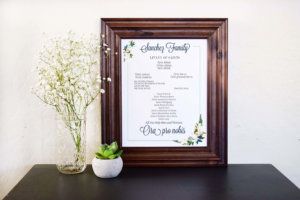 Does your family have a list of favorite saints? Turn that list into a unique, personalized litany. Put it on your wall, on your prayer table, or gift one to family.
2. Play With the Little Ones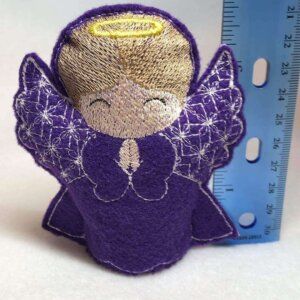 Natalie the Nativity Angel is a Christian alternative to the mischievous elf popular this time of year.
It's a great way for kids learn to think of others and the true meaning of the season and prepare for the birth of Jesus.
Use an Advent Candle Sticker Set from My Little Patron
This adorable Advent candle sticker set is perfect if you need a flameless option! Place one flame on a candle for every Sunday during Advent starting with the candle that says hope. On Christmas, place the Christ Child in the arms of Joseph and Mary and a flame on the white candle.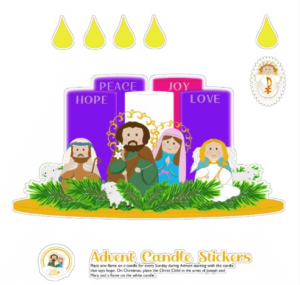 The Jesse Tree is a favorite Advent tradition. Beginning on December 1, each day we hang an ornament depicting a certain personage in Jesus' genealogy.
Then, starting December 17, we peruse the O Antiphons: each celebrating a different name for Jesus. A different way He fulfills the prophesies of the Messiah from the Old Testament.
We finish off with Christmas Eve and Christmas. Days on which we celebrate the closeness of Jesus, the Light of the World, and the incredible joy of His Incarnation.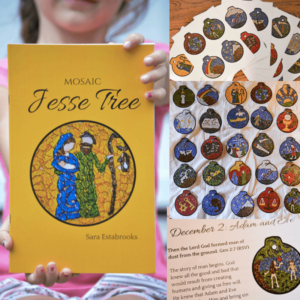 Download this Advent Guide PDF
This 50 page digital download includes
a cute fillable Advent calendar,
coloring pages for the saints plus holy cards of them,
interactive Advent wreath & coloring pages including one for each Sunday,
O Antiphon coloring pages & Ornaments,
OL of Loreto gingerbread house template,
Abigail the Angel, a coloring Christmas Countdown, and
a letter to Baby Jesus template.
and a 2019 Advent calendar.
3. Spend time in prayer
Read Our Friend Faustina, Life Lessons in Divine Mercy
This is a perfect "busy season" read!  It's a collection of personal stories – so take 5 or 10 minutes a day to learn and pray with this saint!  Coffee welcome 🙂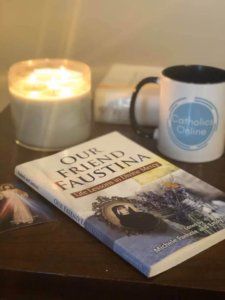 Michele Faehnle and Emily Jaminet, the writing team behind Divine Mercy for Moms, have assembled an extraordinary collection of essays by modern women, all joined by their common friendship with one extraordinary person: St. Faustina Kowalska (1905-1938)
Sharing tales of ordinary and extraordinary graces with wit and laughter, these faith-filled women explain how St. Faustina has loved them, mentored them, and inspired them to live with mercy toward all.
The reviews are very positive, like this one by Tami Kiser (author of Smart Martha's Catholic Guide for Busy Moms)
These Life Lessons were just what my lukewarm heart needed.  I was moved by the encouraging stories of how others came to be devoted to Divine Mercy and how they were sought and befriended by St. Faustina.  The beautiful prayers closing each chapter further rekindled my joy and love to this saint and devotion to Divine Mercy. If your Divine Mercy Devotion has become tired and St. Faustina needs to befriended again, then let Life Lessons in Divine Mercy teach you to love them anew.
Be more intentional about reading Scripture and praying the Rosary.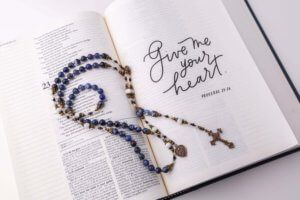 Buy yourself an early Christmas present – a GOOD, well made Rosary. Or, buy someone the gift of a Rosary and before Christmas, pray a Rosary for that person!*****The 15% coupon code for the Catholics Online readers is CATHOLICSONLINE15 which is good now through the end of the year.
Della at Della Madonna Rosaries has created the Miraculous Medal rosary necklace just for the Catholics Online readers.  Made, with quality gemstones, vintage bronze metals and love, her rosaries are lovely gifts of faith for the special people in your life.
Della Madonna Rosaries The Della Madonna Story:
The owner of Della Madonna shares why she started this small business:
My mom was very active at our local church and ran the church gift shop.  When I was about 8 years old, she came home with a brown paper grocery bag of colorful of plastic beads.  We were on now on a mission to make mission rosary beads!  Over the next two years, we made hundreds.  It was quite the production!

Then when the Pope announced that Mother Teresa would be being canonized as a saint, it inspired me to begin creating rosaries again to honor Our Lady for the gift of the rosary.   And that's how Della Madonna was started!
Go to Adoration – even if it's just for 10 minutes.
Pray using a Journal!  Here are some prompts: Advent Prayer Journal Prompts for Busy Christians
Focus on one name of Jesus each day of Advent
Receiving the Gift- 24 Advent card set with stand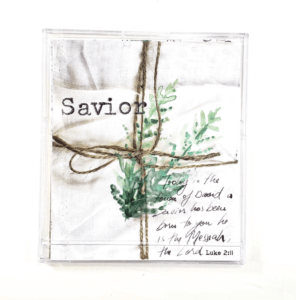 The set of 24 cards, one for each day of the Advent,
focuses on one of the names of Jesus in the Bible, helping us pause and let that name sink in, because that attribute is a gift for us as well. The cards come in a clear plastic jewel case which serves as a desktop display as well.
The card set is part of the Advent kit for Bile journaling 'Receiving the Gift'. In a limited quantity, I made this card set available on its own because it is such a beautiful reminder of the Indescribable Gift we have received.
Designed and illustrated by artist Ingrid Blixt (Ingrid Art Studio).
+ 24 advent cards (each 4.25″x5.5″") with jewel case
4. Remember the Feast Days and Celebrate them!
St. Nicholas' feast day is December 6th!
Wear St. Nicholas socks on December 6th! Have your family members leave out their shoes on the evening before and put holy, but trendy, gifts in there!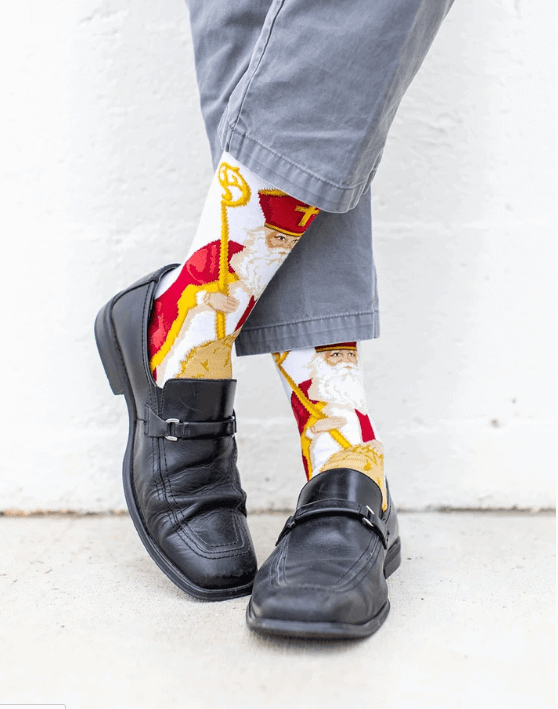 These awesome socks are great for kids, teens, men, women and adults of all ages! (And they truly fit in shoes)
Sock Religious has a variety of these fun gifts, including Our Lady of Guadalupe Socks!
And Fulton Sheen is being Beatified on December 21st – get the awesome "Life is worth living socks" to celebrate!
Our Lady of Guadalupe's feast is December 12th (beautiful stack necklace available from Pink Salt Riot)
There are quite a few other feast days in the month of December.  Choose one to write out and even color Christmas cards.  On these days, use only holy Christmas cards!
5. Subscribe…
…to CatholicsOnline.net's newsletter to stay connected during Advent and throughout the whole year.