Our Catholic Directory has almost 200 incredible Catholic Creators listed.
Here's a glimpse of the light and love they produce, so that you can joyfully share the love of Christ with others!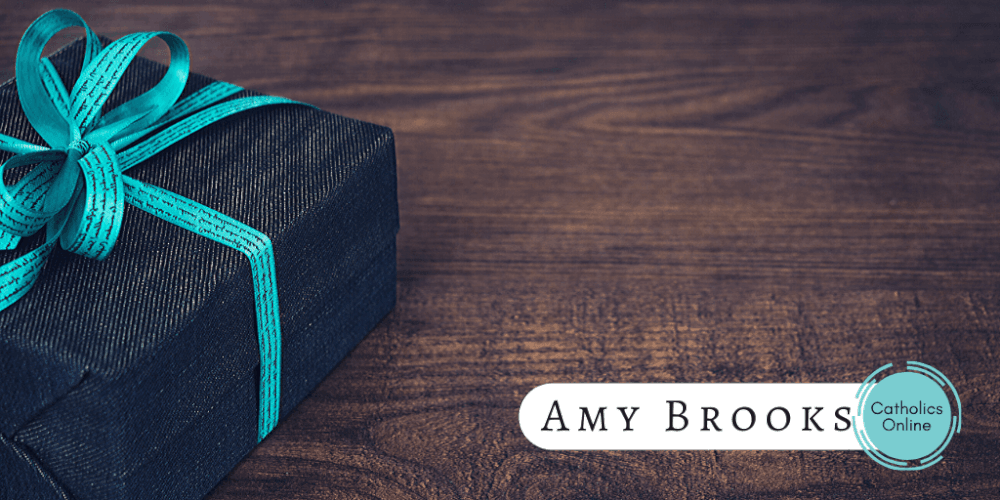 Gifts for the Little Ones!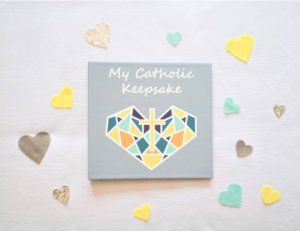 You take photos of every special moment in your child's life.
You might even have a baby memory book you've used in the past. But, does your book include placeholders for baptism, first Holy Communion, first reconciliation, confirmation and other Catholic milestones?
Look no further than "My Catholic Keepsake." This memory / record book provides a home for your child's photos, surrounded by scripture, saint quotes and a modern design.⁠
Capture your child's faith AND developmental milestones from birth to age 18. From baby's first step and first time going to Mass, all the way to confirmation and Senior Year, this book helps parents document all the important moments.
It is a keepsake to be cherished for years and years and makes the perfect Christmas, baby shower or baptism gift!
RosaryRingChews are a sized up silicone version of a rosary ring. They are perfect for little hands to hold and a great way to introduce our little ones to an important part of our Catholic Faith while being soft and soothing to teething gums.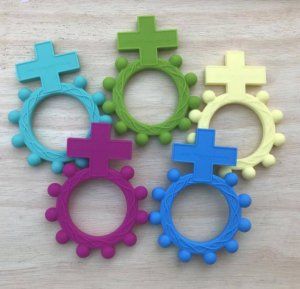 The very first Shining Light Dolls Plush dolls have arrived and they are even cuter than we imagined!
Handcrafted from the softest plush we could find, and standing at roughly 10 inches tall these plush dolls are sure to become your little one's favorite companions!
Gorgeous embroidery details on Jesus' chest and face make this plush even more of a treasure.
The Sacred Heart Jesus is dressed in classic red and white with the Sacred Heart embroidered on his chest.
All dolls come tagged with feast day and patronage information, ready for gifting (if you can manage to let them go!) Plush material is surface washable. Safe + non-toxic: US + Canadian safety standard certified.
USE CODE CATHOLICSONLINE for 10% off!
For Families:
The personalized family litany of saints, customized with a family's favorite patron saints.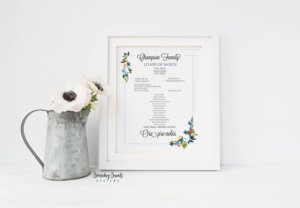 Unbelievably fluffy and warm Sacred Heart blanket- this high-quality cozy fleece blanket is impossible to leave behind, wherever one might go. The perfect size for snuggling on the couch, by the fireplace or at outdoor events.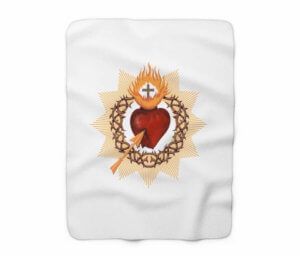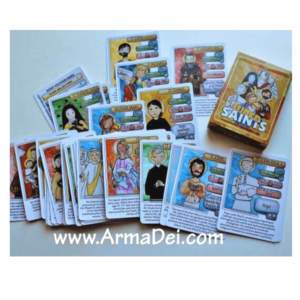 SAINTS cards you can play real card games with! 54 Saint Cards in a glossy printed box.
These Super Saints Cards offer full color Kelly Saints illustrations, quick and  quantifiable facts and a short biography for quizzing and friendly war card games.
Great gift for families, stocking stuffers, Godchild gifts, Sacrament Gifts!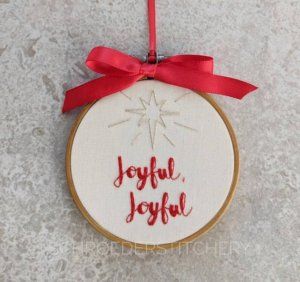 This hand-embroidered Christmas ornament was inspired by the Christmas hymn "Joyful, Joyful, we adore Thee".
It has the words "joyful, joyful" at the center, stitched in vibrant red thread. the North Star, stitched in metallic silver thread, shines like a beacon above the words.
Tied up like a gift with a red satin bow and ribbon, this ornament arrives ready to hang on the tree
For the Newly-engaged or Newlywed!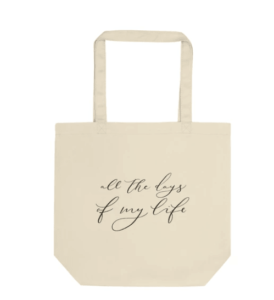 Tote bags are such a practical gift!  This one from Spoken Bride is a visible reminder of your vows, ideally sized for a honeymoon carry-on & durable enough for everyday use as you walk the path of your vocation. Great for a stocking stuffer or for a re-usable gift bag! Spoken Bride has a whole shop dedicated Catholics who are planning a wedding or starting out in marriage!  It's a beautiful ministry!
For Women: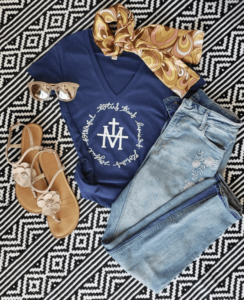 Mary is an integral part of our faith and this tee humbly reminds us of some beautiful aspects of being a Marian Devotee!
Bringing together the four mysteries of the Rosary, Joyful, Sorrowful, Glorious, and Luminous, as well as St. John Paul II's favorite saying, Totus Tuus, with the linked M and Cross from the Miraculous Medal, symbolizing the intricate bond between Earth, the Cross of Christ, and Our Blessed Mother: this tee packs one hefty Marian punch…errr…prayer!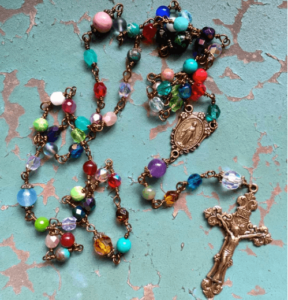 Gail, the owner of RosaryHabit, as a young girl growing up in Nebraska, found comfort in the bits and pieces of faith uncovered in the collections of her mother and grandmother.
She has a passion for designing legacy pieces of jewelry and rosaries. The sight of women at Midnight Mass who wore finely crafted medals from the Vatican,  also inspired her to design remarkable pieces for women of faith.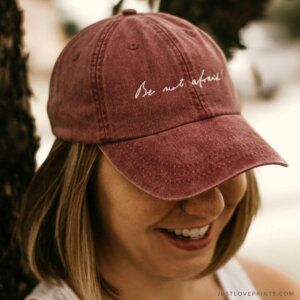 Wear this baseball cap as a reminder to say YES to God and his mission for you! The embroidered "Be not afraid!" is written in St. John Paul II's actual handwriting! This hat is gender neutral (one site fits all) and the maroon color works well for both girls and guys.
Jewelry
Does the woman you shop for LOVE jewelry?  Check out this post for more ideas! The Gift of Catholic Jewelry (beauty for her body and soul this Christmas)
Journals
Does she love to write or would she enjoy a journal?  Check out this post for more ideas: 7 Best Journals for Busy Catholics
A Prayer Wine Chocolate Sweatshirt
Prayer Wine Chocolate is a fun blog and often 3 favorite things!  The one pictured below is in Navy!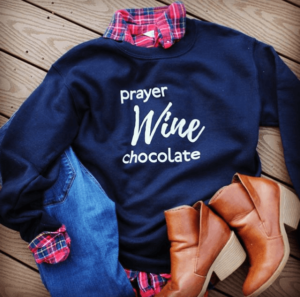 For Men: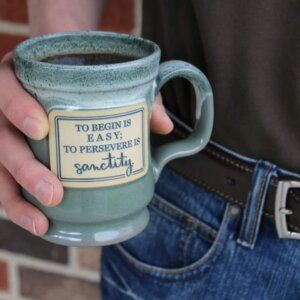 The perfect quote by St. Josemaria Escriva to start your day – just fill with your favorite coffee and enjoy the morning.
Elayne, the owner, designed the hand-lettering and typology, while a small pottery factory right here in the USA hand-throws each mug.
The medallion is stamped and attached, and each mug is hand-dipped so that no two are exactly the same.
The sage mug with hunter white glaze and natural tan medallion holds 12 ounces of your favorite beverage.  This high quality stoneware is lead free and safe for the microwave, dishwasher, freezer, and oven.
Pray, Hope and Don't Worry Hat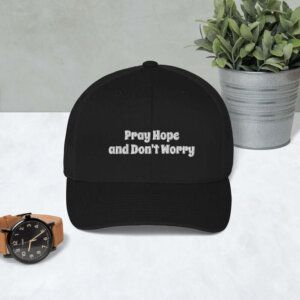 Pray Hope and Don't Worry Tee Shirt
Saint Nicholas (or Saint Francis, or Saint Michael . . .) Socks!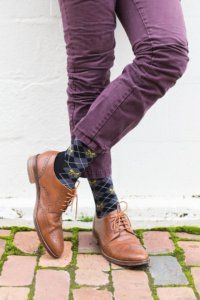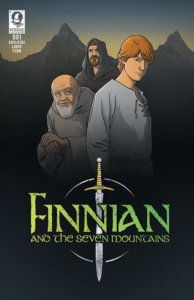 Seeking to avenge the death of his parents at the hands of Viking marauders, a young man named Finnian leaves his monastic school in Ireland to find a legendary sword rumored to have the extraordinary power to defeat evil.
Join writer Philip Kosloski, and artists Michael LaVoy and Jim Fern (AMAZING SPIDER-MAN, X-MEN ANNUAL, and CROSSING MIDNIGHT) on an epic adventure that begins on the mysterious island of Skellig Michael, where the sword was last seen.
Will Finnian find the mythical sword and lead the way to victory? Or will the Vikings continue to destroy innocent villagers? After reading the book, one Amazon reviewer states:
"I've been reading comics for 30 years, and Finnian and the Seven Mountains is easily one of the best books I've had the pleasure of owning. An excellent story with great art. A wonderful Catholic adventure that was a joy to read. I can't wait for the next issue!!"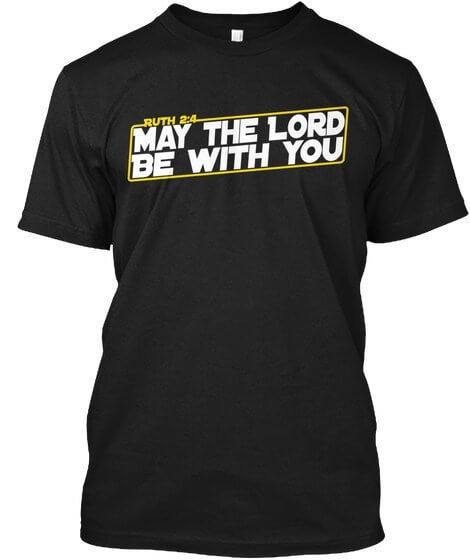 Gifts that Keep on Giving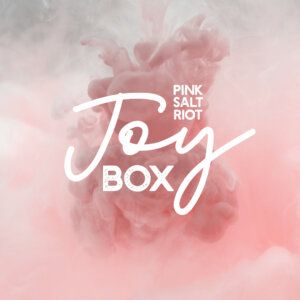 Our quarterly subscription box will be delivered to their door in early March, June, September, and December of each year, lining up with the changing of the seasons. 
With the Joy Box subscription you will have beautiful, thoughtful, and unique handmade products on hand to give when someone is sick, downtrodden, struggling or rejoicing.
You will have beautiful prints to slip in with a meal for a new mom.
Thoughtful cards to send to Ann in accounting that just got a promotion.
Unique and stunning jewelry to pass on to your niece when she gets the lead in the play.
A simple uplifting keychain to add some encouragement to the life of your newly widowed neighbor.
Each box includes:
2-3 5×7 art prints
6 greeting cards (2 or more designs each box)
2+ vinyl stickers
2-3 pieces of jewelry, accessories, and other handmade goodies to give + keep
Surprises! (surprises have included an extra stickers, a printed gift bag, tattoos, and more!)
The Wanderlust Catholic Subscription Box
Receive a hand-lettered and illustrated letter each month describing a pilgrim's travels to a Catholic treasure!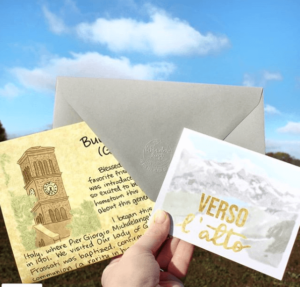 Wanderlust Catholic by Annunciation Designs
An adventurer's pilgrimage told through monthly letters
We are so pleased to introduce our newest project to help call to mind the Sacred – The Wanderlust Catholic!  Each month, subscribers will receive a hand-lettered and illustrated letter detailing the beauty and wonder of a piece of Catholicism.  Explore churches, apparition sites, Saints' homes, pilgrimage sites, local traditions, and more.  Children and adults alike will watch the mailbox in anticipation, awaiting a new tale.
Just $6 a month, your letter will surprise, delight, and instruct your family.
Subscribe here – Letters ship by the 15th of each month!
he Novena Sock Club is the perfect gift for a loved one that keeps on giving. For nine months, Sock Religious will send one our top selling socks that are listed below. We've also partnered with PrayMoreNovenas.com to send along a novena prayer with each box!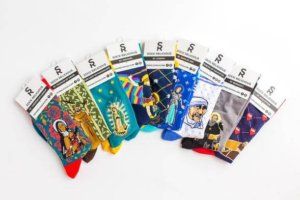 Here are the socks in this sock club subscription:
St. Therese of Lisieux
St. Francis of Assisi
Our Lady of Guadalupe
St. Michael
St. Joseph
St. Joan of Arc
St. Teresa of Calcutta
St. Benedict
St. Augustine
Want more encouragement for your faith life?
Subscribe to our newsletter!