This post contains affiliate links. If you shop through these links, Catholics Online makes a percentage at no extra cost to you.
I struggle at multi-tasking.  I hear women are supposedly good at it.
Yet another reason to take away my domestic goddess card.
However, I can drive and listen to the radio at the same time.  I also don't want to brag, but, I can also make my bed and listen to something.  Hey, sometimes I can even listen while doing the dishes or laundry.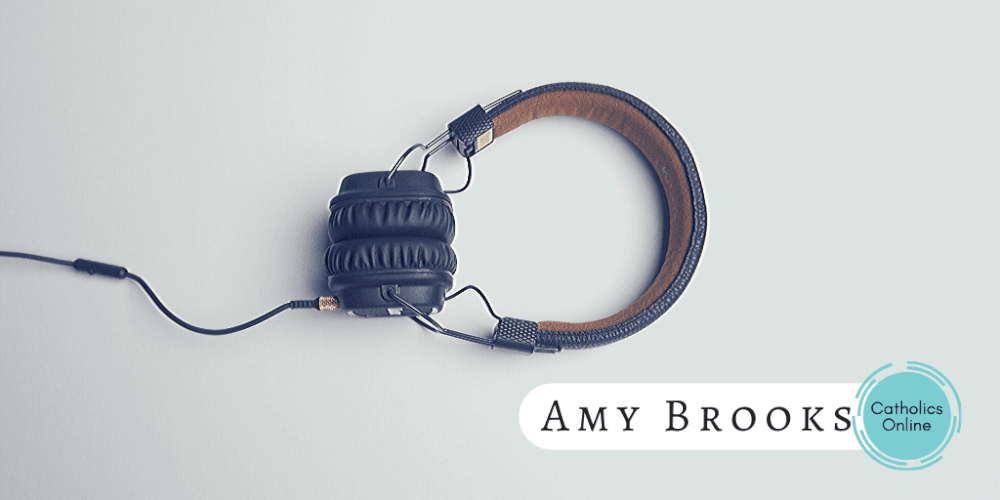 I want to get the most out of my listening time, though.
What can I listen to that will really help me grow?  How can I reach my goals of growing closer to Christ?
The challenge is: I'm too busy to add another thing.
The question: How can I combine my newfound love for audio content with my desire to become a better person, and at the same time, not add another overwhelming task to my plate?
The answer: podcasts.
Since there seem to be an uncountable number out there, I'd like to suggest a few for those seeking one base on the Catholic Faith. Chances are, one of these will resonate with you.  Give them a try and tell us what you think!
For those who love quotes and look for inspiration in daily living, check out:
Quote Me with Lindsay Schlegel
For the parent who has at least one child asking a hundred questions about God and life, check out :
Raising Saints: Helping Kids Hear God's Voice
For those who want to understand the Catholic Faith more and possibly defend the faith better check out :
For the stay at home parent, there is a podcast for you.
Let's explore some of these, and dive in to even MORE podcasts for Catholics in every walk of life!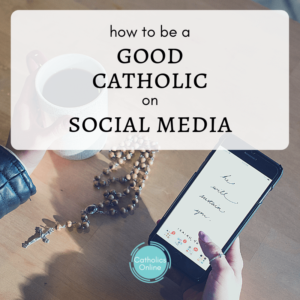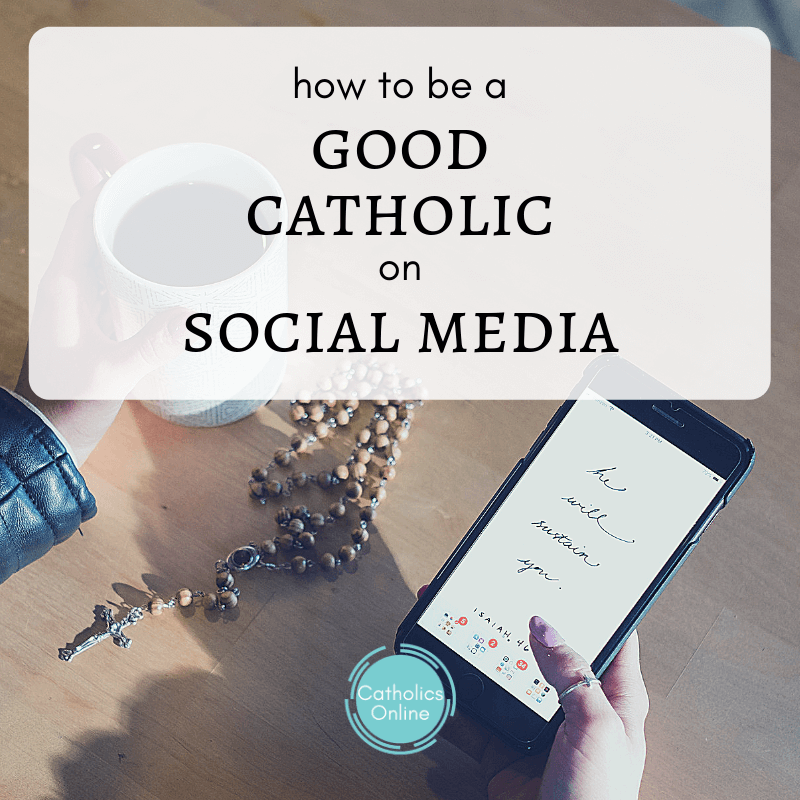 Tim and Sara, co-hosts of Home But Not Alone, talk about real life as a stay-at-home Catholic parent.
If it's noon and you're still in your pajamas, have reheated your coffee three times, and tried to pray but got distracted, this is the place for you! Life is crazy, but through it all, remember: you're never alone.
You've got God's grace and our friendship coming your way.
Here's a favorite episode to listen to: Are Parents Called to Contemplative Prayer?
Episodes to listen to:
S1 E12 Elayne Miller "The greatest gift you ever give is your honest self."
S1 E13 Leslie Sholly "Cast all your cares on God; that anchor holds."
Season two has kicked off, and it will feature another round of amazing conversations!
Check out the first episode in this season: Sara Estabrooks: "Be sure that wheresoever our lot is cast we may and must aim at the perfect life."
And coming soon, I myself 😉 (Amy Brooks) will appear on this podcast!
Kids have the most beautiful insights into the Catholic faith, but sometimes their questions are difficult to answer. On Raising Saints, we are a priest and a mom who are eager to do our best to answer kids' questions on God, the Church, the faith, and more!
Alexandra Sullivan is a wife and mother of three. Fr. Michael Connolly is the Parochial Vicar of the Church of St. Columba in Hopewell Junction, N.Y.
On the Raising Saints podcast, we are a priest and a mom who are eager to do our best to answer kids' questions on God, the Church, the faith, and more!
Are you or someone you know an adult child of divorced parents?  Divorce can cause numerous wounds to all involved.
Sometimes others try minimize the damage caused by divorce by saying things like, "Children are resilient. They'll be ok." But the truth is, as the podcast host has learned from first-hand experience, divorce ALWAYS hurts.
No one escapes unharmed.
In this episode, Anne DeSantis appears as a guest to discuss the many shades of pain caused by divorce.
Anne is the director of the Saint Raymond Nonnatus Foundation.
"The initial mission of the SAINT RAYMOND NONNATUS FOUNDATION is to reach out and accompany individuals, children and families impacted, affected, or wounded by divorce and help them sustain (or reconcile) their redemptive relationship with Jesus Christ and His Holy Church."  Anne is on a mission to help those affected by divorce find healing, peace, and spiritual growth.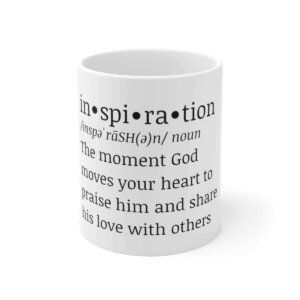 The feminine genius isn't a box that you have to stuff yourself into.
It's not a cookie-cutter model for how to live authentically as a Catholic woman. In fact, the feminine genius will look different in the life of every woman since we all have our own story to live, our own journey back to the Father's heart.
Welcome to Letters to Women, a podcast that explores the feminine genius.
Every other week, join host Chloe Langr as she dives in with other Catholic women about how they embrace their unique feminine genius in their ordinary, daily life as women.
Revelation 3:16, "So, because you are lukewarm, neither hot nor cold, I will spit you out of my mouth."
Deanna wants to help you live "not lukewarm" too! One of her greatest joys is to walk with people on their faith journey.
She believes that the more you know about God and your faith, the more deeply you will fall in love with him. And when you fall in love with God, you want to reach out to others in gratitude.
The Not Lukewarm podcast is about journeying together and learning how to live our faith every day.
For those who want to understand the Catholic Faith more and possibly defend the faith better . . . Check out The Catholic Podcast, particularly this episode:
Episode 85 – How Did the Bible Come to Be?
Topics discussed:​
Common misunderstandings about the origin of the Bible
The canon of Scripture
Why Catholics don't rely on Scripture alone for doctrine
Which books belong in the Bible
Whether the Word of God and the Bible are synonyms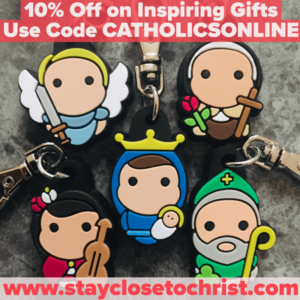 For those who like to listen to a good story check out the Ruah Storytellers Podcast
The Catechism says the following: ⁠
"The term "Spirit" translates the Hebrew word ruah, which, in its primary sense, means breath, air, wind. Jesus indeed uses the sensory image of the wind to suggest to Nicodemus the transcendent newness of him who is personally God's breath, the divine Spirit." (CCC 690)⁠
Stories have a way of breaking down the walls between us, allowing us to see (perhaps for the first time) the very real humanity of the other. We are forced to realize, whether we want to or not, that we are all connected through our shared humanity. The pain, suffering, and joys of another aren't so different from my own journey, my own joys.
Do Something Beautiful
For those hoping to be inspired, check out Leah Darrow's Do Something Beautiful Podcast
Mother Teresa once advised, "Do Something Beautiful for God".  Leah Darrow named her podcast after that advice, and interviews people who are actively doing beautiful things for Our Lord.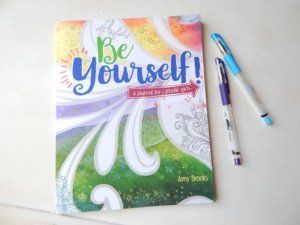 Even More Great Catholic Podcasts!
Our directory has a wealth of Catholic podcasts you will love! Explore them all, here.
Are You a Catholic Podcaster?
We'd love to get to know you more, and support the great work you do in spreading the Gospel message!
Join our Directory to connect with other podcasters and Catholic influencers.