This post contains affiliate or associate links with several businesses (which means if you shop through the links, I earn a small commission). As an Amazon Associate I earn from qualifying purchases.
Recently one of our influencers reached out to our Catholics Online community saying:
My pastor wants to put together stuff for a kid's bag for little kiddos to use during Mass at the parish. He asked me to put together a list of products and where to find them.
On a personal note, the idea of a "Mass bag" has been on my mind a lot lately.
I have twin two year olds.
Mass for our family has been quite interesting for over a year now. We need Mass bags – for my sanity and for the good of anyone who attends the same Mass as us.
So when our members started dropping links, I paid close attention.  Turns out, there are some great resources out there for your toddlers and preschoolers – as well as a Mass Journal for older children as well.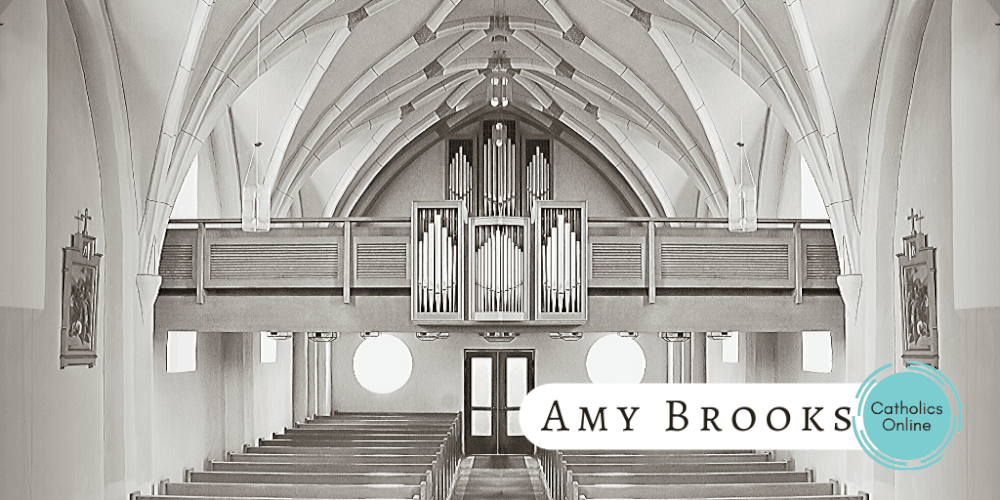 Mass Bags (for Sundays and Adoration too)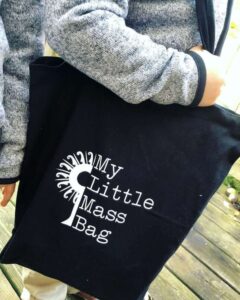 My Little Mass Bag is the perfect accessory for your child to take to Mass!
Now that our boys have grown out of a "baby bag" we needed something to put the their stuff in every week when we go to church for adoration or Mass. It's perfect because they know it's their designated space for their own items.
We put their little Saint books, kids prayer books, a faith based coloring page with crayons & even their little rosary's in it & we're good to go!
Length: 13 1/4"
Width: 13 1/4"
Thickness: 3 3/4"
Handle Drop Length: 9"
Care: Machine Wash, Cold With Like Colors; Do Not Bleach; Warm Iron; Tumble Dry, Low.
This cute Holy Family tote is perfect for filling with all your favorite things to keep the little ones focused in Mass!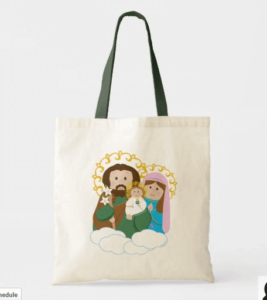 Adoration Bundle Bag (ideal for children ages 7 to 12)
This Bag Bundle comes with a bag perfect for Mass and Adoration, plus a prayer journal is written to help children encounter the Lord while praying in Adoration.
Includes a tote bag, journal, 3″ round sticker, mini sticker, large holy card by Delphina Rose Art featuring the Trinity and Divine Praises prayer.
The 63-page journal is based on the Psalms, and includes: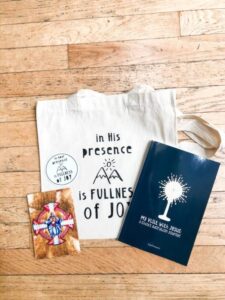 19 Psalms and reflections.
Questions for children to think about
Room to write prayers and thoughts.
Coloring pages to complement the Psalms and reflections
Blank pages for drawing or journaling
Lined page to track prayers for specific people
Additional prayers for Adoration
Terms to know about Adoration
Guide for praying in Adoration, to help children appreciate and understand their time before the Lord.
The Be Yourself Journal is also a great tool for young girls to use during Adoration!  Check it out here: Be Yourself Journal
What to put in the bag:
Delphina Rose Art sells a variety of PDF coloring books which include this Saint Collection.
Saints Collection 1. – hand-drawn, advanced coloring pages perfect for personal prayer and meditation. Instant digital download.
Images included in PDF: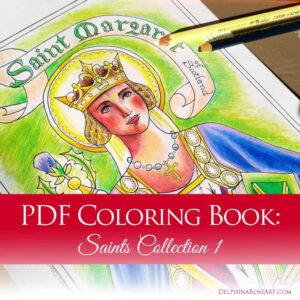 Agatha of Sicily
Apollonia
Cecilia of Rome
Francis of Assisi
Jadwiga of Poland
Joan of Arc
Josephine Bakhita
Books
An adorable children's saint book that journeys through the alphabet with cute little saints. Your children are sure to be delighted with the cheerful illustrations while learning their alphabet and a few moral nuggets from the saints and blesseds!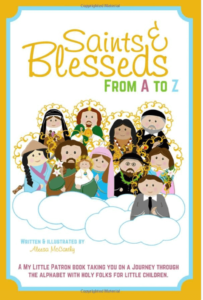 Light of Sunday is a board book that uses mixed media to share over 40 articles of Catholic worship in a beautiful, engaging way.
Sturdy paperboard – designed specifically for playful little hands, spills, and teethers, too!
5.625″ x 5.625″
Teaches over 40 articles of Catholic worship, including the object's meaning and proper name
All poetry, watercolor, and photography featured is original
Made in the USA
With the hope of guiding little ones to Christ and welcoming them into deeper participation in the Mass, we present:
Poetry – exploring the beauty and mystery of the elements and traditions of Catholic worship, in a fun sing-song way
Watercolor – awakening the imagination, encouraging the child to see the unseen
Photographs – inviting the child to relish in the elements up-close and facilitating a teaching moment for every child and guide
use coupon code CATHOLICSONLINE to get 10% off your order!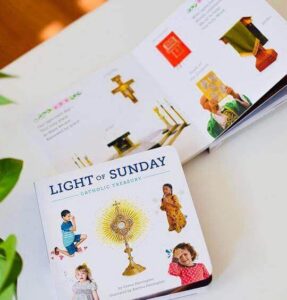 Stay Close to Christ also has a Magnet Church play set!  Such a great idea to add to a Mass bag!
Future Saint Dry-Erase Activity Card Set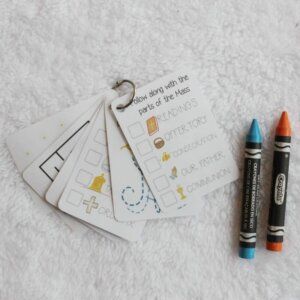 These reusable Catholic activity cards are perfect to engage your little ones at Mass or Adoration.  Turn their attention to the features of the church building as they search for candles, stained-glass windows, and more.  Invite them into the Mass as they check off several notable parts of the Mass and notice the color of the priests' vestments.  Direct their curiosity with coloring activities such as a maze, connect the dots, and tracing activity.
A One Decade Rosary – love these neon ones for kids!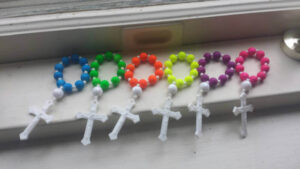 More resources:
Julia, blogger at The Purple Civet, writes a post to help parents. "How to tell the weekly Gospel story to your little kids (roughly ages 3-6)" . Check out her latest here:  The Sunday Gospel for Kids
Want more encouragement for your faith life?
Subscribe to our newsletter!