This post contains affiliate links. If you purchase through these links, Catholics Online makes a commission at no extra cost to you
Do you ever battle anxiety?
I do.
As a child, my parents called me a worrier.
The other day, the angst was high.  I know we are all going through this strange time, but some days I just really wish I could call in reinforcements to help with my 3 small, extremely active and never tired children.
That night, we prayed a family rosary.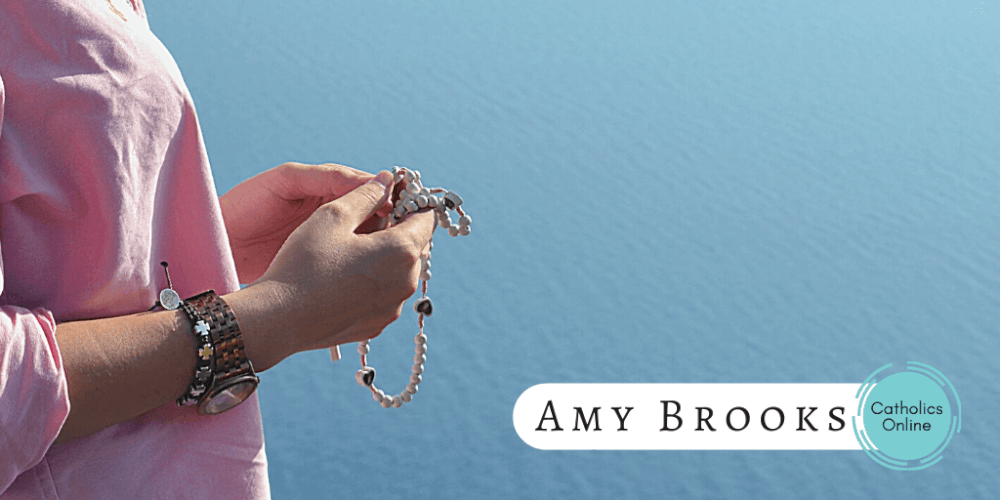 For the first time, the twins were not completely out of control while we prayed.  Our 7 year old son didn't complain about doing all 5 decades and when it was over, I felt a sense of calmness and peace that only praying the Rosary brings me.
The Rosary calms my soul.
It slows me down from all my thoughts.
It places me with my heavenly mother who wants nothing but to unite us with her Son.
And in that silence and calmness, I feel His Peace. His Love. His Power. Jesus is there and the chaos is gone. At least for a few moments.  Then, shenanigans as we navigate each child to his or her bed.
The Rosary is a true gift and prayer.
Especially in a world that distracts us from God and a culture that does not value silence and stillness.
I strongly recommend that you give this meditation on so many Scripture passages and the graces that are poured out from heaven from it. Many members of our community create beautiful Rosaries.
Rosaries are still a great Catholic gift.
Buy one for a friend.
Gift one to yourself.
Pray for our world;
for Christian unity,
our Pope and all our priests;
and for your very personal intentions.
Here are just some beautiful Rosaries devout, faithful and joyful Catholics make:
The Perfect Rosary for a Millenial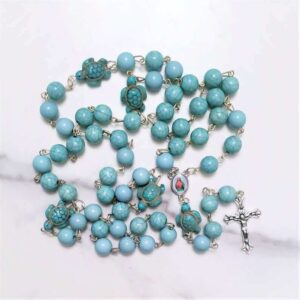 Handmade Rosaries | Grow closer to Jesus through Mary
Shop owner, Lexie Metzler, describes herself as a 20-something-year-old Jersey girl who loves her faith and inspiring others. Lexie opened her shop less than a year ago and immediately volunteered to give each person attending the Prayer Wine Chocolate Retreat a handmade rosary that was unique and had an element of youth and joy you don't often see in a Rosary.
Check out Healing Hail Marys on Etsy!!
Rosaries for the Nature Lover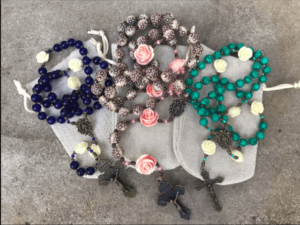 The shop owner, Aleesa McCarthy, explains:
In Thai, the name for our shop, SaongJai means two hearts because this endeavor is something my sister and I have set out to do together dedicating it to the two Hearts of Jesus and Mary.

We take custom orders for rosaries, jewelry, crucifixes, and other Catholic things. Our rosaries are heirloom quality being hand made beaded in the style of knotted pearl stringing.
One of our favorites is the Waves of Blue Rosary!
As the colors of the sea change, this pretty rosary mimics the waves. The Our Father beads are a crystal studded sea shells while the Hail Mary beads are shades of blue faceted glass beads. Surrounded by silver toned accents, center, and 2 medal crucifix.
The Soon to Be a Family Heirloom Rosary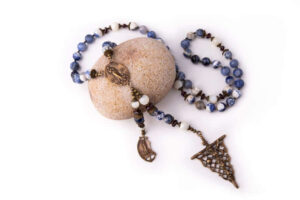 Join TeamBelievers and save 15%. Youll find a link in each listing!
Della Madonna Rosaries make a meaningful gift of faith and are perfect for special events like baptisms, first communions or a gift for that special person in your life.  They are made with quality gemstones and vintage bronze or silver replica metals.
Another option is to shop Gail's Designs at RosaryHabit.com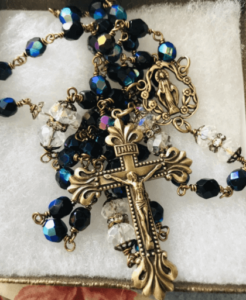 This is a unique rosary as it has double crystal beads for the paters.
The center looks as if Our Lady is standing in a garden gate with flowers surrounding her.
Brilliant aurora borealis faceted blue Czech glass and crystals are used in this heirloom quality rosary as well as hand polished brass.
Lovely fleur de lis crucifix.
The Czech glass used in all my pieces are from a small family business in northern Czechia.
A Unique Rosary with Flower Power
FreshRosary.com is the only online florist exclusively offering Living Rosaries. It's all we do. We specialize in beautiful, distinctive Rosaries made entirely of fresh whole roses, carefully and prayerfully created by hand in the USA, and shipped on time to where you want them. They make wonderful gifts for people of all ages. When giving fresh flowers is appropriate, giving a Fresh Rosary is a memorable, heartfelt, spiritual blessing.
Wherever the rosary is welcome, a Fresh Rosary will add warmth, goodness, and beauty.
We ship via FedEx in the lower 48 States
Rosaries for Jewelry Lovers
Ginny and Saje Catholic Designs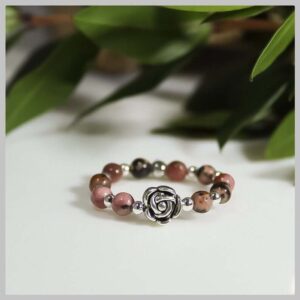 Rhodonite gemstone rosary ring on elastic. One size.
Ginny and Sage makes a variety of Rosary rings. The one pictured is titled Mystical Rose Rosary Bead Ring
Others include Mater Dei (designed and honors the title of Mother of God); Our Lady of Knock (a one decade finger rosary with ten jasper stone beads on stretch cord); and Mary Undoer of Knots (metal bead rosary ring names in honor of Mary Undoer of Knots) (AND MORE!)
Pink Salt Riot's Rosary Bracelet
Looking for a Rosary Bracelet?  Shop Pink Salt Riot  orRelics by Rose.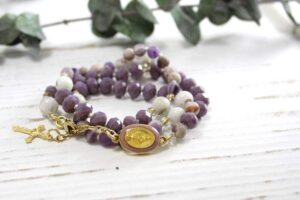 Relics by Rose offers a variety of Rosary bracelets, one of her newest designs is the 7 Sorrows Catholic Rosary Wrap bracelet
which features a Miraculous Medal center with purple amethyst gemstone and Czech glass hand knotted beads. The Miraculous Medal is set into textured jeweler's clay and sealed with resin. A mixture of gemstone beads and Czech glass beads are individually and securely hand knotted.
The "Definitely Not Your Grandmom's Rosary" Rosaries
These knotted rosary's are the perfect gift for a loved one (or yourself 😉) this spring!
In 6 lovely pastel colors inspired by Mary's Floral Crown, these twine rosary's are complimented by faceted glass beads for the Pater's, a mini stainless steel Miraculous Medal & an acrylic translucent Franciscan cross designed & made by Ginny & Saje exclusively for these rosary's.
Each rosary is made with #18 twine which is a smaller size than the traditional #36 twine, making the knotted beads a sweet & petite gift. Rosary's are approximately 17 in long.
Rosaries for Newborns, Babies and Toddlers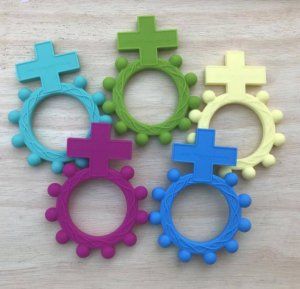 Rosary Ring Chews by Little Praying Hands are the perfect baby shower, Baptism, new arrival and even 1st Birthday Gift!
RosaryRingChews are a sized up silicone version of a rosary ring. They are perfect for little hands to hold and a great way to introduce our little ones to an important part of our Catholic Faith while being soft and soothing to teething gums.
Rosaries for Kids, Tweens and Teens
This Pretty Pink Wood Bead Single Decade Rosary with Clasp is perfect for a tween or teen!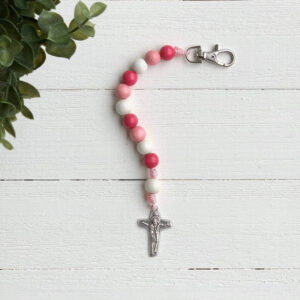 Mary With You Rosary Bracelets
These trendy bracelets resemble the popular Pura Vida brand, but are actually Catholic Rosary Bracelets!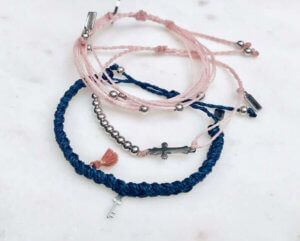 Do you want to see more Rosaries?
This is just a glimpse of what our community offers.  If you want to browse more Rosaries, check out our businesses and our artisans!