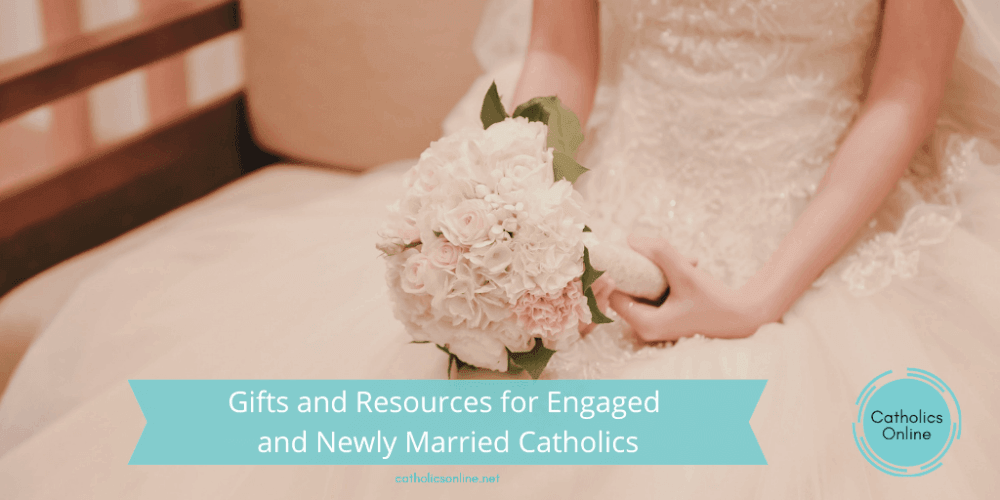 This post contains affiliate or associate links with several businesses (which means if you shop through the links, I earn a small commission). As an Amazon Associate we earn from qualifying purchases.
Know someone who just got engaged?  Did you just get engaged?  Either way, we have some incredible resources and gift ideas for you!
Whether you are just in the "picking up a bridal magazine" stage or the wedding date is just around the corner – we want to make sure you know about these Catholic Wedding ideas!
This guide is also for the friend or family member who wants to add a Catholic touch to a wedding or shower gift!
"The intimate community of life and love which constitutes the married state has been established by the Creator and endowed by him with its own proper laws. . . . God himself is the author of marriage."87 The vocation to marriage is written in the very nature of man and woman as they came from the hand of the Creator. Marriage is not a purely human institution despite the many variations it may have undergone through the centuries in different cultures, social structures, and spiritual attitudes. These differences should not cause us to forget its common and permanent characteristics. Although the dignity of this institution is not transparent everywhere with the same clarity,88 some sense of the greatness of the matrimonial union exists in all cultures. "The well-being of the individual person and of both human and Christian society is closely bound up with the healthy state of conjugal and family life."89 (Catechism of the Catholic Church, 1603)
Resources to help you plan your Catholic wedding
It's like The Knot for Catholics!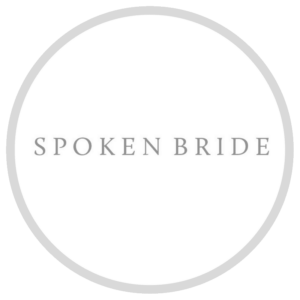 Discover the beauty in the truly sacred. A Catholic lifestyle blog for Brides& Newlyweds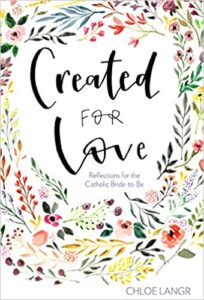 Created for Love is the perfect reflection journal to help you be present in each moment of your engagement, moving past the to-do list so that you can treasure this time long after the wedding day.
Here you'll find ten reflections on each of the characteristics that make a woman uniquely feminine – and encounter each one in yourself – as you grow to become the woman God made you to be, including: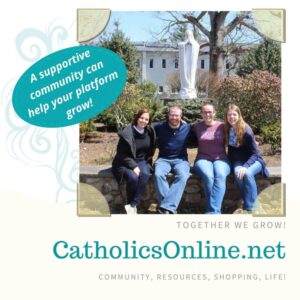 Receptivity
Generosity
Sensitivity
Maternity
Plus, there is space for journaling, Scripture to pray with, and saints to encourage you!
Jewelry for you and gifts for your bridal party!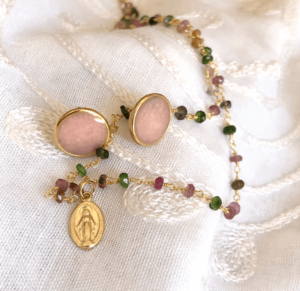 Telos Design has elegant, unique pieces that would be perfect to give as gifts to your bridesmaids.
Relics by Rose has great options for both bridesmaids and groomsmen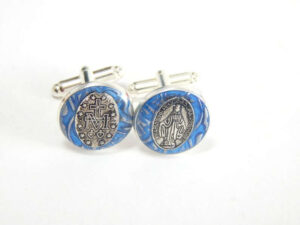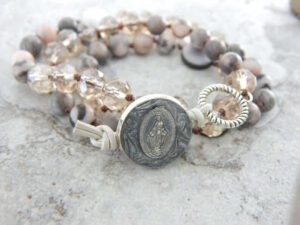 More ideas here: THE GIFT OF CATHOLIC JEWELRY
Catholic Bridal Shower Gift Ideas
Remind the Bride to Be that her and her fiance do not walk alone in this vocation.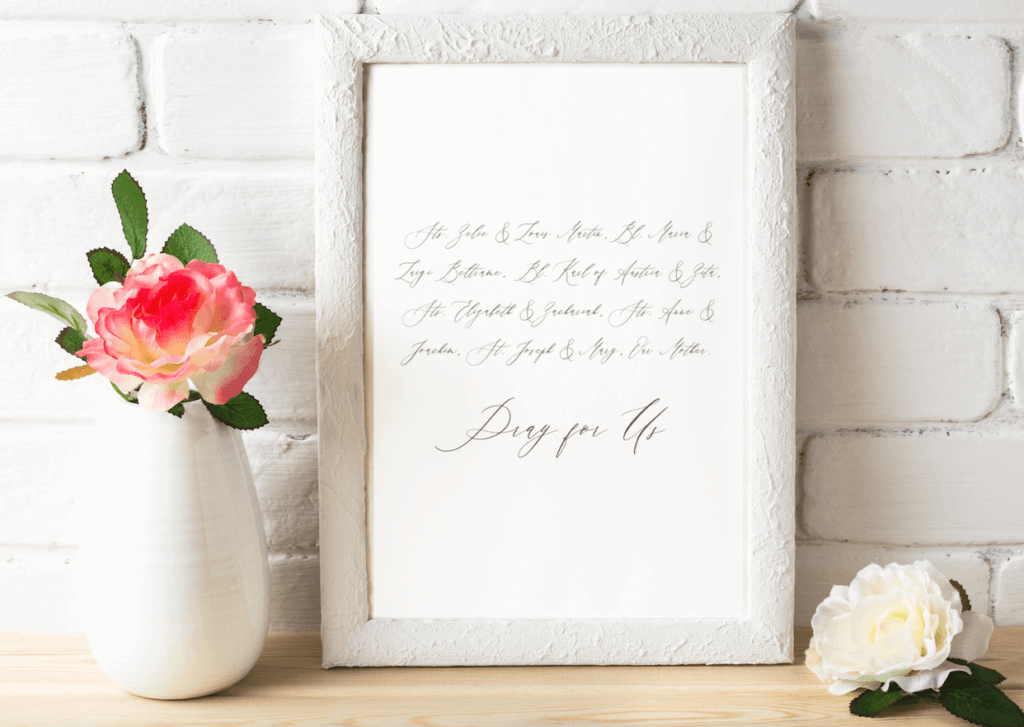 The Married Saints Print by Spoken Bride invokes the intercession of holy spouses through the ages; sources of wisdom, grace, and fortitude.
Perfect for display in your entryway, prayer area, or bedside, find daily strength in the prayers of the saints. 
Her new home is a new domestic church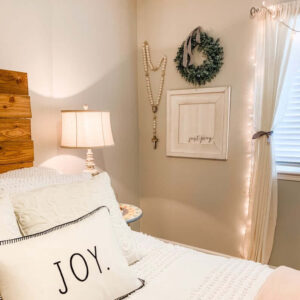 This PURITY wall rosary (made by SmallThingsGr8love) boasts beautiful soft white felt balls and natural wood balls. This is a great piece to showcase in any room in your home.
You can order a wall Rosary from No Heart Untouched as well!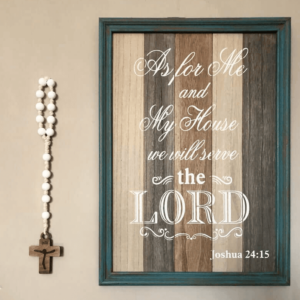 A special Rosary to pray for her new family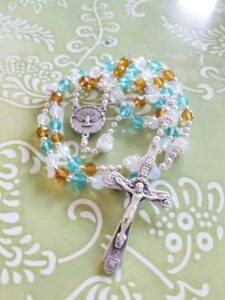 Have a beautiful custom wedding set birthstone rosary made for your special occasion. Choose 3 colors: the birthstones of you & your spouse and wedding month. 6mm delicate crystal Ave beads
are used spaced with tiny round metal beads and matching bead caps for the Pater beads. In a note mention the 3 months you would like represented and also whether you want a Marian, Holy Spirit, or Holy Family Center and simple or ornate Crucifix.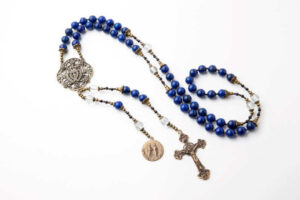 Something Blue Bridal Rosary with Twin Hearts & Wedding Bronze Medals
Wedding Decor
Wedding Floral Wall Rosary, Small Version, Custom Colors
This 2ft. floral wall rosary is a beautiful gift for the couple getting married. The small flowers are perfect for posing with for Wedding photos or wrapping around your bouquet!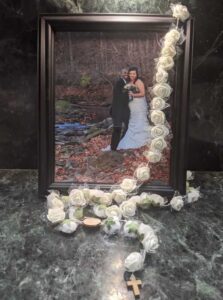 You can also order a similar one made of REAL FLOWERS from Fresh Rosary!
Want more gift ideas?  Subscribe to our newsletter – we love curated gift guides to help you spread Christ's light to your family and friends!