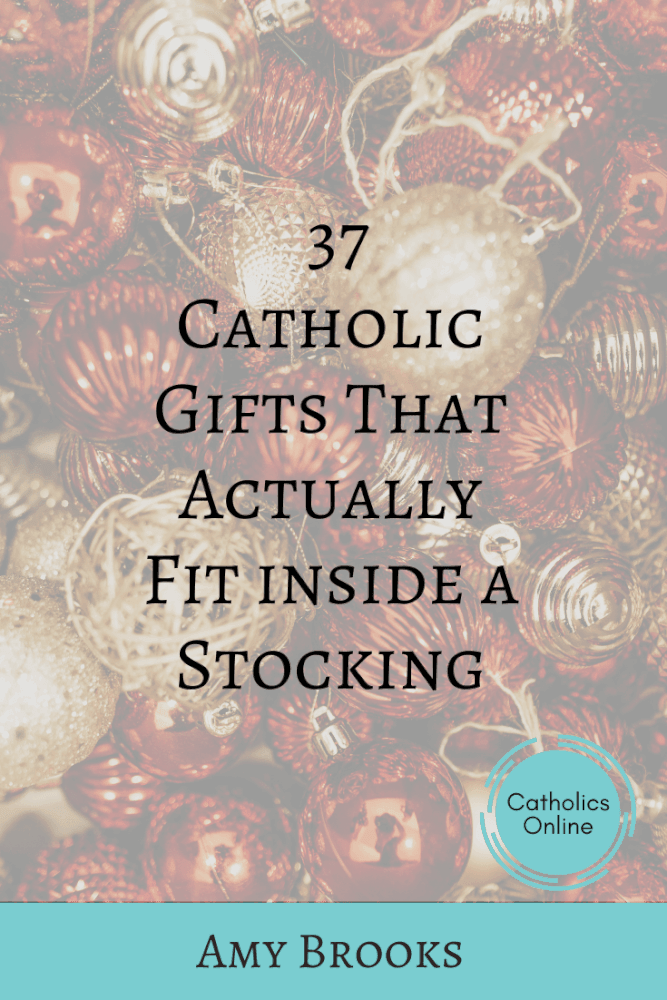 This post contains affiliate or associate links with several businesses (which means if you shop through the links, I earn a small commission). As an Amazon Associate we earn from qualifying purchases.
Jesus is the Reason for the Season!
It's amazing how many Catholic artisans and businesses are creating gifts that celebrate our Savior and allow the person receiving the gift to love it, use it and grow closer to Our Lord with it!
The title of this gift guide is a little self-inflicted humor.  I'm making fun of the post I've been doing every year over at Prayer Wine Chocolate.  I love alliteration and gift guides, so each year I do a Spiritual Stocking Stuffer post and many gifts lifted, won't actually fit in a normal size Christmas stocking.
We are working hard to create a ton of specialized gift guides for you this year!  If you want more gift ideas for everyone on your shopping list – as well as yourself, make sure you subscribe to our newsletter!
Here are 37 Catholic Gifts That Actually Fit in a Stocking: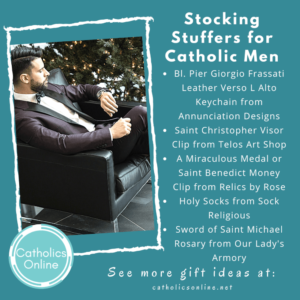 Christian Jewelry from Pink Salt Riot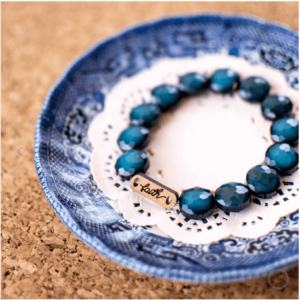 Faith themed bracelets from Pink Salt Riot
Christian Stickers from Pink Salt Riot
Fruits of the Spirit Tee Shirt from Pink Salt Riot
Catholic Enamel Pins from Rakstar Designs
Saint Necklaces from Sagely Sparrow
A Saint Joan of Arc Chainmail Scrubber for that Catholic Mom in your life from Our Lady's Armory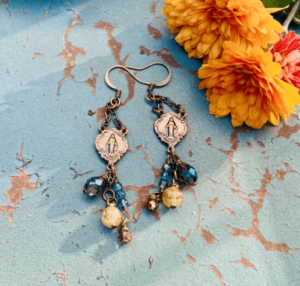 A Gemstone Rosary from Our Lady's Armory
Catholic Earrings from Telos Art Shop
Catholic Magnets from Telos Art Shop
Miraculous Medal Earrings from Gail's Design
Bl. Pier Giorgio Frassati Leather Verso L Alto Keychain from Annunciation Designs
A Rosary from Healing Hail Marys
Sacrifice Beads from Happy Nest Home Goods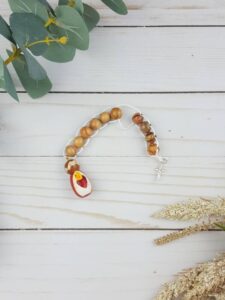 Baby's First Rosary from Be a Heart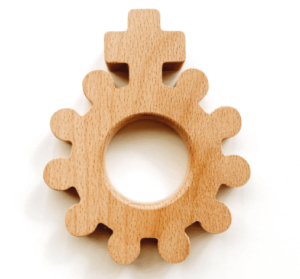 Catholic Bandana Bibs by Meadowcress Boutique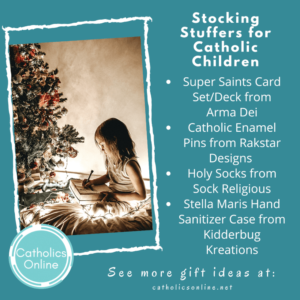 Saint Christopher Visor Clip from Telos Art Shop
Super Saints Card Set/Deck from Arma Dei
Saint Michael Sensory Blanket Baby Gift from Kidderbug Kreations
Stella Maris Hand Sanitizer Case from Kidderbug Kreations
Personalized Catholic Stationary for Priests and Religious from Thy Olive Tree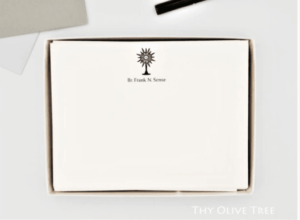 Personalized Christian Stationary from Thy Olive Tree
Angel Earrings from Gifts by Beth
Hail Mary Headbands for Girls from Faith and Fabric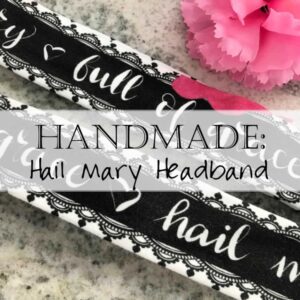 Our Lady of Guadalupe Bracelets from Mary With You
Catholic Leather Wrap Bracelets that is also a necklace from Mary With You
A Rosary Magnet from Books Faith Life Shop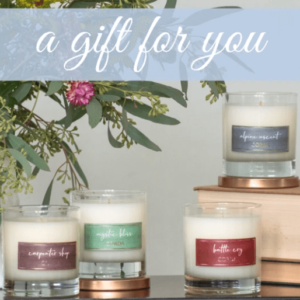 Catholic Candles from CORDA!
Catholic Window Clings and Stickers from Rakstar Designs
The Our Lady of Guadalupe Boo Boo Bag from Faith and Fabric
Angel Wings Earring from Holly Loo Yah Designs
A Wallet and Key Chain Set from
Holy Saint Socks from Sock Religious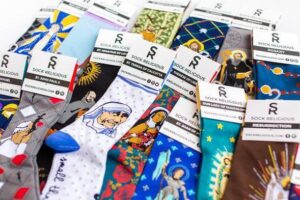 Catholic Saint Masks from Sock Religious
Nativity Socks from Sock Religious
A Rosary Wrap Bracelet from Relics by Rose
A Miraculous Medal or Saint Benedict Money Clip from Relics by Rose