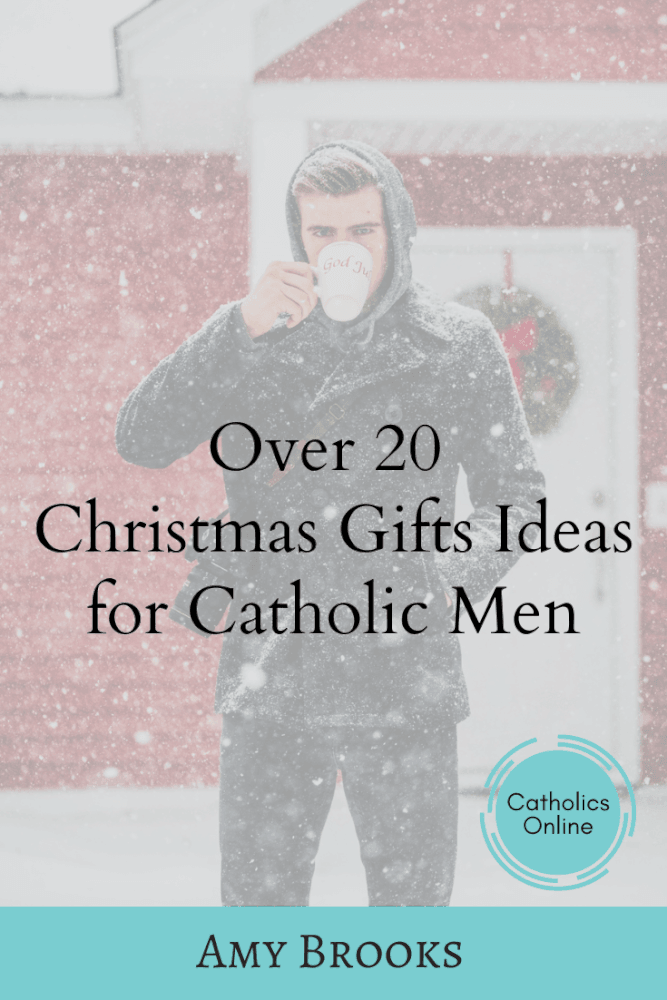 This post contains affiliate or associate links with several businesses (which means if you shop through the links, I earn a small commission). As an Amazon Associate we earn from qualifying purchases.
There are some great, useful and inspiring Catholic gifts out there for men.
Here are some of the best we found.
Gift Ideas for Catholic Men: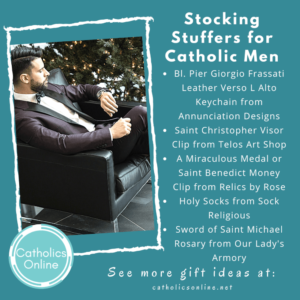 This shop has masculine rosaries, tie bars, cuff links, St. Benedict Medals and more – all attractive to your rugged, rough and trendy husband, dad, brother, father-in-law and friend.
Some of our favorites include:
These IHN Cuff Links
This pair features the IHS monogram above the altar at the Church of the Gesù in Rome. You can also purchase a matching tie bar!
A Saint Benedict Medal Necklace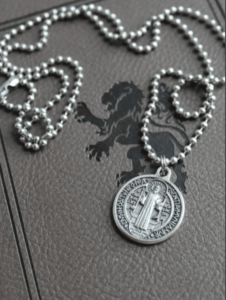 The durability of USA-made stainless steel ball chain meets the exquisite detailing of this Italian-made Saint Benedict medal. The 24″ chain is long enough to fit over most regular-sized heads and let the crucifix rest at about the middle of the sternum. The medal measures approximately 3/4″ and is double-sided.
Memento Mori One-Decade Paracord Rosary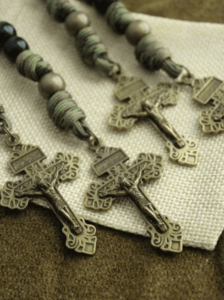 Soldier's One Decade Paracord Rosary
This Army-themed rosary is a perfect expression of Padre Pio's famous quote, "the rosary is the weapon for these times." The 550 camo paracord, lightweight but tough acrylic resin beads, and bronze crucifix look just like something you'd expect to find on a soldier's pack or in a soldier's hands. Choose from two different styles of Italian-made Pardon Crucifixes, which carry special indulgences from Pope Pius X. And as always, the paracord is sourced from U.S. government-contracted suppliers. Tie it around your rear-view mirror or hook it on the MOLLE straps on your rucksack. Take it hiking, take it camping, make it part of your EDC – it will take every ounce of penance you can throw at it. And if this rosary ever breaks, we will replace it *for free.*
Choose from Miraculous Medal and Saint Benedict Medal Cuff Links made by Relics by Rose.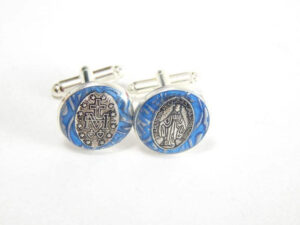 Stunning Miraculous Medal car visor clip is handmade in the USA. Available in silver tone or gold oxide with blue enamel. Pewter is available without enamel. Dimensions are approximately 1 3/8" x 1".
You can also find more Visor Clips at Telos Art's shop.
St. Therese Sacrifice Beads in Rich Mahogony-colored wood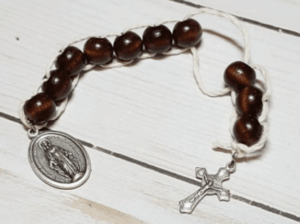 Set of sacrifice beads, modeled after those used by St. Therese of Lisieux to count little acts of kindness or little sacrifices made for love of others throughout the day. Keep the beads in your pocket and each time you offer something up (holding your tongue, stubbing your toe, emptying the dishwasher, anything you can think of!), move a bead towards the Crucifix. This beautiful practice will help foster your ability to see opportunities to offer every moment to God
The St Joseph Bundle will include a St Joseph Prayer Card, Keychain & Sticker in a drawstring stamped bag.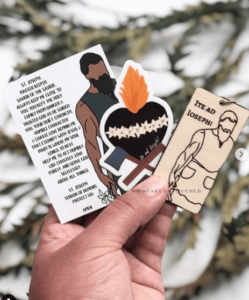 The stickers are SO awesome because they can go through the dishwasher 🙌🏽 These stickers are so durable that they can endure wind, rain & sunlight. So stick them on mugs, tumblers, water bottles, notebooks, planners, lunch pails, etc to show your devotion to St Joseph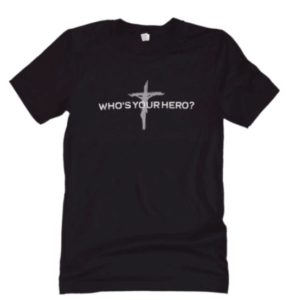 A Brown Scapular from Totally Catholic Tees.
Check out the T-Shirts, Hoodies, tank tops and more!!!
We especially love the "Strong Silent Type" Saint Joseph shirt!
This scapular features an image of Our Lady of Mt. Carmel—from whom the brown scapular devotion comes! Released on the Feast of Our Lady of Mt. Carmel in 2020, this special scapular commemorates the Carmelite origins of the brown scapular devotion. We are truly blessed that the Carmelites have offered this devotion to all of the faithful. Plus, the patent-pending design includes a pocket for your favorite sacred medal—so it won't wear your cord out!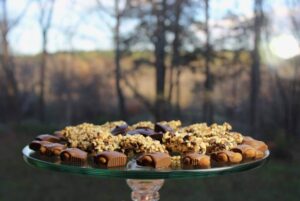 Know a guy with a sweet tooth and a heart for God and charity?  This chocolate is divine!  We love the Trappistine nuns that make this candy!  We suggest you order a few boxes 🙂 made by religious women who have dedicated our lives to prayer and contemplation.
"The essence of our consecrated life is monastic, based on the Rule of St. Benedict. In our daily living, liturgy, lectio divina and labor are delicately balanced, providing the dynamism for continual prayer and mindfulness of God's presence in our lives and in our world.
Trappistine Quality Candy, our candy making industry, allows us to be self-supporting. Through this work we are able to share with the poor the many blessings we have received. It also supports the communal life, giving Sisters the opportunity to work together for the common good. Through both prayer and effort, community members regardless of age can actively participate in this 'labor of love'."
from the Trappistine Quality Candy About us page.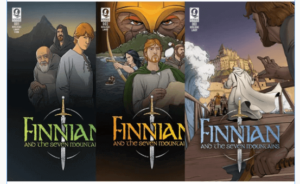 For the Catholic Man who loves history and Star Wars, we suggest The Last Monks of Skellig Michael: The Mysterious Real-Life History Behind Luke Skywalker's Island
For the "Catholic Geek" we suggest shopping Voyage Comics and Publishing.  Comic books based on the Legend of Saint Michael's sword, T-shirts, mugs and more!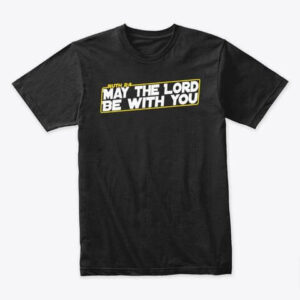 Leather belts and wallets from Catholic Homesteaders!
Men almost always need a new wallet.  Get the minimalist bi-fold and include a holy card!Beautiful leather bifold wallet – minimalist design with heirloom quality hand stitching.
Wild Things Adventure also makes and sell men's leather belts!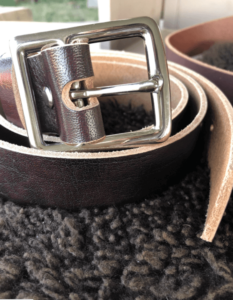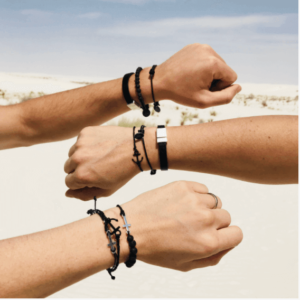 Mary With You makes Men's Water Resistant Bracelets and Medals and Crosses that are made to fit on a Watch Band.
Lava Bead Rosary Bracelet (perfect for the competitive swimmer or trendy teen)
Catholic Medal for a watch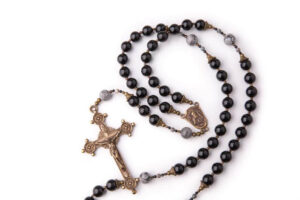 This black onyx Saint Benedict rosary is one of male saint inspired Rosaries offered by Della Madonna Rosaries.
A Catholic Book
Redeemed Vision: Setting the Blind Free from the Pornified Culture
Redeemed Vision is not just another book on pornography. It is the fruit of one man's journey from living with the shame of a debilitating pornography compulsion to discovering the joy of redeemed vision and desiring to share it with others.
Our culture has not simply allowed pornography to proliferate; it has adopted the pornified vision as the normal way of seeing the body and sexuality. Christians are no exception, as evidenced by how many settle for coping mechanisms that never actually change their hearts and set them free.
Prompt Me to Pray: A Practical Plan for More Prayer From the Heart
Prompts to Pray helps us to reach out humbly in prayer when we need Him most and reminds us that God can use all things for good. The book features different approaches to heartfelt prayer including journaling and praying out loud, both spontaneous and classic prayers. It also includes journaling pages with specific writing prompts and prayers to customize your own personal plan for prayer, and a prayer vault of classic prayers and templates of full color pocket prayer prompts.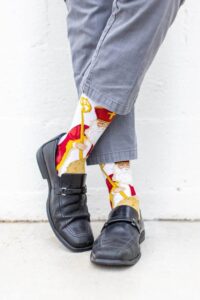 I mean, socks are a great gift when they are fun!  Practical because everyone needs them – but personal if you pick a Saint that has special meaning to the man you are shopping for!  We also love they can be festive!
Here are some of our favorites for guys: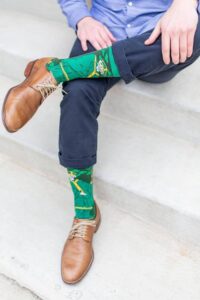 Saint Patrick Socks (also fun to where in March!)
Saint Anthony Socks (for the guy who is always looking for his phone, wallet and keys)
Saint Joseph Socks
Saint Michael the Archangel socks (perfect for law enforcement families!)
Saint Francis Assisi socks (got a dog lover to shop for?)
Want more ideas?  Check out our Stocking Stuffer Gift Guide