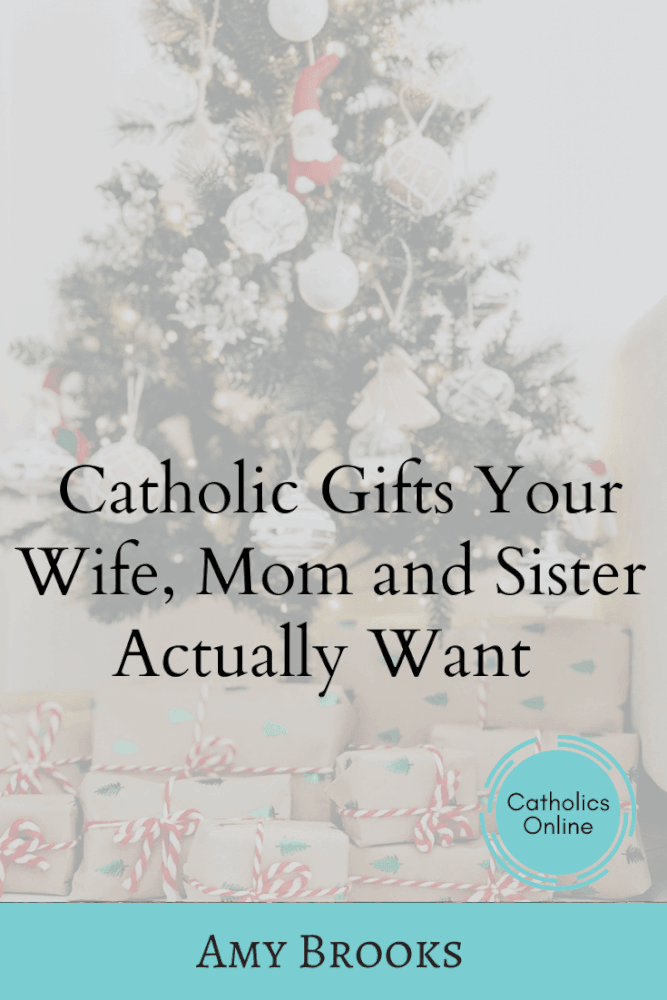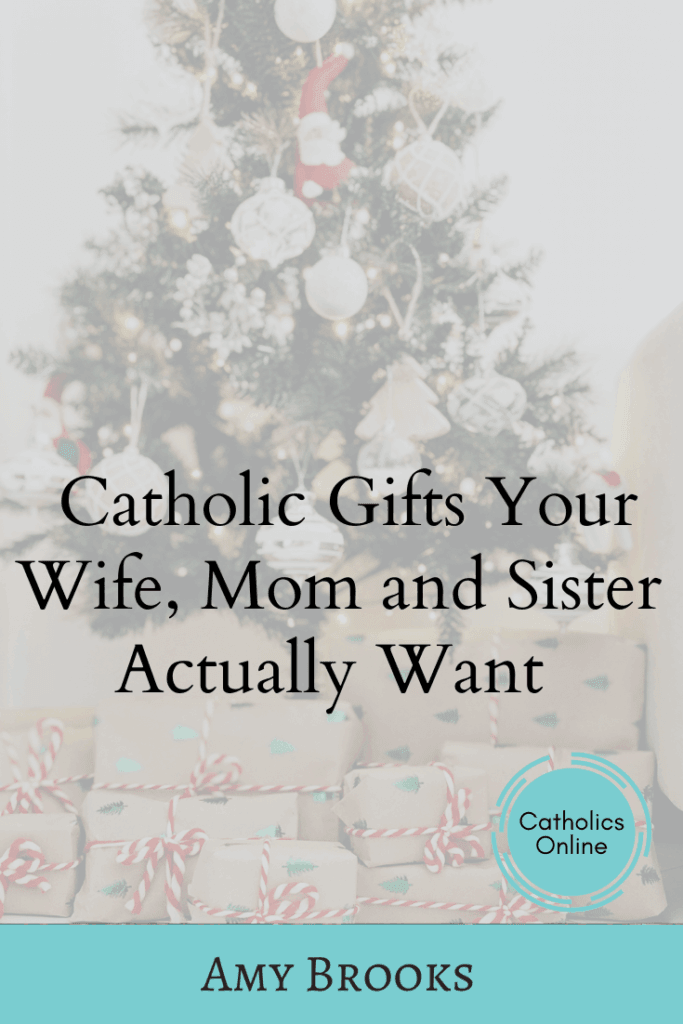 This post contains affiliate or associate links with several businesses (which means if you shop through the links, I earn a small commission). As an Amazon Associate we earn from qualifying purchases.
Listen, I am totally qualified to write this list because
 I'm picky
I'm frugal
I have good taste.  Maybe, I might, anyway – take a look at this list.
We want comfortable clothing.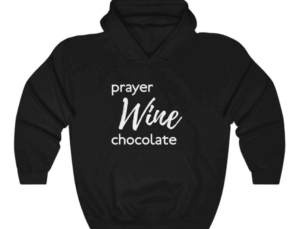 Right now I am wearing a Prayer Wine Chocolate Sweatshirt because it is so comfortable.
I happen to have 3 of them and I wear them two to three times a week.  I suggest the one with the front pocket because it is super convenient.  These are sold by Uplift by Lily.
Another small Catholic business that has fun and attractive clothing is
Holly Loo Yah Designs – Start a conversation with words over your heart.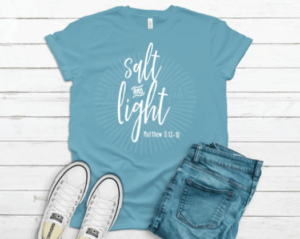 That light blue Chaos Coordinator shirt has my name written all over it.  I love it.
We also recommend a Dogma Lives Loudly in Me Tee
Holly truly has a great variety to choose from, so go, check them out.  And make sure you see the Salt and Light shirt too!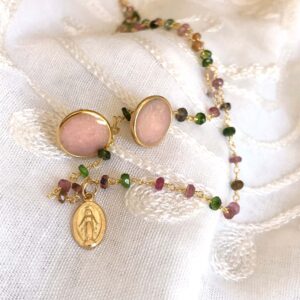 We want earrings.
They're pretty.  They always fit.  They make it look like we changed our outfit . . . a little.
I bought earrings for my own mom from Relics by Rose.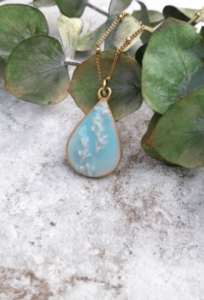 And honestly, I'm still browsing her shop for some other things.
I also highly recommend Telos Art Shop.
Let's see, my personal wish list includes the gold leaf dangle earrings
and several of her Miraculous Medal necklaces.
See more ideas in our Stocking Stuffer Post!!! 37 Catholic Gifts that Actually Fit Inside a Stocking
We want practical gifts that will not bring more clutter into our homes.
Growing up, I always noticed my mom's socks had holes in them.  Typical of all moms, they neglect their own needs to give to others.  I don't know if my mom is still wearing socks with holes in them, but I do know she is getting a pair of St. Patrick Socks from me this year!  She works in a school (when it's open) and she loves wearing holiday related things.  She'll enjoy wearing these around Saint Patrick's day . . . and when she needs a pair of socks that match and don't have holes!
Does your mom have a favorite saint?  Does your wife have a  special devotion to Mary? Does your sister always lose stuff?  There's a pair of socks for her – check them out!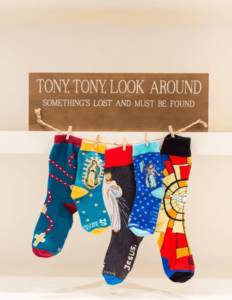 Don't know who her favorite saint is?  Ask her – she'll love to talk about it with you!
Saint Therese' socks (the Little Flower)
We want thoughtful soul care packages
I think the keyword here is "package".  Look, this is a win/win in a way.  If you put several items in the box, stocking, etc. She's bound to love at least one of the things.  And quite frankly, that self-care phrase is overused.  We need soul care.  We need to connect with God so that He can energize us and give us the grace we need to do all the things.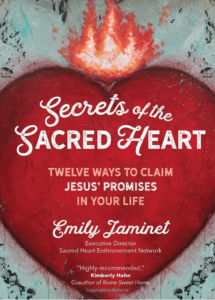 Here are suggestions for what to put in a "soul-care package":
A Spiritual Book:  We recommend Secrets of the Sacred Heart: Twelve Ways to Claim Jesus' Promises in Your Life or
Prompt Me to Pray by Monica Mcconkey
Also, check out The Sunshine Principle by Melody Lyons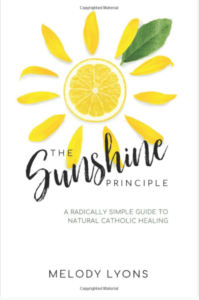 A set of Sacrifice Beads: We recommend the ones from Happy Nest Home Goods
Throw some stickers from Just Love Prints in there too 🙂
In this care package, include somewhere to write our lists, prayer intentions, etc.: We suggest a Catholic Mothers Planner or a Journal from TiSpark
Lastly, give her some durable accessories, like these water proof bracelets from Mary With You!
(these are great for the mom who works in retail!)
and a new pair of modern rosaries from No Heart Untouched or Small Things Great Love.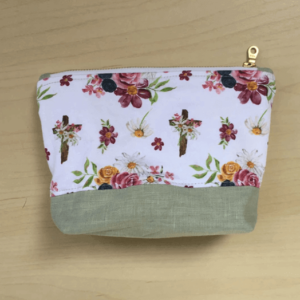 Put the all the little things you get her in this Saint Therese' Zipper Pouch from Meadowcress Boutique
or a hand stitched leather market bag!
See more ideas in our Stocking Stuffer Post!!! 37 Catholic Gifts that Actually Fit Inside a Stocking
We want to still make special memories – even on lockdown.
If you are shopping for you wife – think outside the box a bit.  Yes, buy a physical gift, but also consider planning a date night in.  Jen and Logan from Surprised by Marriage have a ton of ideas for you!  They want you to steal them!  Go here—–> HOW TO MAKE DATE NIGHTS A PRIORITY WHEN YOU CAN'T LEAVE THE HOUSE
Jen and Logan do all the things they suggest.  You can see they have fun with theme nights and sharing ideas.  It's definitely worth checking out and giving your wife a "date night" for Christmas!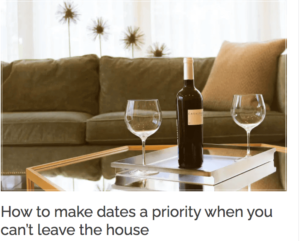 (Fill a basket with wine, Italian food and say this is for our Italian date night – you'll get a ton of better ideas from Jen and Logan, trust me)
Feeling really ambitious?  Talk to your wife about creating a prayer space in your home – and make it happen for her as a Christmas gift!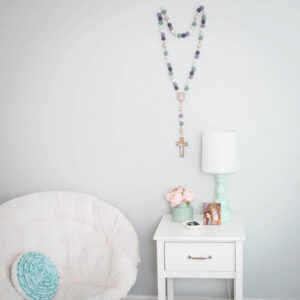 Get inspired by Wall Rosaries made by Small Things Great Love
We will be doing a post in the new year about praying more in your home and creating spaces of prayer with a round up of beautiful prayer corner shrines, candles, decor and more.  Make sure you sign up for our newsletter so you don't miss it!
Want to be inspired all year?  Want more gift guides for Christmas?
Yes, send your articles to my inbox!!!!