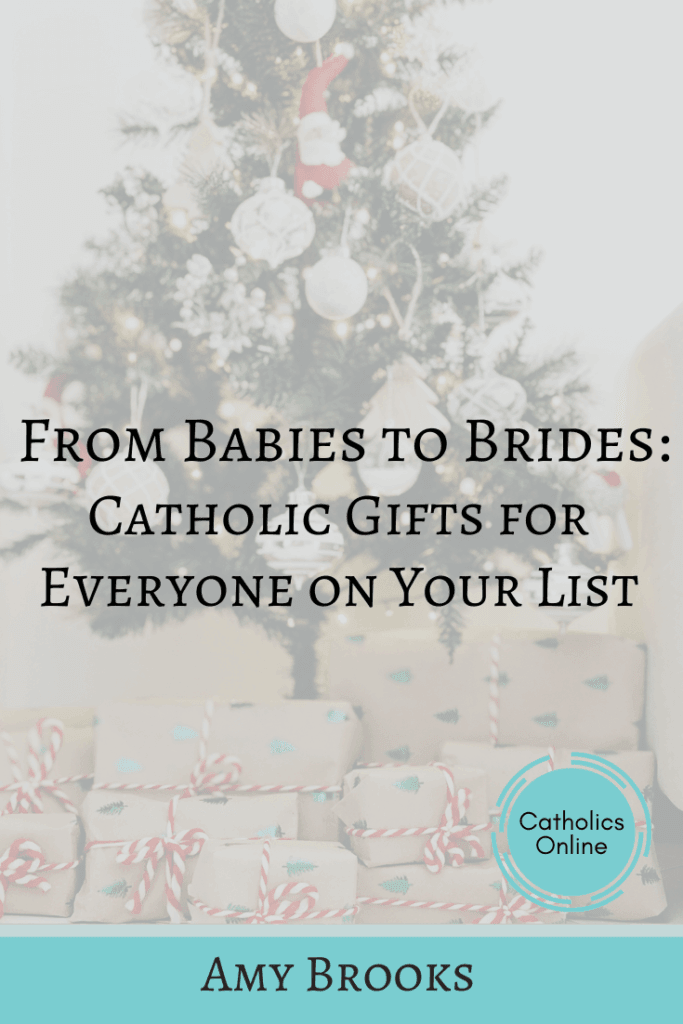 This post contains affiliate links. If you purchase through these links, Catholics Online makes a commission at no extra cost to you. As an Amazon Associate, we earn from qualifying purchases.
We want to help you keep Christ in Christmas!
We want you to see all the amazing products that are being made that truly nourish our relationship with Jesus!
Here is a round up of all the gift guides that will help you shop this Christmas!
Catholic Gifts for Babies and Toddlers:
We wrote a post recently titled: Our Blessed Mother Would Totally Approve of these Baby Gifts (We Think)
In this post, you will find swaddle blankets, bibs perfect for toddlers that have Grace Before Meals printed on them, onsies, Rosary teethers, nightlights, a Catholic baby memory book, toys safe for children under 3 and more! Here is a more recently added item that we love from Kidderbug Kreations!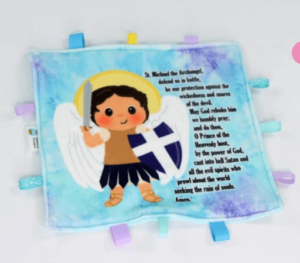 The Saint Michael Sensory Blanket is made with minky fabric and featuring St Michael with his prayer on one side and a coordinating textured fabric on the reverse. The various textures are perfect for curious hands to explore.  This can be made with or without ribbons (which are securely attached). It's a great gift for your future saint.
Catholic Gifts for Children
Looking for a child between the ages of 3 and 8? We have a few suggestions here: Catholic Gift Ideas for Children Ages 3 to 8
This post has books, toys, clothes and a Catholic Family Crate subscription among it's list!  We wanted to make sure you saw one of the newest products out there – a paint with water book by Annunciation Designs!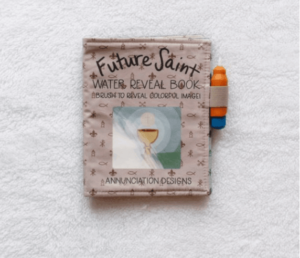 Catholic Gifts for Older Children and Teens
Here are some gift ideas that will help nourish faith in Catholic teens and tweens: Epic Catholic Gifts for Teens and Pre-Teens
This gift-guide is jam packed with amazing ideas that are not lame!  You'll find hoodies, a phone case, jewelry, books, journals, car rosaries, fun socks and MORE!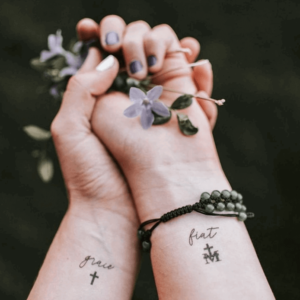 These Temporary Tattoos are awesome for loved ones of all ages!  Just Love Prints has a whole collection, including a "Be Not Afraid" temporary tattoo that is so cool!
Looking for a dainty Catholic tattoo with a powerful message that you can look at during a time of trial or wear just for fun? These Catholic temporary tattoos are a great solution! Put them on your wrist, your ankle, anywhere! They make great conversation starters and gifts, too! Wear these Catholic temporary tattoos as mantras in labor, during surgery, during job interviews or play auditions – any time you need an extra dose of courage or need to reminded of God's strength. Choose your Catholic mantra and wear it proudly!
Catholic Gifts for Brides to Be
Is there someone on your list who just got engaged?  Maybe someone who has just married?  We wrote this post a few months back that has some great gift ideas for this young woman on your list!
The Something Blue Bridal Rosary is just one of the gifts listed in this dynamic post. The Something Blue Bridal Rosary is designed to celebrate the sacrament of marriage with it's twin hearts bronze rosary center and Wedding in the Garden of Eden medals. The back of the Wedding medal has a scroll design and is dated October, 1928, consistent with the antique medal it was cast from.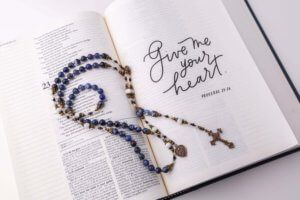 Other gifts in this post include a Journal and Reflection book for Brides to Be; Jewelry, Home Decor and more!  There are even suggestions for groomsmen gifts!
Catholic Gifts for Men and Women
We wrote separate posts for Gift ideas for Men and Women.  We also wrote a separate post for Catholic Christmas ornaments that make great family gifts!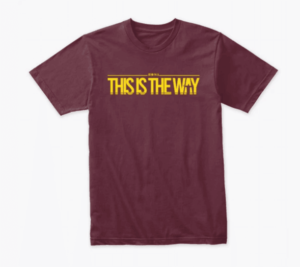 Know a Christian Star Wars fan? Voyage Comics and Publishing has this incredible Tee!
Share your love of Jesus, "The Way," with this T-Shirt inspired by the "Mandalorian."
"Jesus said to him, 'I am the way and the truth and the life'" (John 14:6)
Looking specifically for a woman?  Peruse this post and have fun shopping: Catholic Gifts Your Wife, Mom and Sister Actually Want
Need a gift for a man on your list?  We have over 20 ideas for you here: Over 20 Christmas Gift Ideas for Catholic Men
Catholic Stocking Stuffers for the Whole Family
We have a great Stocking Stuffer guide:  37 Catholic Gifts That Actually Fit Inside a Stocking
You'll find activities for little ones, necklaces, Rosaries, socks, stickers and more in this thorough list!
No matter who you are shopping for – young, old, man or woman – this list has a few ideas for you!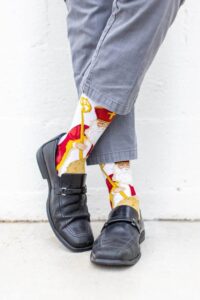 This year has been quite a challenge.  Going out has been limited, and often we are required to wear masks.
If you are looking for Catholic masks, look at the 5 Shops that Sell Catholic Masks post.
One last reminder, if you shop from Pink Salt Riot (see amazing earrings below) use COUPON CODE: CATHOLICSSAVE and get 10% off your order!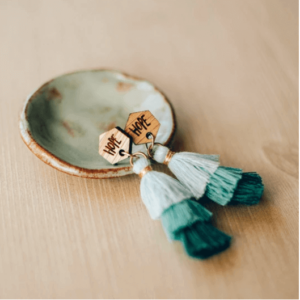 We would love to stay connected with you all year!  Do you want to be inspired to live the Catholic faith more abundantly?  If yes – sign up here: