This post contains affiliate links. If you purchase through these links, Catholics Online makes a commission at no extra cost to you. As an Amazon Associate, we earn from qualifying purchases.
It's overwhelming, I know.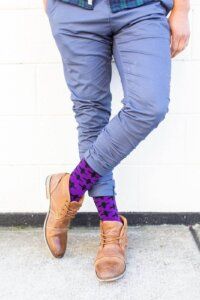 There are so many options out there,
so many thoughts in your head,
so much going on in our lives
and still so much "new normal".
We are here to make it easier on you.
Choose one of these words (DO NOT OVERTHINK, JUST CHOOSE)
Next, find the Lent program, retreat or idea that we matched with the word you chose.
Then, I want you to try it – and if you don't like it, or it doesn't fit you, offer up that one try you gave.
Hopefully, you'll feel it's the perfect fit.
Okay ready, here are the words: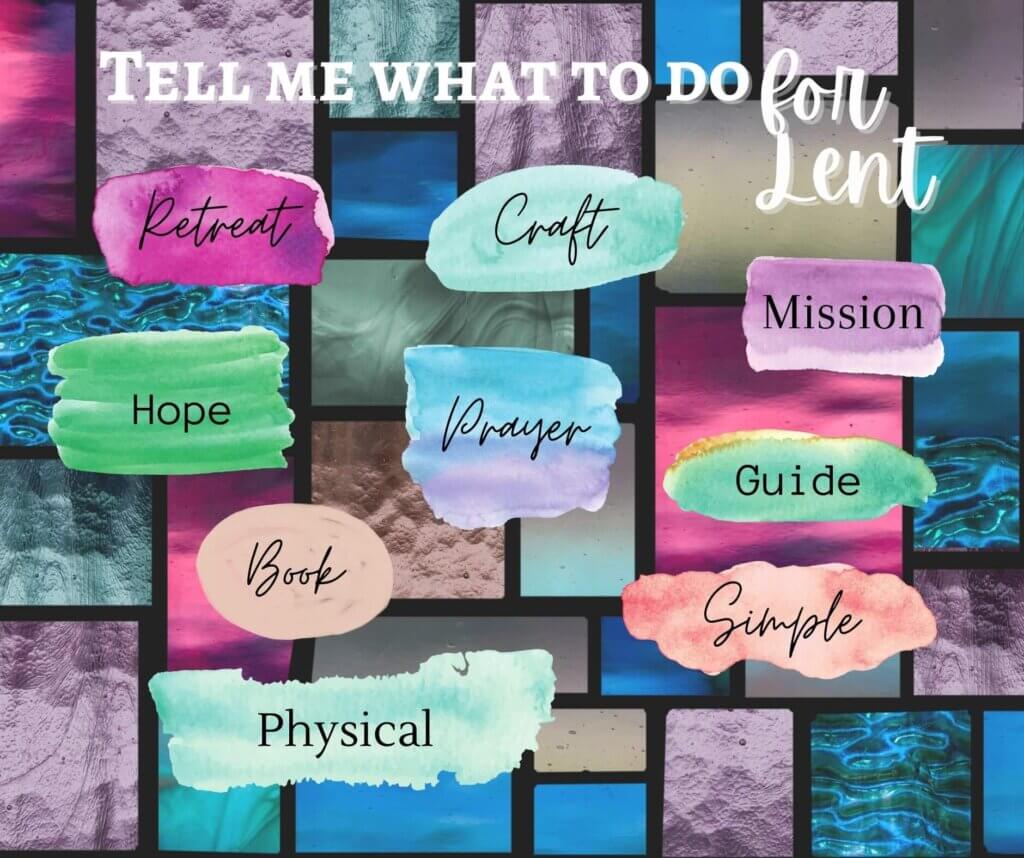 retreat              physical              mission            Hope             Prayer            Guide          book        craft        simple
If you chose "Retreat" to be your theme this Lent:
Inspiring talks to help you focus your eyes on the Lord and transform your prayer life this Lent.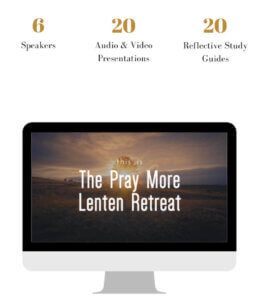 The Retreat begins on February 17th!
The Retreat is self-paced.
This means that you can participate wherever you are and whenever you have the time.
Organized and produced by the lovely Annie Deddens, this retreat is always done so well.  One of our members, Allison Gingras is a speaker this year along with a number of other inspiring individuals.  Each video presentation comes with a reflective study guide.
Go on this retreat in the comfort of your own home.  You can donate to attend but you do not have to give anything if you feel you can not at this time.
If you chose "physical" for your Lent word:
Join Ceci from Catholic Fit Moms for Life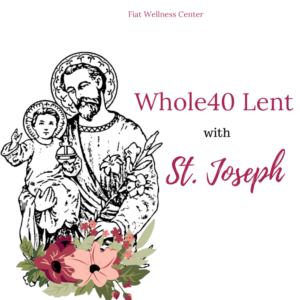 This Lent spend  40 days in a reset of our body, mind, and soul so that we can glorify God on Easter Sunday.
At the Fiat Wellness Center, we are participating in a Whole40 Lent with St. Joseph.
What is a Whole30?
It is a 30-day (we are doing 40 to go along with the 40 days of Lent) program to improve one's cravings, metabolism, digestion, and overall health.
It's not a diet but a reset. You are not counting calories.  It is just a learning experience to see how food affects you as you create new healthy habits, and loses your sugar cravings.
You pull commonly problematic foods out for these days and then reintroduce them one at a time and compare your experience.
It will bring you the freedom to choose foods instead of having an emotional attachment to food.
Find out more at Whole40 Lent with Saint Joseph
If you want your Lent to focus on Mission:
Just because you can't get to a parish mission doesn't mean that you can't have a missionary preacher come to you.
For three days, host international Catholic speaker Patrick Sullivan in your home for a retreat that will bear much fruit.
Join Live or Take the Retreat at Your Own Pace.  Find out more here: Called and Commanded
If you want to hear a brief introduction to this Mission, watch this video here: Catholics Online: Called and Commanded by Evango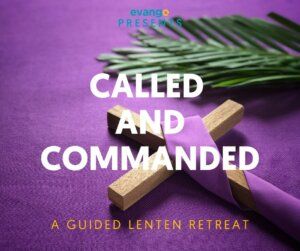 If you chose the word "hope" for this Lent:
Join Deanna Bartalini and the first Journey of  Hope Lent Retreat.
It's good to step away from our usual work and activities to reflect on our journey of faith. And while you hear often about the 3 pillars of Lent, prayer, fasting and almsgiving, how often do we think about the hope we have in Lent? Not too often, but it is there, underneath our lists of what we are doing or giving up for Lent is the hope of our salvation. Why else would we enter into the season if not for our salvation. We'll explore the hope we have in Lent, our faith and Jesus. We'll reflect on our own passion, death and resurrection experiences. And we'll pray.
And knowing Deanna there will be some surprises to make you smile.
If you want your Lent to focus on Prayer, consider:
Join the Miraculous Medal Shrine, and two of our members (Anne DeSantis and Amy Brooks) as well as many others on a Lenten journey about the transformative power of prayer…
Beginning on Ash Wednesday, February 17, and continuing through Easter Sunday, April 4, The Miraculous Medal Shrine will release daily video reflections on Prayer in Motion: The Transformative Power of Prayer. These short daily reflections feature men and women from all walks of life, discussing how prayer has led to personal growth and change.

As these stories will show, if we're open to personal reflection and open communication with God, our lives will be transformed in unpredictable ways. We'll experience a deeper peace, a stronger sense of purpose, and sense of personal and communal well-being.
Click here to sign up: Prayer in Motion
In addition to these video reflections, consider checking out the PDF Prompt Me to Pray Through Lent by Monica McConkey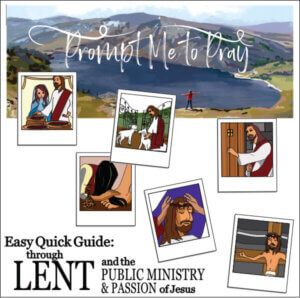 Prompt Me to Pray through LENT journeys through the Public Ministry of Jesus, beginning with the Temptations of Jesus and journeying through the events, teachings (parables), miracles, healings and Passion of Jesus.
Each of the 47 days, offers an illustrated Prompt to Pray.  We reflect on a Scriptural account of what Jesus did and taught, explore the virtue He exemplifies, and receive a Prompt to Pray, more consistently and from the heart!
If you chose "guide" for this Lent:
Join Alexandra Sullivan as she uses the book Navigating the Interior Life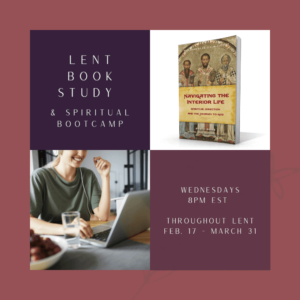 to help a small group of people just like you to address topics like:
The elements we need to make spiritual progress
Identifying the state of our spiritual life (there are different stages, so where are you?)
How to identify our root sin (what is the sin that is most holding you back from making progress)
Creating a routine for our spiritual life to keep us on track
Alexandra will also be discussing and recapping each session in the Facebook Group Catholic Talk and Inspiration once a week.  Not on Facebook, no worries – this is just an added re-cap being offered, but not required for anyone signing up!
If you chose "book":
Check out Stood the Mournful Mother Weeping: A Simple Stations of the Cross Through Image and Song
written by Aleesa McCarthy
This book is a simple meditation on stations of the cross with beautiful images and incorporates the ancient hymn Stabat Mater in delightful calligraphy. The artful layout is designed to inspire hearts towards the beauty and goodness of God. There are also blank pages in the back of the book to add prayer intentions or put your thoughts down in a note.
This book is a beautiful resource to use especially if you can't get out for stations of the cross!


Another book we suggest you look into is new and from Jen Norton.  The book is titled
Surrender All: An Illuminated Journal Retreat through the Stations of the Cross
Contemporary Catholic artist Jen Norton offers a unique opportunity to ponder the extravagant love of Christ through the Stations of the Cross. Combining Norton's powerful, full-color illustrations with scripture, her original reflections and prayers, and journaling space, Surrender All will help you encounter Christ's Passion in a new light.
Full of passion, energy, and faith, Jen Norton's paintings have inspired believers from every walk of life. In this beautiful book, Norton takes you on a personal retreat, inviting you to walk with Jesus from the joy of Palm Sunday through the Stations of the Cross and to the glory of the Resurrection.
If you chose "craft":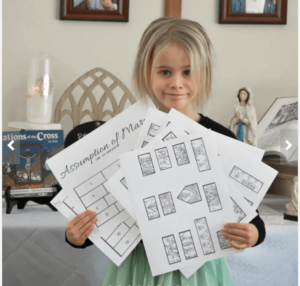 These color, cut, and paste posters are the perfect Lent project for preschoolers, kindergartners, and other young-elementary aged kiddos.

Each "poster" is the size of two 8.5×11 pieces of paper (you cut and glue them together in the center). There are 46 "puzzle" pieces, one for each day of Lent starting from Ash Wednesday and going through Holy Saturday.

The pieces are numbered, so that you can easily find and complete one a day all throughout Lent, adding to your poster that will be finished by Easter Sunday.
This product comes with 3 pdf downloads:
Jesus Carries the Cross color, cut, and paste
Resurrection color, cut, and paste
Assumption of Mary color, cut, and paste
Another craft option (you can do both or just one):
Lenten Workshop: Surrender All to Love
Using Jen's book, Surrender All (Ave Maria Press) as a starting point, Jen and Mary DuQuaine, Director of Mercy Center Burlingame, will guide our walk together as we meditate on the Stations of the Cross. Then, Jen will guide you in creating a unique piece of expressive art that examines your own heart, finding clues to your mission call.

The workshop will begin on Ash Wednesday with a live opening session on Zoom. We will continue for the 6 weeks of Lent by viewing pre-recorded art classes and reflections that you can access any time. Small groups will also be offered at various times throughout Lent so that we can share our experiences of the journey.   If you are unable to attend the first session live you will be able to view it recorded at a later time.
If you need to do something "simple" this Lent
We are so excited about the brand new podcast debuting on Ash Wednesday called Saints for Slackers!!!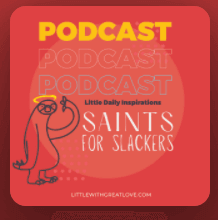 This podcast will consist of quick 2-3 min "stories" about the saints with cool quotes. We are encouraging "slackers" to don't have time to do "one more thing" to give this a listen.
And make sure you are signed up for our newsletter.  We want to help you keep your faith simple this Lent and all year long.