This post contains affiliate links. If you purchase through these links, Catholics Online makes a commission at no extra cost to you. As an Amazon Associate, we earn from qualifying purchases.
In December of 2020, Pope Francis announced (in his apostolic letter titled Patris Corde) the beginning of  the "Year of Saint Joseph".
Pope Francis describes many reasons why this year was dedicated to Saint Joseph.  In one article published on the Vatican news website, Pope Francis' words are summarized:
In him, "Jesus saw the tender love of God," the one that helps us accept our weakness, because "it is through" and despite "our fears, our frailties, and our weakness" that most divine designs are realized. "Only tender love will save us from the snares of the accuser," emphasizes the Pontiff, and it is by encountering God's mercy especially in the Sacrament of Reconciliation that we "experience His truth and tenderness," – because "we know that God's truth does not condemn us, but instead welcomes, embraces, sustains and forgives us" (2).

read the whole article here: Pope Francis Proclaims Year of Saint Joseph
Saint Joseph is an incredible model of faithfulness and eager to pray for us when we ask him for his intercession.
We want to share this inspiring Saint with the world.  We want to remind you to "Go to Joseph" with your special intentions and spread the word to your family and friends who may have strayed from the faith.
We believe these products will remind you to pray more and act in a way that is virtuous and holy.
Send a gift to a friend and buy some for your family members – and you too!  These are such amazing creations made by faithful Catholics!  Have fun shopping!
Want to read more about Saint Joseph?  Read this: 5 Ways Saint Joseph Can Help You Lead a Better Life
Here are over 25 Catholic Gifts Inspired by Saint Joseph
Saint Joseph Apparel
Saint Joseph Premium Tee from Totally Catholic Tees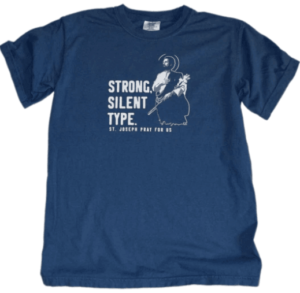 St. Joseph, a man of little words in scripture (well, actually no words) but great faith, strength, and holiness. St. Joseph, pray for us!
Saint Joseph – Terror of Demons Heavyweight Garment Dyed Tee also from Totally Catholic Tees
This Saint Joseph Tee takes on the saint's more obscure title, Terror of Demons. Read the inspiration behind the design below!
From the designer (Marie):
"I wanted to make this shirt because many people are unaware of the ferocious title awarded to the foster father of our Lord. Also, in a world that castigates masculinity and claims fatherhood non-essential, Saint Joseph reminds us that these are vital aspects of family and culture. The devil is prowling, waiting to catch us in the deceit of our own hearts. Saint Joseph will always come to the protection of those who seek his intercession. In this year of Saint Joseph we could all benefit from becoming more acquainted with this quiet saint."
Saint Joseph Socks from Sock Religious
St. Joseph is the protector of the church and an amazing example of how to be a husband and spouse. Check out the carpenters square in the pattern! St. Joseph didn't say much… well anything we know of, but we have so much to learn from him. We love the "quote" on the bottom of these socks!  They are available in adult sizes and kid sizes too!
Saint Joseph Art
Holy Family Sketch by Tianna Williams
Saint Joseph Gold Foil Print  by SMALL THINGS GREAT LOVE
Saint Joseph Print/Card by Mrs. Torres Creates
Most Chaste Heart of Joseph Print by Love Letters to the Blessed Sacrament
Saint Joseph Gifts For Children
Saint Joseph Plush Doll by Shining Light Dolls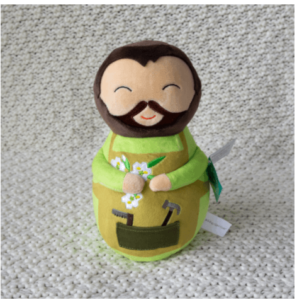 St. Joseph the worker (May 1st)
 Patron of: the Catholic Church, unborn children, fathers, immigrants, workers, employment, explorers, travelers, carpenters, pilgrims, realtors, against doubt and hesitation, for a happy death.
Favorite of the Saints and head of the Holy Family, St. Joseph the worker is here and ready to work and pray!
Handcrafted from the softest plush we could find, this St. Joseph plush is sure to become your little one's favorite companion!
Gorgeous embroidery details- St. Joseph's tools, lilies, and nails- make this piece even more of a treasure.  St. Joseph is wearing his carpenter's apron, complete with functional front pocket! Our custom printed fabrics ensure our dolls our truly unique and special.
St. Joseph comes tagged with feast day and patronage information, ready for gifting (if you can manage to let her go!)
Plush material is surface washable
A Saint Joseph Night Light by My Little Patron
Since this Saint is the "Terror of Demons" it's perfectly appropriate for a night light isn't it!!??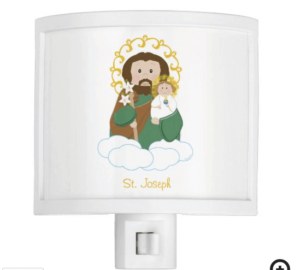 Saint Joseph Workshop Chunk Puzzle
While the Church celebrates the Year of Saint Joseph, your child can be celebrating too! Invite your little one to spend time with Saint Joseph and his workshop with this eco-friendly wooden chunky puzzle. Help your child's cognitive and physical development by moving Saint Joseph's tools into their proper space and encourage open-ended and natural play with familiar tools like a hammer. This educational, faith-based puzzle is sure to engage your child in endless play.
Recommended for ages 24+ months
Included in this set:
1 Puzzle Base
1 Saint Joseph
5 Tools
1 Holy Card
Discount Catholic Products also has a Saint Joseph Tiny Saint Charm for only $5.00!
Saint Joseph Rosaries
Saint Joseph Beaded Rosary by No Heart Untouched
Each Rosary features a wood Miraculous Medal or St Joseph medal & wood Crucifix designed by No Heart Untouched in either Natural, Medium or Dark finish. Wood pieces are designed, made & stained in my studio.
Saint Joseph Olive Wood Rosaries by Refuge Rosaries
This handcrafted, beautiful, and unique Catholic rosary is made with 8mm olive wood beads from the Holy Land and 8mm hematite beads. The beads are strung and knotted on micro cord (the slimmest type of paracord!) for durability.
The rosary center depicts Saint Joseph. The Pardon crucifix is 2 inches in length and was made in Italy.
Saint Joseph Bronze Rosary with Ebony wood beads by Refuge Rosaries
This handcrafted, beautiful, and unique Catholic rosary is made with 8mm ebony wood beads and 8mm African turquoise natural gemstone beads. The beads are strung and knotted on micro cord (the slimmest type of paracord!) for durability.
The bronze rosary center depicts Saint Joseph. The Pardon crucifix is 2 inches in length and was made in Italy.
Saint Joseph Inspired Jewelry
Saint Joseph bead bracelet with medal by Refuge Rosaries
Saint Joseph Medal on a chain necklace by Telos Art
New, vintage replica St. Joseph medal with highly detailed image on the front and space on the verso for personalization. Medal is approximately 5/8" in diameter suspended from a chain of your choice (more options coming soon).
Saint Joseph Gifts For the Home/Domestic Church
Saint Joseph and the Baby Jesus by Jen Norton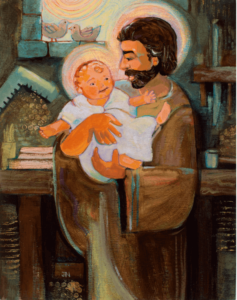 Jen Norton also has The Holy Family portrait for purchase as well!
Saint Joseph the Worker Candle by Corda Candles
These rugged scents of leather and sawdust are inspired by St. Joseph the Worker. He is the patron saint of the universal Church, workers, carpenters, fathers, travelers, and the dying, and his prayers are frequently invoked by those seeking employment and those trying to buy or sell a house. His feast day is May 1.
Behind the Inspiration
St. Joseph lovingly provided for his family through the work of his hands. Scripture tells us Jesus was "the carpenter's son" and Joseph is often depicted with the tools of his trade. The leather of his work apron and the sawdust from his cuttings inspired this candle.
St. Joseph the Worker, pray for us.
Saint Joseph Shrine by Violets and Moss
Perfect for the year of St. Joseph and a wonderful way for us to stay focused. This is reminiscent of an old road side shrine and looks wonderful as part of a home altar or on the bedside stand. It is a handmade paper shrine made with beautiful scrapbook paper. It fits in with any home decor and is perfect for anyone who has a devotion to the St Joseph. The battery operated candle which is included will give a soft glow to the image. This would make a truly unique keepsake. The shrine measures approximately 10″ x 8.5″ x 4.5″.
Violets and Moss has several different styles of Saint Joseph Shrines.  Check them out and choose the one you like best!
More Saint Joseph Gifts
Saint Joseph Prayer Card by No Heart Untouched
Saint Joseph Book Mark by No Heart UntouchedOn the front of the bookmark is a break down of how to pray the Rosary of St Joseph step by step, and also includes all the mysteries with the corresponding Bible Verse. On the reverse the rosary prayers are listed word for word.
This Rosary is meant to compliment Our Lady's Rosary & your other daily prayers.
Meadowcress Boutique has several Saint Joseph themed items which include a zipper pouch, baby bonnet and a bib!
Catholic Books
Consecration to Saint Joseph: The Wonders of Our Spiritual Father
In this richly researched and lovingly presented program of consecration to St. Joseph, Fr. Donald Calloway, MIC, brings to life the wonders, the power, and the ceaseless love of St. Joseph, Universal Patron of the Church and the Terror of Demons. This book is available to pre-order at Gifts of the Holy Spirit, but is also available on Amazon.
In the Consecration to Saint Joseph book, Father Donald Calloway calls upon the readers to become "apparitions of Saint Joseph" by modeling a life of virtue that Saint Joseph once modeled.
In the boy's journal, Be Yourself: A Catholic Journal for Boys, young men are given prompts, prayers and a gentle guide on how to live a life that demonstrates great faith and virtue.
Two prompts specifically bring the reader's attention to the relationship Our Lord Jesus had with Saint Joseph. One entry has the Scripture passage that describes Jesus being lost and finally found at the Temple.  The reader is asked to imagine what the journey home was like.  What did the Holy Family talk about?  How did Jesus feel?  Was there a lot of silence? etc.
Another entry asks the reader to imagine Saint Joseph's workshop while working together.   What type of conversations did they have?  What did the two build together? The journal then asks the reader who they would like to learn from . . . a carpenter, mechanic, computer technician, etc.  This book provides a ton of opportunity for a boy to think about the man he wants to become and creating a plan that will allow him to become that man.
Erica and Greg Johnson, owners of The Little Catholic Box, 
say it is a "great, age-appropriate tool for spiritual growth" and wrote the following review for the Be Yourself Journal for boys:
We are working through this journal with our 10 year old son. It is clear how much work lovingly went into creating it. So far, the exercises seem to engage him without boring or overwhelming him. The overall structure and design is fun and attractive. Overall, a wonderful find! We plan to purchase the other journals by this author for our other children as well.
We hope this "Year of Saint Joseph" inspires you to walk closer with Our Lord Jesus Christ, and allows you to experience the Peace only He can give!
Please walk this journey with us!  Sign up to receive our newsletter here: