This post contains affiliate or associate links with several businesses (which means if you shop through the links, we earn a small commission). As an Amazon Associate we earn from qualifying purchases.
Shopping for gifts with a strict budget?
We hope this list helps!  If you need a gift guide that would help you find a present for a specific age or are looking for "gift ideas for men" or gift ideas for women – get our most recent catalog!
20 AWESOME Catholic Gifts Under 20 Dollars
1. Catholic Temporary Tattoos
Pink Salt Riot Temporary Tattoos are only $5.00, plus use coupon code CATHOLICSSAVE for 10% off.
Just Love Prints has temporary tattoos for teens and adults.
Saintly Heart Tattoos are perfect for your 4, 5 and 6 year olds that just LOVE getting and wearing temporary tattoos!
2. Catholic Keychains
Someday Saints has a "Jesus take the wheel" keychain – perfect for that new driver in the family!
Created Beloved has beautiful tasseled, stain glass window keychains.
Annunciation Designs has leather keychains that are masculine – one with a St. Joseph theme, the other, Blessed Pierre Giorgio.
Key chains are great gifts for the child who just reached the age to get a house key!  They are also great stocking stuffers!
3. Catholic Books
Be Yourself: A Journal for Catholic Girls is the perfect gift for the student in 5th through 8th grade!
This book has ranked in the top 100 of three Amazon Categories for more than a year and is currently #57 in the Children's Journal Writing category.
One reviewer states:
"So I wasn't sure how this would be received. Teenagers are strange creatures sometimes but the girl who I gifted this to absolutely LOVED it. She started filling it out about 2 minutes after she got it. She really seemed to like it. . .  Really nice for any Catholic teen."
Be Yourself: a Journal for Catholic Boys
This journal meets the 9, 10 – 12 year old boy right where he is and helps him make sense of prayer, being a Spiritual Warrior and the Catholic faith in a way that is attractive and fun.
Catholic Moms and Dads are giving this book 5 STARS!
One Amazon review say:
"These lessons are not fluffy, simplistic lessons. She tackles things like mental prayer and how to do Ignatian imaginative prayer. These are things that I learned as an adult! I'm so glad that my son will be exposed to these ideas now, but in such a fun way. For example, one section she titles "Does God speak in code?" She provides a page full of biblical verses and challenges the boys to pick their favorite two and draw them on a billboard and a flag. The lesson concludes with the question, Is God trying to tell you something through these texts? I love how she is teaching the reader to turn to Scripture and realize that these are God's words and that He speaks to us through His Scripture. This journal is a great tool for engaging a tween boy to develop their relationship with God! I highly recommend it!" – Alexandra Sullivan (Transform Our Hearts Blog)
Mike Levoy (Illustrator for Voyage Comics and Ascension Press) says this:
"I think it's great! It's really well done and well thought out. The artwork and design works great with the book as well. I thought the personal story about the running gift was so good! I can't tell you how many times I've thought to myself, "Is drawing comic books really making any kind of difference?" As a father of four boys who love to draw and write as they're falling asleep, I think this is the perfect journal for them!"
Speaking of Voyage Comics – definitely check out their website for gifts under $20 too.  They have a comic book about Blessed Carlo Acutis and many other options – one includes a Catholic super hero!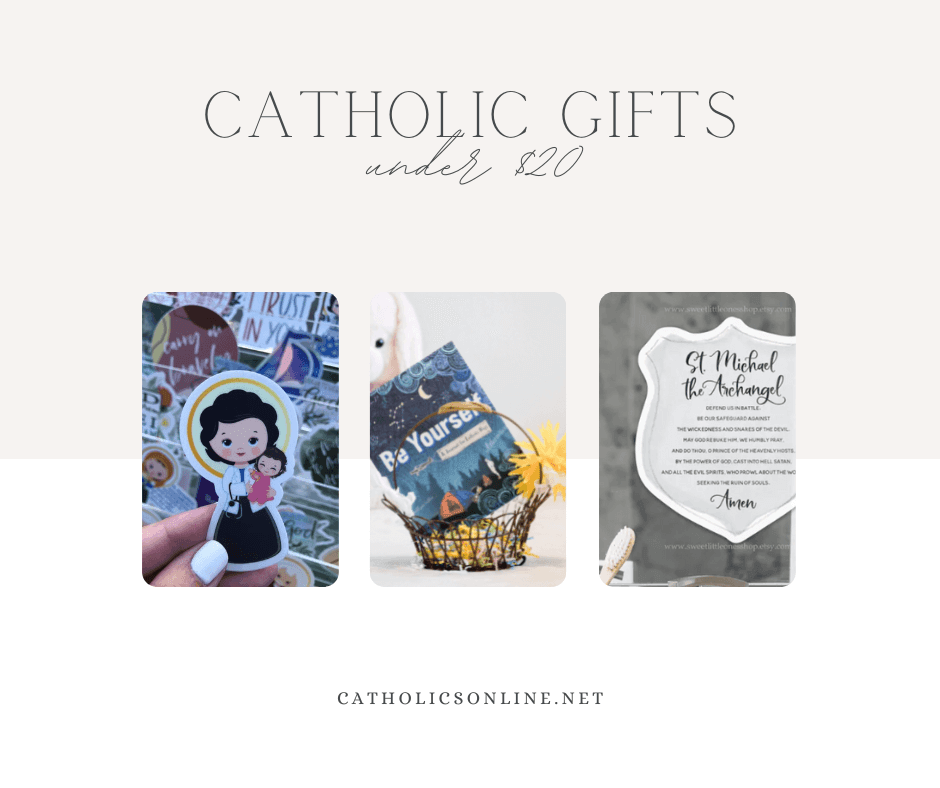 Another incredible Catholic book is the recently published The Treasure with a Face by Janeen Zaio
Twelve-year-old Eli lives in ancient Israel and dreams of being a treasure hunter instead of his uncle's metal-smithing apprentice. Uncle Shem is the kind of man who would tell Jesus that He walked on water the wrong way.
When Uncle Shem reluctantly sends the boy on a 120-mile journey to Jerusalem to deliver a fragile mirror, it seems like an impossible mission for a clumsy apprentice. Eli resolves not only to redeem himself in the eyes of his uncle, but also to begin his life as a real treasure hunter. He aims to find nothing less than the Ark of the Covenant! Of course flames reportedly shoot out the bottom of the Ark, and people who touch it tend to die, but that's not going to deter Eli.
When a mysterious stranger, who seems to share a secret past with Uncle Shem, gives Eli a worn Roman artifact, the boy never imagines how much he'll appreciate the object during the perilous journey ahead. Enemies await both along the way and within Jerusalem's imposing walls.
And there's another reason to visit the City of David in AD 33: Jesus. For who other than the all-knowing Son of God might know where to find the ultimate treasure?
The various textures are perfect for curious hands to explore.  This can be made with or without ribbons (which are securely attached). It's a great gift for your future saint.
5. One Decade Rosaries
Refuge Rosaries has a variety, including a few dedicated to Saint Joseph.
This one decade Saint Joseph pocket rosary is made with 8mm wood and gemstone beads. The rosary is made with micro cord, the slimmest form of paracord which makes it incredibly durable.
The rosary is about 7.25" long. The Pardon crucifix is 1.75" long and the medal is 1.5" long.
The available designs are amethyst and ebony beads, African turquoise and robles beads, tigers eye and dyed blue wood beads, and green aventurine and white wood beads.
Another cute decade Rosary is the Pentecost decade Rosary from Small Things Great Love!
You have GOT TO SEE these decade Rosaries!  The color combinations are amazing and each is so beautiful.  I could totally see girls excited to clip these on their backpacks or sports bags and teens will love adding them to their keychain!
6. Catholic Accessories and Jewelry
His Girl Sunday has a lovely Our Lady of Guadalupe Scarf Scrunchie!
The Girls' Crystal Cross Earrings Pendant Set from Catholic Faith Store is loves (and just one of the many choices you'll find there)!
7. A Catholic Game
Brother Francis has a great one- Fun-Fact-Faith – Three Catholic Games in One!
Catholic Trivia
Bible Charades
Who Am I (Bible Characters)
Three ways to test your knowledge of our Catholic faith, Bible stories, and characters, and your acting skills!
Catholic Trivia – Thought-provoking and challenging questions to test your knowledge of the Church, its beliefs, and traditions. Easy, medium, and hard questions for different age groups. Adults will find it challenging too!
Bible Charades – Test your acting skills and Bible knowledge as you act out Bible stories. Look up stories you are unfamiliar with, using the references provided, to expand your Bible knowledge.
Who Am I? – Dive deep into the lives of Bible characters with this faith-building guessing game.
Kid Saints Memory Game from Just Love Prints and the Super Saints Card game from Arma Dei!
8. Catholic Bath Toys!
Saintly Heart has created Saint Florian Fire Fighter bath toys AND a Saint Francis and Friends Bath Set!!!
Splish splash – taking a bath has become more fun and another way to connect children to our faith!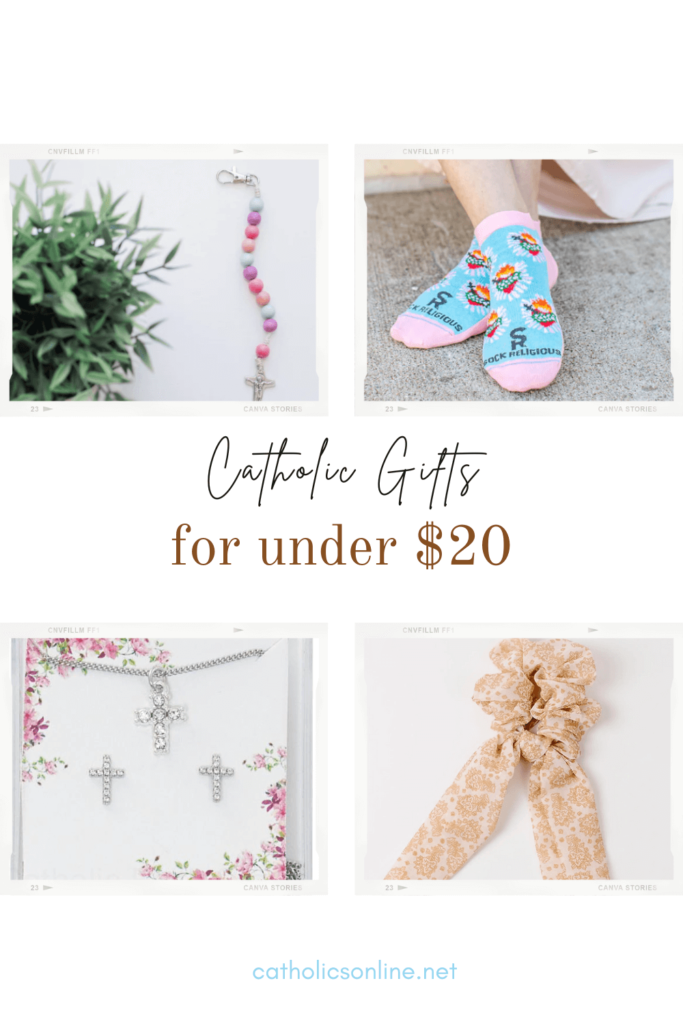 9 – 10 – 11 Catholic Phone Accessories
Pink Salt Riot makes "boho" style screen cleaners and one of our favorites, a silicone card holder with a screen cleaner!
The Catholic Phone Screen Cleaners are the BEST gift idea for you if you are looking to give something unique and meaningful to your youth group students, Confirmation class or Catholic team.
They are only $2.00 each and they will use them to clean their screen and camera lens!
If you shop at PINK SALT RIOT, use the coupon code CATHOLICSSAVE for 10% off!
Added bonus: Pink Salt Riot has a whole category on it's website "gifts under $10"!  Use coupon code CATHOLICSSAVE to get 10% your purchase!
12. Catholic Socks
Sock Religious offers such a fun and practical product!  You can buy knee socks, ankle ( or "no-show") socks as well as the extra-large size socks!
Future Saints Dry-Erase Mass Cards
Annunciation Designs makes these reusable dry-erase activity cards are perfect to engage your little future saint at Mass or Adoration.
Shining Light Dolls also makes dry-erase activities if you are looking for a new way to teach your children the Rosary!
For the babies and tots – a Little Lamb Teether is so cute and fun.
For the older kids, get a few mini-puzzles and the Saints of the Month Sticker book!
And of course, the classic Shining Light Dolls!  Use code PRAYERWINECHOCOLATE for 10% at check out!
The Classic Shining Light Doll
Grows with your child; safe for babies and toddlers, and continues to engage preschool and school age children with imaginative play centered around the "characters" of their Faith.
Exceeds safety requirements for children of all ages- including those under 3
17. Catholic Stickers
Many members of our community make the coolest stickers!  Kidderbug Kreations and Just Love Prints have adorable Saints for children;
Sweet Little Ones has stickers for all ages!!!
The new Pray By Sticker Book by Catholic Family Crate is a spectacular gift to give any child between the ages of 5 and 11!
Just like paint-by-number, but with stickers! Peel the sticker, place the sticker, and watch your faith come alive! Pray By Sticker™ is a compelling activity for all ages, with everything you need to create faithful, vibrant, full-color "paintings" and have a prayerful time doing it. Create 10 Catholic masterpieces, one prayer at a time!
Helps children learn about their Catholic faith while learning numbers and using their fine motor skills.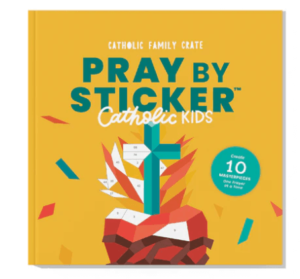 10 masterpieces
Perforated pages make it easy to frame or hang finished artwork
Size: 9″ x 9″
Ages 5+
Each page includes between 51 and 112 stickers
BONUS: The back of each image includes a description and reflective questions.
18. Catholic Needle Minder/Lapel Pin
Happy Nest Home Goods sells these beautiful lapel pins that are often used as needle minders!
Lapel Pin: This beautiful magnetic pin easily sticks onto your lapel, bag, hat, or anything you'd like!
Needle Minder: Attach your pin to your fabric while you sew or embroider, and have a beautiful, convenient place to put your needle when you need to pause your work!
Looking for Catholic Jewelry?  Check out this post The Gift of Catholic Jewelry
19. Catholic Wooden Toys
Saintly Heart offers a variety of wooden toys that are awesome!
While the Church celebrates the Year of Saint Joseph, your child can be celebrating too! Invite your little one to spend time with Saint Joseph and his workshop with this eco-friendly wooden chunky puzzle. Help your child's cognitive and physical development by moving Saint Joseph's tools into their proper space and encourage open-ended and natural play with familiar tools like a hammer. This educational, faith-based puzzle is sure to engage your child in endless play.
Recommended for ages 24+ months
The Fatima Lacing Set is now on sale for $20!  This is such a great toy for toddler's working on fine motor skills and speech!
This Our Lady of Fatima Lacing Set, featuring a 24 piece puzzle background that sets the play scene, will provide endless opportunities for faith-based, open ended play and promote dexterity, creativity, language, and cognitive development.
The included information pages will teach your children about the story of Fatima and the importance of the rosary in a fun and playful way, along with the special prayers and symbols associated with this Marian apparition.
A cloth tote bag is included for easy clean up and storage!
Recommended for ages 3+
Included in this set:
24 piece jigsaw puzzle Fatima scene playmat
14 wooden pieces including Our Lady, Saint Jacinta, Saint Francisco, Servant of God Lucia, and Angel of Peace
Lacing string
2 double-sided Fatima story information pages
1 cloth tote bag
20. Catholic Baby Must-Haves
Every baby needs a bib and a teether!
Saintly Heart has Saint Francis Teethers (an elephant or a koala bear!)
The Be a Heart Meal Blessing Bib is both practical and prayerful!
Our Meal Blessing Bib is perfect for all Catholic children! Teach them about gratitude for our many gifts.
Made of food grade silicone in four different colors, it can be cleaned in the dishwasher or by hand.
Makes a perfect baby shower or baptism gift.  Also great for birthdays and Christmas!
Want gift ideas separated into categories for Men, Women, age groups?
Download our Christmas Guide from 2022 – it's awesome!