This post contains affiliate or associate links with several businesses (which means if you shop through the links, I earn a small commission). As an Amazon Associate I earn from qualifying purchases.
In 2018 I wrote a Confirmation Gift Guide over at PrayerWineChocolate.com
This gift guide still gets views, especially this time of year.  (If you would like to view it, you can here:
Confirmation Gifts for Boys
New American Bible (Confirmation Edition)
Time to move up from the Children's Bible – give the young man his own Bible!
Supple material, blind embossing, foil stamping, precise stitching, and decorative gilding combine to provide an exquisite and unique package for the Word of God. The distinctive features of our St. Joseph Editions, including new maps and Confirmation Record, complete this handsome gift.
For Him Bundle from Pink Salt Riot
A Jesus I Trust in You Valet Tray, plus keychain, cord bracelet and more.
Armor of God Short Sleeved Tee Shirt from Someday Saints 
Soft and lightweight, with the right amount of stretch. It's comfortable and flattering for all.
*******Brand new Sacrament Gift Catalog just published in March 2022!  All the Sacraments (including Confirmation) listed!  Get it here: Sacrament Gift Catalog 2022***********
Viva Christo Rey Hat from Kolbe's Little Flowers 
The slightly distressed brim and crown fabric give it an edgy look.
Kolbe's Little Flowers has a variety of Catholic hats to choose from!
Verso L'Alto Champion Backpack
Champion backpack is the perfect choice for sports clothes, water bottle and laptop! It's also water-resistant, so your belongings are sure to stay dry in any weather.
Sock Religious has Holy Spirit themed socks, Jesus themed socks and might even have the young man or woman's Confirmation Saint themed sock.
Love the sense of humor provided by the Saint Anthony pair, Saint Michael's are classic and many more are a great fit!
Be Yourself: A Journal for Catholic Boys
Michael LaVoy, Comic book artist and father of 4 boys says this:
I think it's great! It's really well done and well thought out. The artwork and design works great with the book as well. I thought the personal story about the running gift was so good! I can't tell you how many times I've thought to myself, "Is drawing comic books really making any kind of difference?" As a father of four boys who love to draw and write as they're falling asleep, I think this is the perfect journal for them!
A Comic Book or Tee Shirt from Voyage Comics
Creating quality products that entertain, inspire and highlight the beauty of the Catholic faith.
"We aim to provide amazing stories, rooted firmly in the Catholic faith, that anyone can pick-up and enjoy."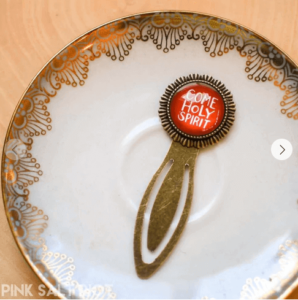 Confirmation Gifts for Girls
Catholic Jewelry is a great Confirmation Gift
Catholic Bracelet
Confirmation Rosary Wrap Bracelet from Kolbe and Co.
Acrylic Charm Bracelet from No Heart Untouched
Miraculous Medal Rosary Bracelet from Gifts By Beth
Catholic Necklace
A Mustard Seed or Miraculous Medal necklace from Telos Design.
Faith in all times. This little pendant reminds us that even the smallest amount of faith can carry us a big distance because God can do the rest. This dainty, three-dimensional pendant features a tiny mustard seed suspended in a translucent capsule. Pendant is available in either a sterling silver or a gold-filled frame. Pendant is 5/8"x3/8" suspended from a 18" rope chain (extensions available separately)
Stone Sword Miraculous Medal Stack from Pink Salt Riot
Add some fun earrings too!Pink Salt Riot uses current jewelry trends to create jewelry with a holy message.
Coral Joy Springs Tassal Earrings
These earrings are the perfect visual representation of the endless wellspring of joy we have access to through our relationship with Jesus.
A Catholic Journal or Journaling Set
Be Yourself: A Catholic Journal for Girls
This book has ranked in the top 100 Children's Journal Writing category for over 2 years!
"Be who God meant you to be, and you will set the world on fire!" Those words are at the heart of Be Yourself! A Journal for Catholic Girls, which is designed to help girls explore their identity and purpose in life in light of the wisdom of the Catholic Church, including half a dozen female saints.
Packed with gorgeous, full-color line art, quizzes, journaling questions, and inspirational quotes from the saints, the Catechism of the Catholic Church, and Scripture, the Be Yourself! journal is a fun way to help girls discover that they are beautifully and wonderfully made by God.
If the young woman receiving her Confirmation is 14 years old or older, purchasing the coloring pages from the Be Yourself Journal and placing them in a binder might be a better option.  See THIS INSTAGRAM REEL here that shows you what this might look like!
 ID: in Domino- finding our identity in Christ a creative bible study
Let's find ourselves in His Name, in Christ, in the needs He fulfills – God put eternity in our hearts and nothing or no one can satisfy that need. Only Him, Jesus the One and only…the Way, the Bridegroom, the Redeemer, the Man of Sorrows, the Light, the One who the world hated first, the One in which all things hold together. Find yourself in Him, lose yourself in Him…actually, I think, that's the only way we can find ourselves.
This package includes:
Devotional with illustrations in a folder form ( 8×4, 22 pages)
+ 9 clear sticker pages with coordinated artwork and lettering (six 8″x4″ , three 8″x2″)
+ 8 illustrated journaling premium card stock cards 3×5
+ 15 white sticker illustrated full pages (ten 8×4 and five 2×8)
+ 18 die cut artwork pieces
+ 14 washi strips
+ glassine envelope
+ illustrated folder 8×4
+ 4×6 stamp set with 7 stamps
+ fabric pouch, ribbons
*******Brand new Sacrament Gift Catalog just published in March 2022!  All the Sacraments (including Confirmation) listed!  Get it here: Sacrament Gift Catalog 2022***********
Catholic Apparel
AMDG Catholic Baseball Style Hat
AMDG: ad majorem Dei gloriam. All for the greater glory of God! Inspire the receiver to offer all and do all for God's glory!
Sock Religious is also a fun place to shop for you Confirmandi!
You may find the Confirmation Saint who inspired the young lady this year, or you could always grab the Holy Spirit socks!
Catholic Saint Key Chain
If you are hoping to find a gift that honors the recipient's Confirmation Saint, this keychain from Relics by Rose is an excellent option.
Unique Catholic key chain featuring a saint of your choice. Each key chain is made with a sturdy, swivel clasp. The medals and beads are securely wire wrapped by hand which will stand up to frequent use.
They can be easily attached to your key chain, purse, backpack, or travel bag. The perfect gift for students, travelers and more!
Don't miss incredible Catholic gift guides like this one!
*******Brand new Sacrament Gift Catalog just published in March 2022!  All the Sacraments (including Confirmation) listed!  Get it here: Sacrament Gift Catalog 2022***********
Plus, this is only some of the Confirmation gifts available from our members.  Check out our artisans and business sections for more ideas, and sign up for our newsletter so you will be the first to receive our Sacrament Gift Catalog coming soon!
We love providing inspiring Catholic content from a community who is cheering you on in your journey to Sainthood! Sign up today!