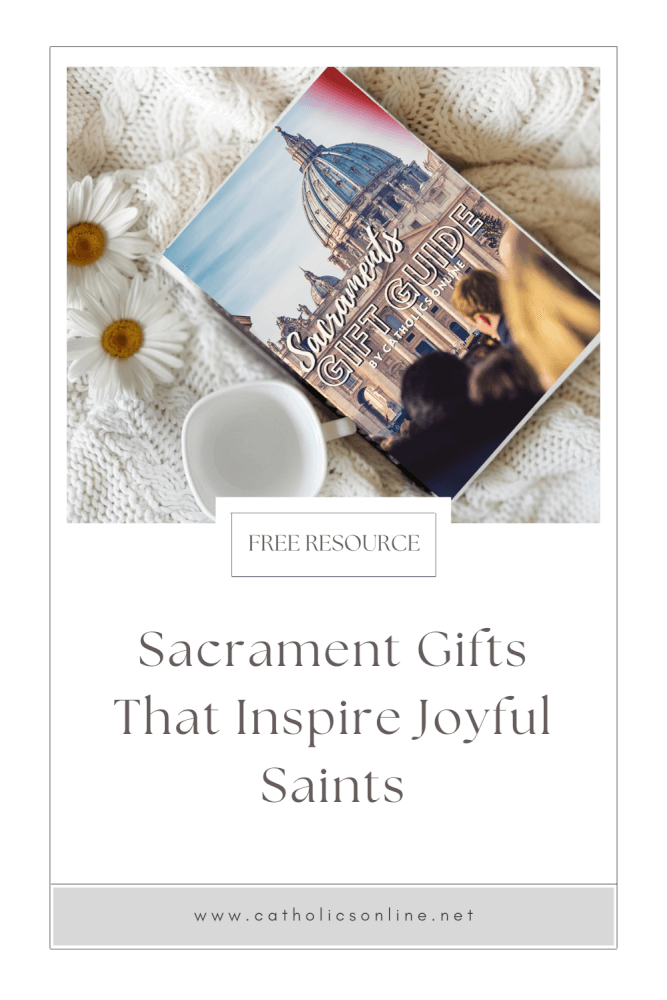 This post contains affiliate or associate links with several businesses (which means if you shop through the links, I earn a small commission). As an Amazon Associate I earn from qualifying purchases.
The Ultimate Catholic Sacraments Gift Guide
We believe that God has given talents to everyone.  Some have been created to create products that nurture prayer and love of God.
These products make great gifts when someone receives a Sacrament or enters fully into the Church.
Our community has joined together to bring you this beautiful catalog.  So the next time you are invited to a Catholic wedding or a First Holy Communion party – you can bring a card with a gift that will celebrate our awesome faith and encourage the receiver to never stop pursuing God.
***Yes, I want my free catalog!!!***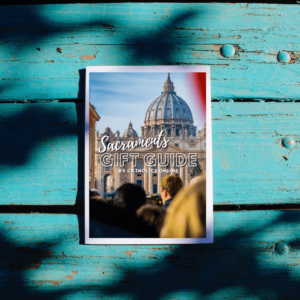 It's important to find just the right gift for your loved one when they are receiving the Sacraments. Something that will convey the sacredness and importance of the occasion. Our Sacraments Gift Guide has ideas for the best gifts to give on the occasion of each of the seven Sacraments, and includes a special RCIA section, too!
We combine the catalog look with the convenience of digital shopping! This gift guide has the mood of a magazine with the ease of the internet.
Here is a glimpse of our Sacrament Gift Guide
From Baptism to Anointing of the Sick, these gifts will provide comfort and hope!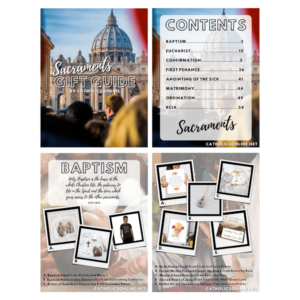 Baptisms are usually done in the first year of a baby's life – but the pandemic definitely put a holt to many of these.  Hopefully, you have quite a few on your calendar in the following months!
The gifts featured in this catalog range from Nursery decor, teethers and bibs, a Catholic baby book to traditional Catholic gifts.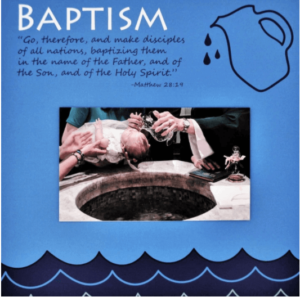 The photo above is one page inside the Catholic Keepsake book from Thy Olive Tree.
Use this book to record your child's developmental AND faith-based milestones from birth to age 18. From baby's first step and first time going to Mass, all the way to Confirmation and Senior Year, "My Catholic Keepsake" helps you document so many important moments. Thoughtfully designed for busy Catholic families, this book contains just enough without being overwhelming. Capture memories little by little over the years and you'll end up with the perfect graduation gift for your child as they head onward, armed with reminders of the importance of their faith!
From First Holy Communion to Confirmation, you can choose gifts that embrace tradition and play!
Our First Holy Communion section has traditional sacramentals, jewelry, apparel, books and toys!  The variety of choices is more than impressive!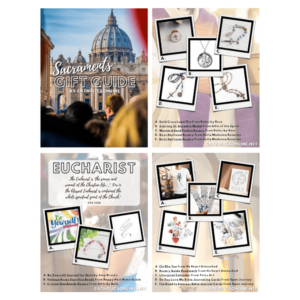 This section alone has over 60 gift ideas!
Some are under $10, like the sticker sheet from Just Love Prints!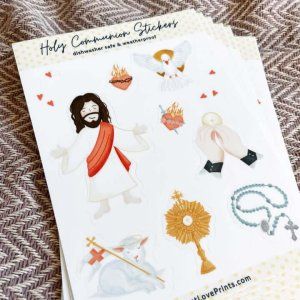 No matter what your budget is, you will be sure to find a gift that is meaningful and beautiful.
Know an adult fully entering the Church this Easter?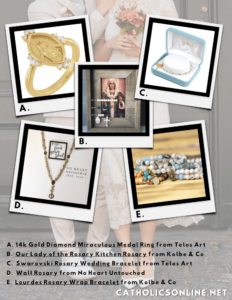 RCIA programs prepare adults to fully enter the Church each year at Easter.  Welcoming them into the church is so important!  Let's really celebrate with them by giving a gift that keeps that fire burning after receiving the Sacraments for the first time! This gift catalog will do just that!
Beautiful Sacrament Gifts for Girls and Masculine Gifts Boys will find attractive and intriguing
Girls will find elegant jewelry, fun and relevant books, stylish accessories and holy prayer aids.
Boys will love the apparel, cuff links, books and toys that capture their attention.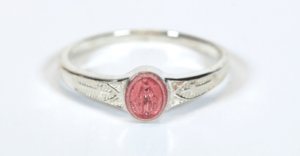 Shops, like Telos Art, create modern Catholic jewelry and gifts that are subtle yet beautiful.
Businesses like No Heart Untouched and Kolbe's Little Flowers impress both the feminine heart and the masculine soul.
All the gifts listed in our catalog provide options for every personality and age.
Get this catalog by signing up for our newsletter, so that when new products make their debut, we can keep you in the loop.
We hope to always inspire you to pray more and keep the faith.
We believe that inspiration is the first step to growing closer to Christ.
God Bless YOU!