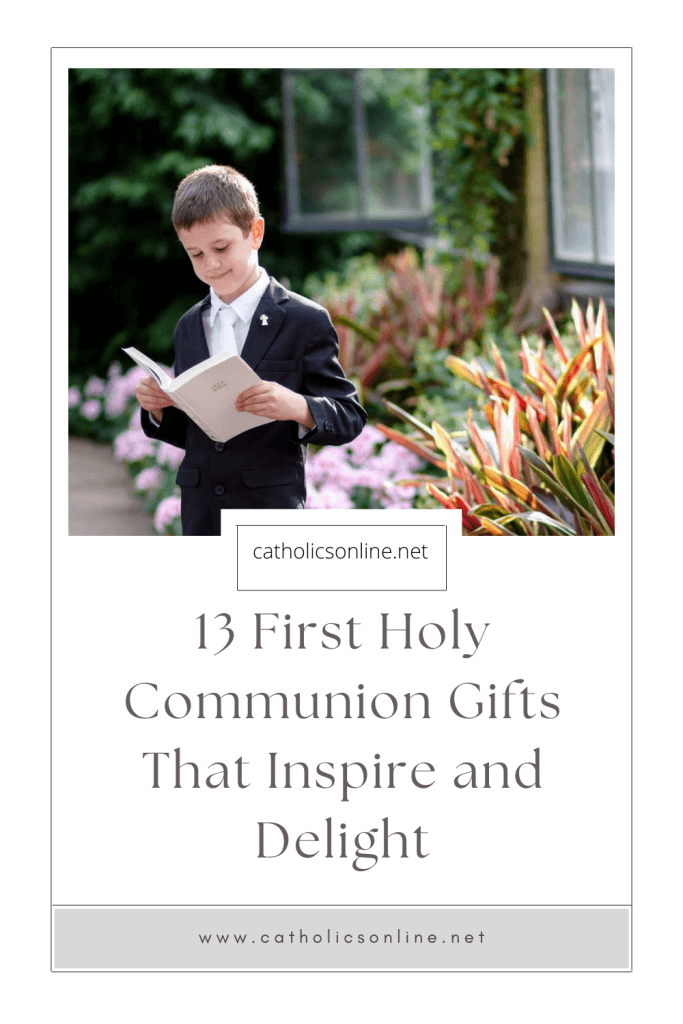 This post contains affiliate or associate links with several businesses (which means if you shop through the links, I earn a small commission). As an Amazon Associate I earn from qualifying purchases.
Were you recently invited to celebrate a First Holy Communion? Is your child – or Godchild- receiving his (or her) First Holy Communion?
If so, we have some gift ideas for you!
The following is just a snapshot of the First Holy Communion Gift suggestions we have – make sure you download our free guide to see all of the potential gifts available this year!
Traditional and Classic First Holy Communion Gifts
A beautiful Rosary from Refuge Rosaries.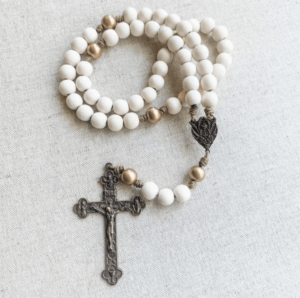 A handmade Scapular from Sara Estabrooks (To Jesus, Sincerely)
Sara sells these once a month on Instagram!
A vintage keepsake card from Jill Lear (Violets and Moss)
Looking to find more traditional gifts?  Download our free Sacrament Catalog here: Yes, I want my free catalog!
Modern First Holy Communion Gifts
Gold Eucharist Charm Bracelet from Alicia Baker (No Hearts Untouched)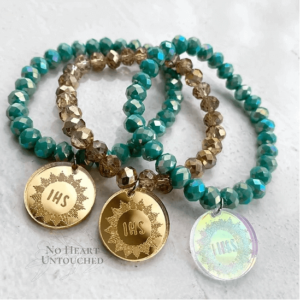 A First Holy Communion Prayer Box from Carla Quigley (Carla Quigley Art)
Holy Socks from Sock Religious
Looking for more modern ideas?  Download this Sacrament Gift Catalog for more!
Elegant and Dapper First Holy Communion Gifts
A necklace from Telos Art Shop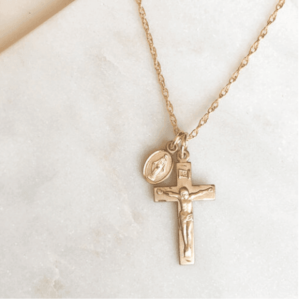 A gold cross lapel pin from Relics by Rose
Looking for more polished and suave First Holy Communion Gifts?  See more here in this free guide!
First Holy Communion Gifts that encourage both play and faith
Catholic Playing Cards from Mrs. Torres Creates
Bold Women of Faith Set from Saintly Heart
First Holy Communion Kit from Cultivating Catholics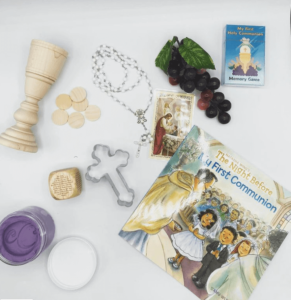 Looking for more ideas that encourage young hearts to embrace faith – find plenty more ideas in our 2022 Sacrament Gift Catalog!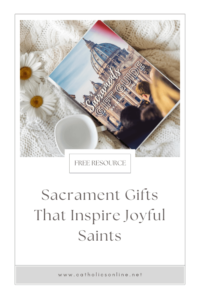 Unique First Holy Communion Gift Ideas
A Saint Benedict Door Rosary from Gifts of the Spirit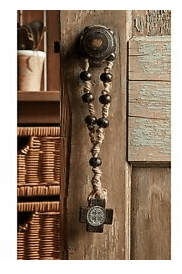 An Apple Box from Seeds for Sainthood
The Children's Apple subscriptions for are designed for Elementary Age children. Incorporate faith into your children's lives in an impactful way. Keeping up with feast days, saints, and even just the Sunday liturgy can be overwhelming at times!  Apple subscription options curated for all different family domestic churches are an open-and-go style that has really helped many families.
If you are looking for more ideas (like books, stickers, cards, a larger variety of rosaries and much more ). . . download our free catalog! And extra hint:  look at both the First Penance section and the First Holy Communion sections!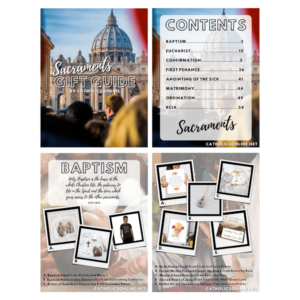 This post was curated by Amy Brooks.
Sign up to receive gift guides like this, plus Catholic inspiration! Yes, email me posts like this!