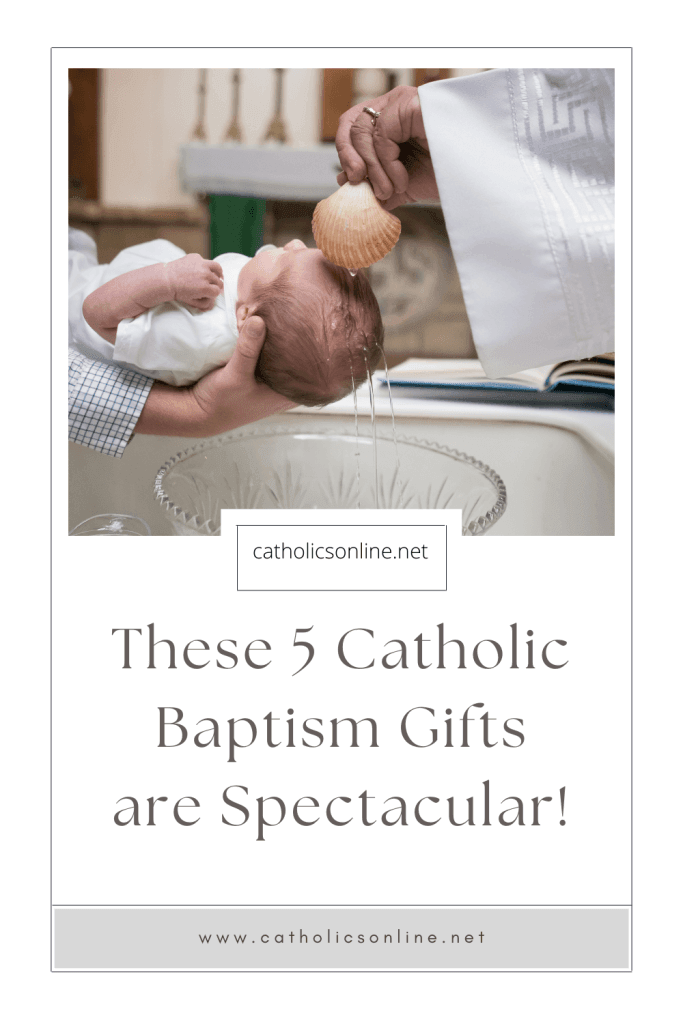 This post contains affiliate or associate links with several businesses (which means if you shop through the links, I earn a small commission). As an Amazon Associate I earn from qualifying purchases.
Our Sacrament Gift Guide has a ton of wonderful ideas for Baptism gifts!  Here are a few, but make sure you get your free Sacrament catalog so that you can see more options!
These gifts are holy, beautiful, practical and thoughtful!
Give a Baptism Gift Bundle
Cultivating Catholics has teamed up with other Catholic shops (Annunciation Designs, Saintly Heart and more) to create this gift set that is sure to delight!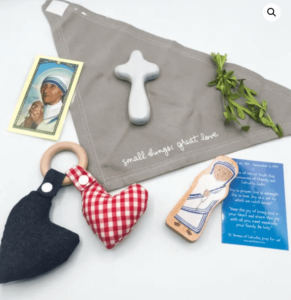 St. Teresa of Calcutta Baby Sensory Kits include:
Wooden St. Teresa from Saintly Heart
"Small Things Great Love" drool bib
Wooden teething ring with plush hearts
Blue wooden cross
Silky leaf ribbons
St. Teresa prayer card
Why we love it:  It has practical products that will help parents and it incorporates several of our creators! (Annunciation Designs and Saintly Heart)
A Catholic Baby Memory Book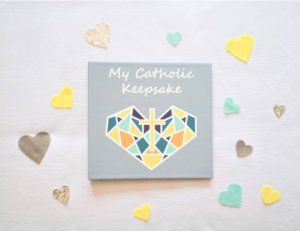 My Catholic Keepsake is a modern memory book / scrapbook designed just for Catholic parents. Use this book to record your child's developmental AND faith-based milestones from birth to age 18. From baby's first step and first time going to Mass, all the way to Confirmation and Senior Year, "My Catholic Keepsake" helps you document so many important moments.
Why we love it:  This book can be given to a child at any age.  It invites parents to print out pictures the old fashioned way and create a photo album that celebrates the child and our beautiful Catholic faith!
Catholic Decor for a Child's bedroom
Our Sacrament Gift Catalog has a variety of gorgeous, fun and even educational wall prints and decor items!
Catholic Prints from Carla Quigley Art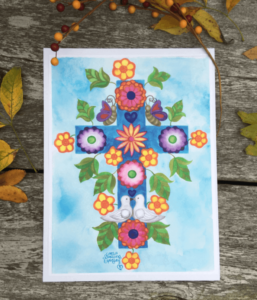 The Little Shepherd Christ Child Print and the Colorful Spring Cross add cheer to a space while celebrating the faith.
Other options include fun and educational art like the Catholic Alphabet Prints from Just Love Prints!
This bundle comes with (3) 8x10in. prints with kid-friendly depictions of the Catholic faith. They serve as a beautiful learning resource for the whole family.
Why we love it:  This art will be displayed for years and create an atmosphere that encourages prayer and invites holy contemplation.
Looking for more Catholic home decor gifts?  Our Sacrament Catalog has a ton of options!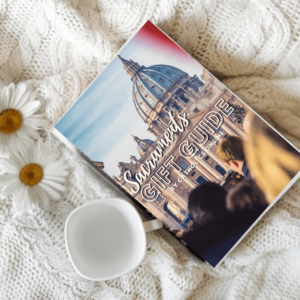 Catholic Baby and Child Blankets
The Catholic Baby Milestone Blanket by Faith and Fabric is gorgeous!  It's become a popular tradition to take photographs of babies each month of their first year, and this blanket provides a Catholic element to a common practice.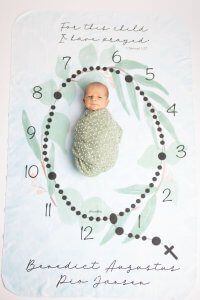 The Baby Milestone Blanket is handmade from quality fabric for your baby, this blanket is created from 100% organic cotton. It's non-toxic, oh-so soft, and extra snuggly! It's gentle on your baby's delicate skin, yet super-durable and will last through many washings.
Why we love it: Each milestone blanket is personalized with your child's first, middle, and last name, making it as unique as your little baby. Use your child's favorite lovey or toy to mark their age (in months or years) as they grow. The top of the blanket reads, "For this child I have prayed. 1 Samuel 1:27". Two versions of the rosary milestone baby blanket, one for boys and one for girls, have been created with love.
Have an older child/toddler being Baptized, but love the blanket idea?  Check out Someday Saints blankets (seriously this blanket is out of this world) and our Sacrament Gift Guide for more ideas!
Catholic Toys
Shining Light Dolls has so many options!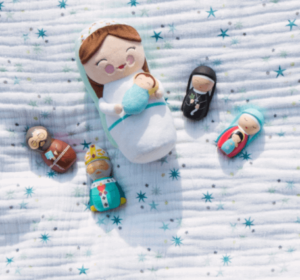 The Plush Dolls are fun and safe to play with, plus can act as decor that won't break around the holidays! The Classic Shining Light Dolls
are perfect for little hands and are durable for those teething years!
Shining Light Dolls also has a new line of baby quilts that are unique and so incredibly fun!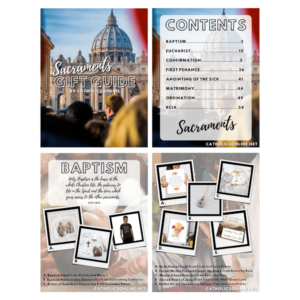 Want your Catholic products listed on our website blog posts?  Sign up to become a member here:  YES, I want to join Catholics Online!