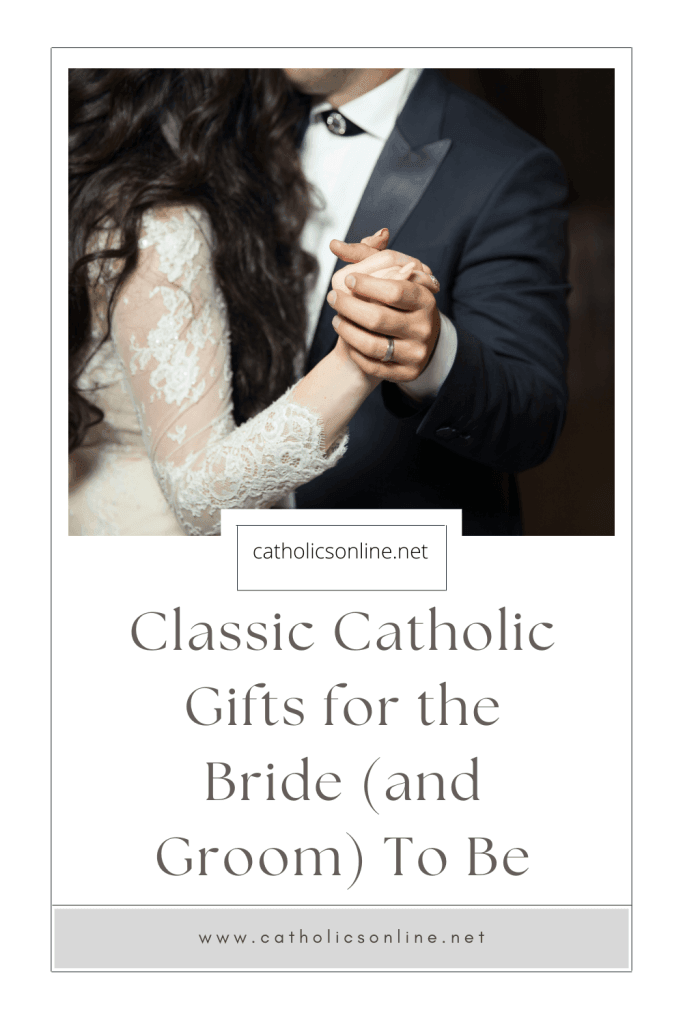 This post contains affiliate or associate links with several businesses (which means if you shop through the links, I earn a small commission). As an Amazon Associate I earn from qualifying purchases.
Have a Catholic wedding or two on your calendar?
Are you invited to a bridal shower of an engaged Catholic?
We have some beautiful, heartfelt and faith-filled gift ideas for you!
This post is just a glimpse of the ideas we have listed in our Catholic Sacrament Gift Guide's Marriage section!
(Get your FREE Sacrament Gift Guide here!!!  Yes, I want to download the Catholic Sacrament digital catalog!)
Classic Catholic Gifts for the Bride (and Groom) To-Be!
A Catholic Engagement Gift
Are you or someone you know planning a Catholic Wedding?
From engagement to happily ever after, find all of your Catholic wedding decisions in a single planner that you can revisit for years to come.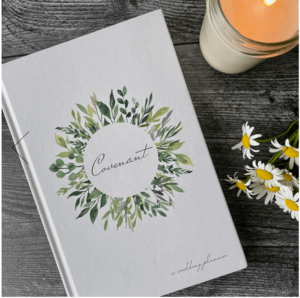 This Catholic wedding planner is designed to make wedding planning as stress-free as possible while focusing on the goal of your wedding: a happy and holy marriage.
Overview pages give a quick view of many decisions you'll want to keep track of throughout the wedding planning process in clear check-lists to keep you organized. Features budget tracker that can be customized to suit your needs.
Monthly View breaks down the planning into detail-oriented, easy-to-navigate pages organized by month so nothing is forgotten or overlooked. Keep track of appointment dates as well as opinions as you consider your huge number of options! Features pages for reflection to help brides stay the course: the most important part of this time of engagement is preparing for marriage and falling further in love with your future spouse.
The Wedding section walks couples through planning their Catholic wedding ceremony, with or without Mass. Showcases the full selection of readings, music suggestions, and more. Features wide spacing and margins to facilitate meditation and prayer as you reflect on your beautiful ceremony.
Something for the Catholic Bride
Designed for to celebrate the sacrament of marriage with it's twin hearts bronze rosary center and Wedding in the Garden of Eden medals. The back of the Wedding medal has a scroll design and is dated October, 1928, consistent with the antique medal it was cast from.
This rosary is made of deep blue 8mm lapis lazuli and clear quartz gemstone beads with tiny blue goldstone and bronze spacer beads and is finished with bronze metal findings. At 24″ long for the five decade loop, it's long enough to be worn if you wish.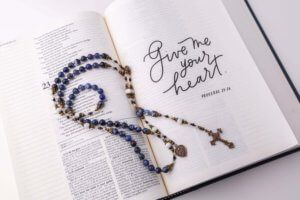 Della Madonna Rosaries has other blue rosaries in stock, one being the Our Lady Auspice Vintage Rosary.
Beautiful heirloom quality and vintage-looking rosary is perfect gift for someone celebrating one of the sacraments or special day. This rosary is made of 6mm high luster blue kyanite and moonstone gemstone beads with bronze metal findings. This rosary is delicate with beautiful study bronze medals celebrating Our Lady with a stunning Auspice center and a side medal of the Sacred Heart.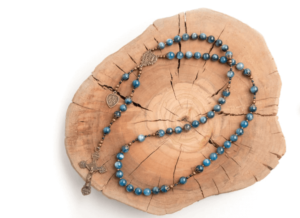 A Crucifix and Miraculous Medal Necklace Set
Our Lady told Saint Catherine Laboure that anyone who wore the Miraculous Medal around their neck would receive extra graces.  As a woman enters into marriage, Our Blessed Mother's prayers will be with her in a special way when she wears this gorgeous piece!
The Crucifix and Miraculous Medal Set is heirloom quality Crucifix and Miraculous Medal are suspended from an 18" rope chain. Crucifix is 7/8" tall, paired with a dainty 3/8" Miraculous Medal. Both medals are made in the USA and come with a lifetime guarantee.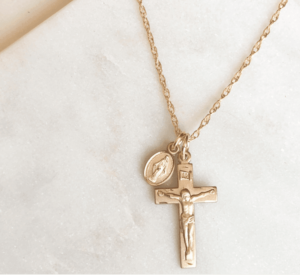 Solid 14k gold options are made to order and may take 1-2 weeks for fabrication.
Add this solid gold box chain to make the gift even more amazing!
Looking for more ideas for the Catholic bride-to-be?  Look at our Sacrament Gift Catalog!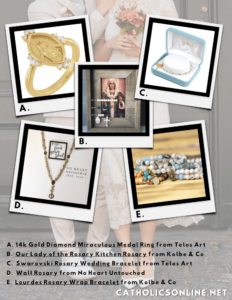 What Catholic gift would be perfect for the Groom?
Relics by Rose has several options available.  We love the Saint Joseph Cuff Links!
St Joseph cuff links for Catholic men make a great gift for weddings! They are set in a 16mm round, silver plated or stainless steel base setting.

This piece is part of Relics by Rose Impressionist Collection. All the items from this collection feature a vintage or found object, as well as other images, that have been pressed into jeweler's clay to form an impression. Colors are added by hand, distressed, and sealed with resin to show depth and detail. These pieces are made individually by hand, therefore slight variations in colors or depth of imprint may occur.
A Catholic Gift for the Bride and Groom's new home
Our Sacrament gift catalog has a number of products that will make the newly married couple's home beautiful – make sure you peruse our catalog to see all of the options!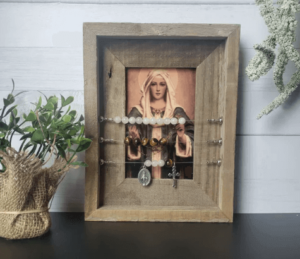 The Kitchen Rosary is used similar to an abacus, and you slide the beads as you pray the prayers of the Rosary.
Do you have specific wedding colors you want us to coordinate with? Message Kolbe & Co. to discuss our personalization options and customization prices!
Two awesome ideas are the Catholic Kitchen Rosary from Kolbe & Co. and the Wash the Plate Print from Kolbe's Little Flowers.  Kolbe's Little Flowers also sells an apron with the same quote (as well as other Catholic Aprons too!)
This Wash the Plate Print is for an 8" x 10" physical print of the Wash the Plate quote from Mother Teresa. Print says, "Wash the Plate because you Love the person who will use it next."
Museum-quality posters made on thick and durable matte paper. Add a wonderful accent to your room and office with these posters that are sure to brighten any environment.
Would you like a few more ideas for Catholic wedding gifts?  Check out our Sacrament Gift Catalog!!!!