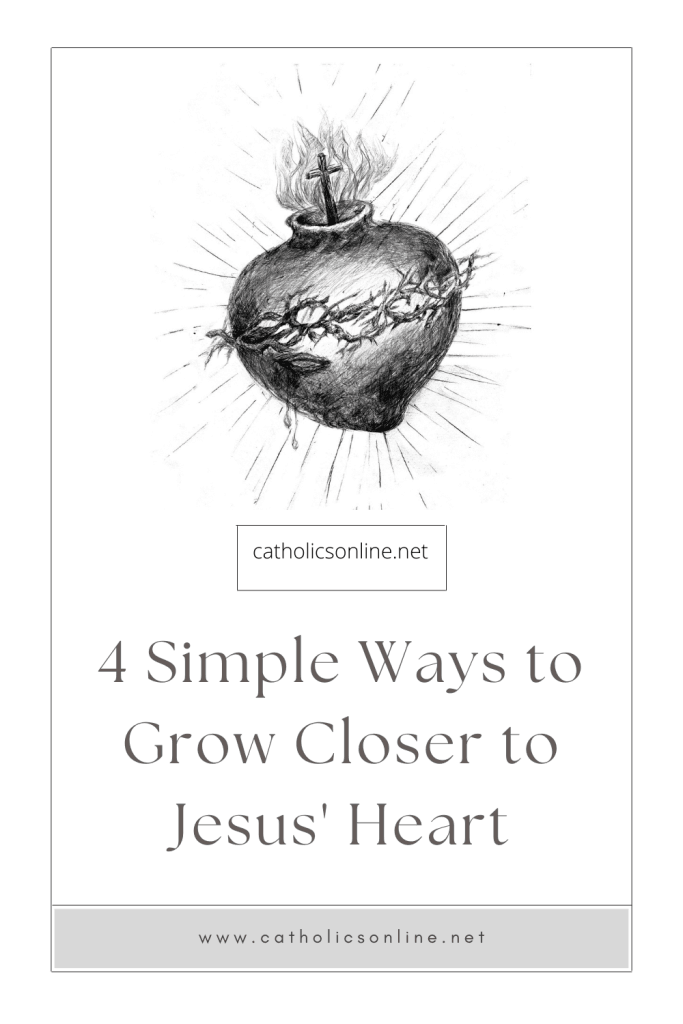 This post contains affiliate or associate links with several businesses (which means if you shop through the links, we earn a small commission). As an Amazon Associate we earn from qualifying purchases.
It's a tradition of Catholics to honor our God in different ways each month.  The month of June is dedicated to the Sacred Heart of Jesus.
Perhaps it's not a coincidence that the secular world celebrates much of what is contrary to Jesus' humble heart in the same month.
Our goal is to help spread awareness of Jesus' heart and immense love to all – so that anyone who yearns for His truth and goodness, can find it a little easier.
A group of bloggers from our community took time to write blog posts about the Sacred Heart and offer resources to help you grow in faith.  Here are some of those articles and resources.
4 Simple Ways to Grow Closer to Jesus' Heart
1. Reflect upon the image of His Most Sacred Heart.
Did you have an image of Jesus' heart in your home growing up?  What comes to mind when you really contemplate Jesus' Heart now?
John Spitzer (Author of Finding God Again and Again) shared his reflection in this post:
Finding My Integrity with the Most Sacred Heart of Jesus
As I look at Jesus one more time, His Sacred Heart overflowing with boundless love, compassion, and mercy, I can see he understands our brokenness and lack of integrity.  So, I ask Jesus to pray for me, a sinner with many faults, to heal me, to complete me.  In this month of June, what a good opportunity to ask Jesus to have mercy on us and heal us, to let us be open to his boundless and passionate love for us!
Michelle Nott shares her memory of the image of the Most Sacred Heart of Jesus in her childhood home in this post:
While our rooms and decorating inspirations constantly changed throughout the years, (even years when we weren't moving- ha!), certain things in my room were always constant. Besides our beds and dresser, we always had a clock, a crucifix, and a picture of the Sacred Heart of Jesus.

2. Make an effort to learn more about the Sacred Heart of Jesus
Andrea Frey wrote this piece for Catholic365:
What is the Sacred Heart of Jesus?
Jesus revealed his Sacred Heart to St. Margaret Mary Alacoque through a series of apparitions in the late 1600s. The first apparition came while she was praying before the Blessed Sacrament. She gave Jesus her heart and He took it and placed it in His fiery, burning heart before returning it to her. 
Grab your seat in the Saints of the Sacred Heart Series by Little With Great Love!
Watch the Intro to the Saints of the Sacred Heart Series on Little With Great Love's YouTube Channel.
Learn more about the Saints of the Sacred Heart Series and more Sacred Heart resources on the Little With Great Love Website!
3. Pray Directly to the Most Sacred Heart of Jesus
One simple prayer that calls upon Jesus' Heart is shared in this recent post on Prayer Wine Chocolate (written by Amy Brooks, author of Be Yourself: A Catholic Journal for Girls
and Be Yourself: A Catholic Journal for Boys)
Bring Jesus' Heart into Your Home With This One Prayer
Most Sacred Heart of Jesus,
I ask you to bless this house and all of us who live in it . . .
Monica McConkey (author or Prompt Me to Pray) encourages her readers to simply add "Most Sacred Heart of Jesus" in front of a prayer you already say in this post:
Sacred Heart of Jesus, I trust in You
Adding "Sacred Heart of Jesus" to "I trust in You" reminds us of the unconditional, infinite Love Jesus has for us and His Love for us is the reason He pours out His Divine Mercy upon us.
Monica gives more advice on how to pray that short, powerful prayer in this post by giving readers tips on how to mean what you pray!
4. Engage with Jesus' Most Sacred Heart in a Creative Way
Jen Frost, (author of  Make Every Day Blessed: Living the the Liturgical Year) and founder of Faith and Fabric, shares her Sacred Heart of Jesus quilt pattern that can be used to create a banner, wall hanging or even a pillow cover!

This Sacred Heart quilt pattern combines foundation paper piece within the heart and radiant rays, applique flames and crown of thorns, and both traditional and improv piecing for the finishing details. It's the perfect technique for this quilt!
Not one for a needle, thread or sewing machine?  Color a picture of the Sacred Heart!  A Sacred Heart of Jesus coloring pages is included in this download Catholic coloring pages pack:  Be Yourself Coloring Pages.
Would you like to find more gift ideas that are inspired by the Sacred Heart of Jesus?  Check out a recent gift guide I wrote: Gifts that Honor the Sacred Heart of Jesus.
Would you like to join our community and participate in blog round ups like this?  Apply here:  Sign up for Catholics Online!!!