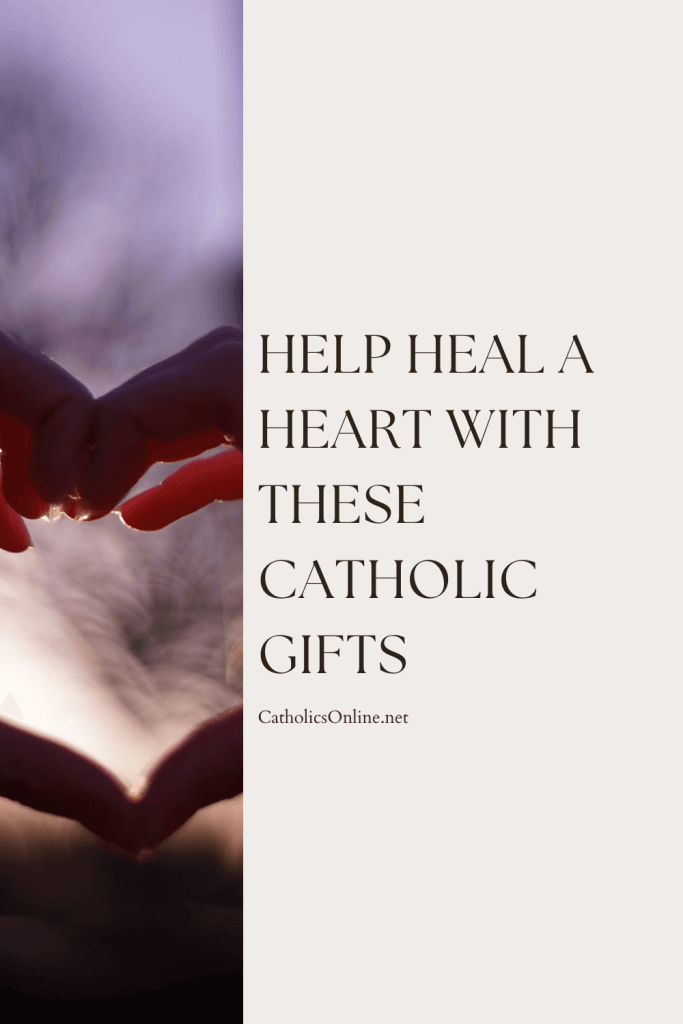 This post contains affiliate or associate links with several businesses (which means if you shop through the links, we earn a small commission). As an Amazon Associate we earn from qualifying purchases.
As Catholics, we are incredibly blessed to have the holy Sacraments.
Two of the seven Sacraments are known as Sacraments of Healing:  Anointing of the Sick and Reconciliation.
See more gifts for Anointing of the Sick and Reconciliation in this Gift Catalog.
The greatest Catholic gifts of healing are those Sacraments.
Both sin and illness are harmful indeed, and the grace that God offers us in the Sacraments is an extraordinary gift.
However, there are times when we see a very closed friend or loved one suffering – and we want to give something more than prayers.  Prayers are so wonderful to offer for others.  Prayers and having Masses said for a person are priceless gifts.  These should be given!
If you want to add to those prayers . . .
Here are some Catholic gift ideas that will add comfort and heal the heart:
These are just a few from our Sacrament Gift Guide/Catalog – in the Anointing of the Sick section!  Get the whole guide – Sacrament Gift Catalog Download!
Instead of sending flowers and a Hallmark card, send: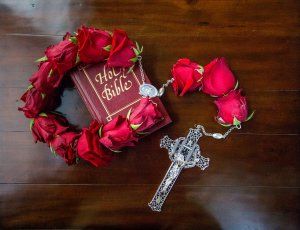 Don't think this gift option is for women only!  I gifted an Fresh Rosary to our parish and our pastor was absolutely delighted.  He has mentioned ordering another and couldn't way to show others the incredible gift!
Join our community!  Apply today!
2. A Forget Me Not Pressed Flower Necklace made by Relics by Rose
Forget Me Not Real Dried Flower Catholic Necklace features a dried Forget Me Not flower against a white backdrop and sealed with a layer of resin. In medieval Mary Gardens this flower was named The Eyes of Mary.
It is meant as a reminder that Our Lady continually watches over us with a loving gaze as a devoted mother.
This is a real dried and pressed flower!
or a
3. Saint Benedict Essential Oils Stretch Bracelet from Telos Art Shop.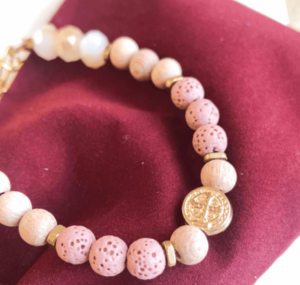 Need ideas on essential oil to pair this gift with?  Here are 7 Essential Oils that sooth and heal!!!
Catholic Gifts of comfort, encouragement and healing for men:
Sometimes putting on a new pair of socks brings a feeling of relief and comfort.  Sock Religous socks can bring that to those who are sick, plus add a smile to a loving face and a prayer in an unusual place.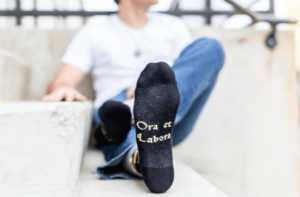 Men: Adult XL Saint Michael Socks: No matter what sickness or ailment is being fought, these call on Saint Michael to help defend us in battle!
For the loved one battling cancer: Saint Peregrine Socks
Gifts of comfort for a child
Shining Light Plush Dolls are perfect for a child who needs extra cuddles and snuggles.
Kidderbug Kreations makes prayer pillows and more soft, prayerful gifts!
Lots of other gift ideas like these in the Reconciliation section of the Sacrament Catalog: Download your Sacrament Catalog Now!
Gifts of Encouragement and Comfort for Teens and Pre-Teens
Send a JOY BOX from Pink Salt Riot! Pink Salt Riot also makes fun temporary tattoos that encourage and uplift!
Snuggle Blankets from Someday Saints are so great!  There is a Boy's Blanket and a blanket that would be fitting to a girl or woman of any age!!!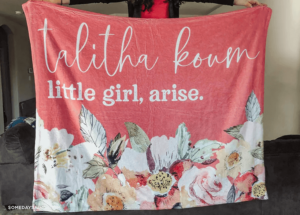 Sometimes adolescence is just hard.  If you know a young person often feeling left out, help them find their confidence and identity with the Be Yourself Journals!!!
Looking for more Catholic gifts that will uplift and provide comfort during healing?  Get them here:  The Catholic Sacraments Gift Guide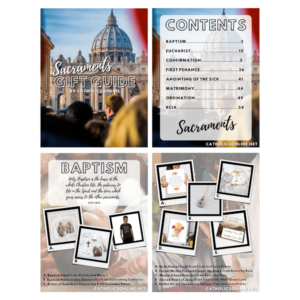 Are you a Catholic business owner who would like to be featured in posts like this?  Apply to be a member of our community!  Yes, I want to apply!