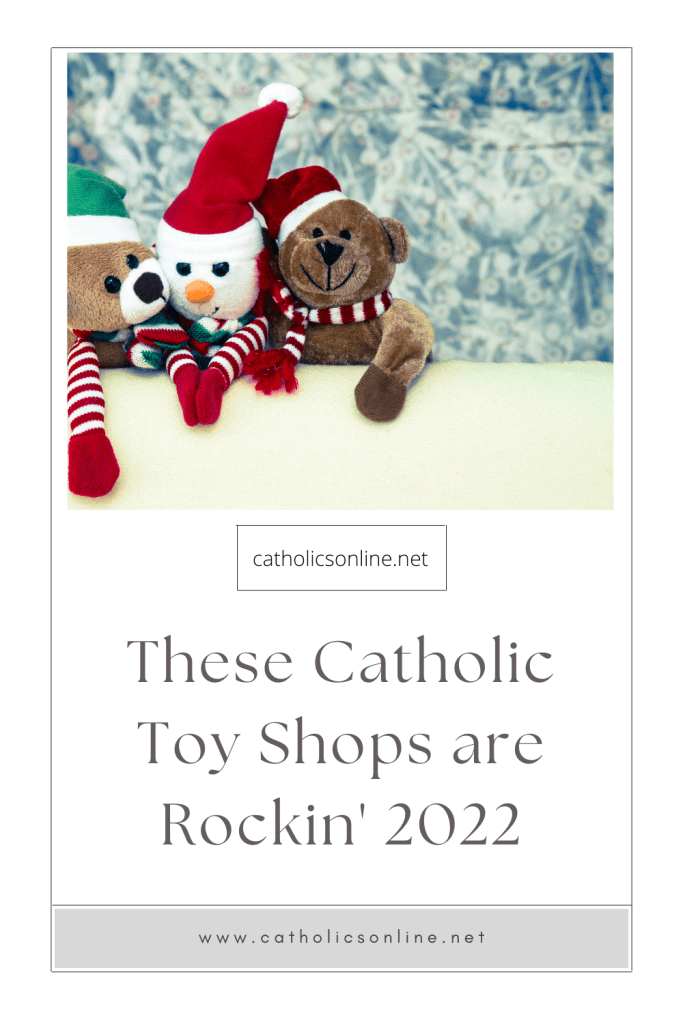 This post contains affiliate or associate links with several businesses (which means if you shop through the links, I earn a small commission). As an Amazon Associate I earn from qualifying purchases
These Catholic Toy Shops are bringing faith, fun and holy nostalgia to a heavenly level!!!
Toys and Christmas just go together!  I'm sure Jesus had toys when He was a child too – and maybe Saint Joseph even made a few!
These Catholic toys will enrich the whole family with genuine playing and authentic discussions.  Make sure you give a few to the little ones you love this Christmas!
Wooden Catholic Toys and Fun Saint Games
Saintly Heart has wooden toys, bath toys, learning games and more!
My 10 year old put the Nativity Play set on his wish list, and my 5 year old daughter loves her Our Lady of Guadalupe block toy.
One item that caught both my sons' attention was the Saint Florian bath toy set.
Saintly Heart makes Catholic, faith based toys in order to spread the faith through a hands on learning experience that focuses on the Holy Saints.  We highly recommend their products as gifts!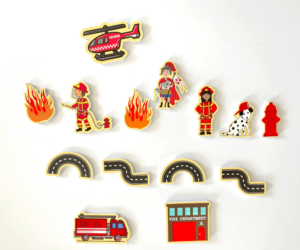 Catholic Dolls and Much More
Shining Light Dolls has toys that are safe for toddlers and fun for young children!  We love the plush dolls of Jesus, Mary, Saint Joseph, Saint Nicholas and more!  This shop keeps making more fun products that make fine motor practice fun and really bring the Gospel to life!  You've got to check out the Jesus walking on water stacker toy and the Saint George and the Dragon play set as well as the Jesus the Good Shepherd wooden playset!
And of course, make sure you grab a Nativity playset and some puzzles too!
Use coupon code PRAYERWINECHOCOLATE and get 10% off!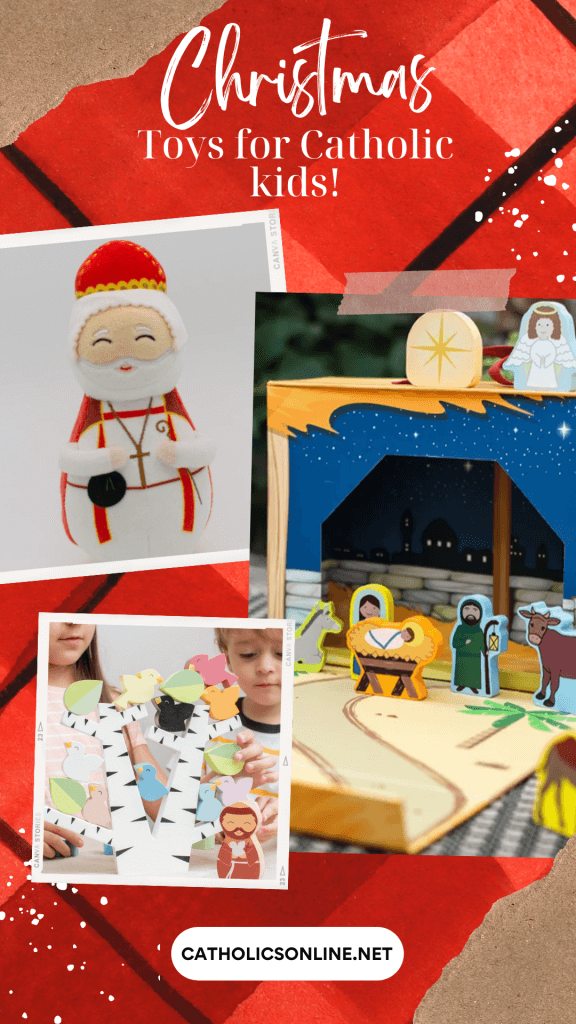 Learning Resources for Catholic Kids
Herald Entertainment – Brother Francis – Helping our children grow in Faith!
Herald Entertainment is a company dedicated to producing inspiring content for children! We have produced the hit series, " Brother Francis", "Catholic Heroes of the Faith", the animated trilogy "God with Us/ The Messengers/ To Every Nation", The Adventures of Carlos Caterpillar", as well as the recently released animated film "The Pilgrim's Progress". We are currently producing a series of motion-comics, animated catechism, and are also involved with several Catholic publications.
Brother Francis has DVD's, CD's, coloring books, games and more!  One new item is being done in collaboration with Saintly Heart!
Would you like more gift ideas for children?  We have a ton in our  2022 Christmas Catalog!!!
Fun Catholic Baby Gifts
Be A Heart – Modern Catholic Goods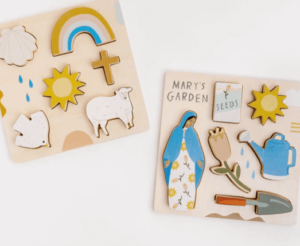 At Be A Heart, we believe in the constant cycle of life, death, and resurrection. We create products and content around living a spiritual connection in the midst of daily life. Our products can decorate your home, accessorize your outfits, help you celebrate liturgically, and snuggle your baby.
Be a Heart has come out with some new products this year that are perfect for "Baby's first Catholic Toys"!
Teethers, a play mat, dolls, chunky puzzles and more!  Definitely check them out if you are shopping for a toddler or young child!
Want to see more?
Download our Christmas catalog – over 50 pages of gift ideas!!!