Merry and Bright: These Catholic Christmas Gifts Totally Shine
This post contains affiliate or associate links with several businesses (which means if you shop through the links, I earn a small commission). As an Amazon Associate I earn from qualifying purchases.
These artisans are creating products with vibrant colors that POP!  I am loving the cheer these gifts will surely bring!
If you like pastel all year long – this gift guide is for you!
Catholic Prayer Boxes and Prints with Vibrant Bright Colors
Carla Quigley is an incredible artist.  The work she is producing is very different from many modern creators.  The colors are extraordinary!
Our favorites:
When you see this box let it inspire a habit. Take a moment to write down your prayers and blessings and put them in the box. As you close the lid let your mind rest. Let go of your worries and smile at His gifts. Then trust God to give you peace.
We also think you may like Carla Quigley's Natvity Story Ornaments
More about Carla Quigley (written by the artist):
Art is truly an expression of my spiritual life. It is a form of prayer for me and it pulls me closer to God. It is so humbling to me that sometimes another person might feel pulled closer to God when looking at a painting I've done. I feel like God is saying to me, "Well done my good and faithful servant."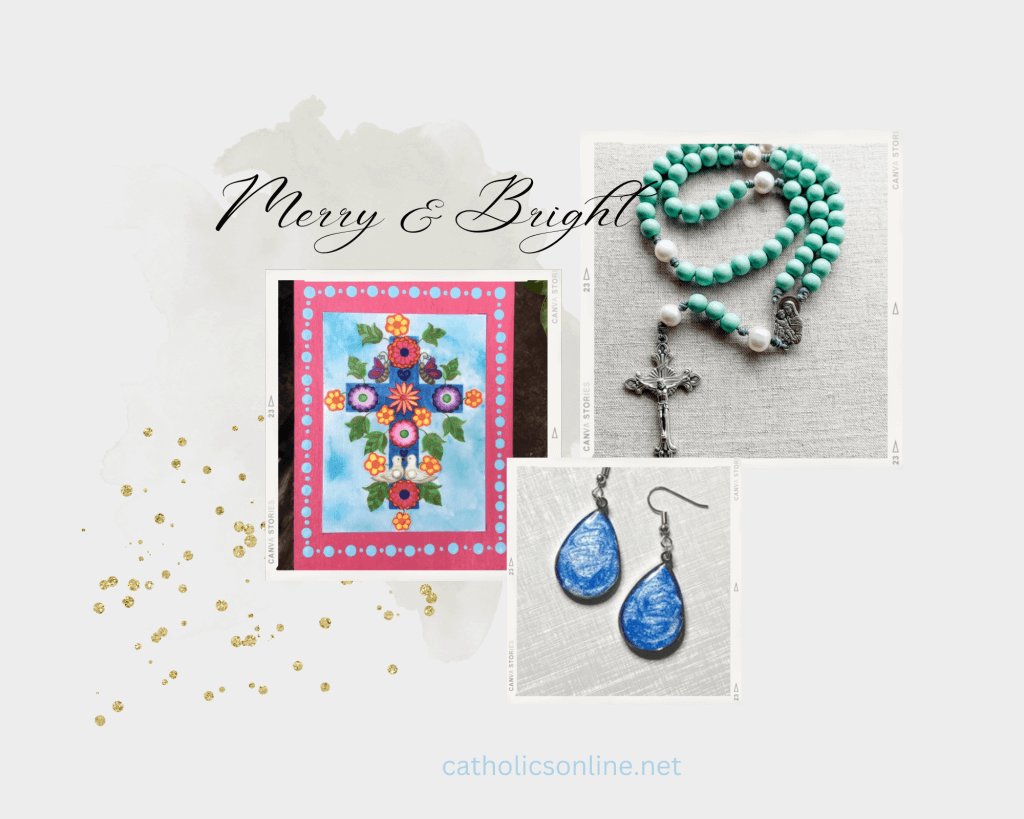 Catholic Jewelry that Dazzles and Delights
Not only are the products – especially the earrings – BRIGHT AND CHEERY – they dazzle!!!!
12th and Blossom* is currently selling Christmas tees, stationary, journals, mugs and more!!!!
Definitely check them out if you are looking for happy colors this season!
If you are looking for more ideas – make sure you download our 2022 Christmas Catalog!!!
*Also featured in The Best Christmas Gifts to Give this Year Gift Guide and Giveaway!
More about 12th and Blossom:
12th and Blossom – Inspired Art, Jewelry, Stationery, and Gifts (written by owner Mary Claire)
While the leap into a career as a full-time artist took a little time (I was 38 years old!), I've been an artist my entire life. Escaping an abusive first marriage realigned my priorities, including my faith. When my son was born on December 12th (Shout out to Our Lady of Guadalupe!), I began the journey to become the person I was meant to be…in other words: On the 12th day of the 12th month, I began to BLOSSOM. St. Irenaeus wrote, "The glory of God is man fully alive." I can't help but glorify God through my work, and I hope that my work helps others feel that same joy.
Refuge Rosaries makes gorgeous, one of kind Rosaries – and the newest addition, the Our Lady of Guadalupe Rosary – is a gorgeous shade of lavender!
Another bright and cheery option is the Dyed Aqua wood and Pearl Beads Rosary.
More about Refuge Rosaries (written by Jess Nayden):
Refuge Rosaries – Refuge Rosaries offers handmade, beautiful, durable Catholic rosaries made with wood and gemstone beads and micro cord.
I'm Jess Nayden and I'm the owner and creator of Refuge Rosaries. I started my business in 2020 at the prompting of the Holy Spirit. I live in Connecticut and work from home with my husband and two toddler sons. I've previously worked in youth ministry and as a high school Theology teacher.
Want more gift ideas?  Make sure you check out our free Christmas Catalog!