Adalee Hude/Brightly Hude Studio
Brightly Hude Studio Inc. –
Dedicated to praising God through the beauty of art.
Hi!  I'm Adalee- painter of the vivid sacred art found at Brightly Hude Studio.  I strive to inspire others to grow closer to Jesus and the saints through my works.  My favorite mediums are gouache and gold leaf.  I also work in acrylic and in digital design.
Brightly Hude Studio offers an array of art in our Sacred Art Shop: prayer cards, giclée prints, and durable stickers can all be found there.  New designs can often be seen in progress on Instagram, under @brightlyhude.
As time allows, I take on illustration and liturgical projects.  Our Sunday Visitor will be publishing two of my books this fall, "Light of Heaven: A Children's Book of Saints," and "Light of Heaven Saints Coloring Book."
Feel free to contact me if you have any project inquiries!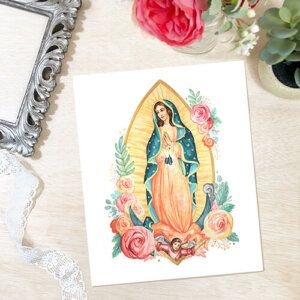 I'm looking for Catholic…