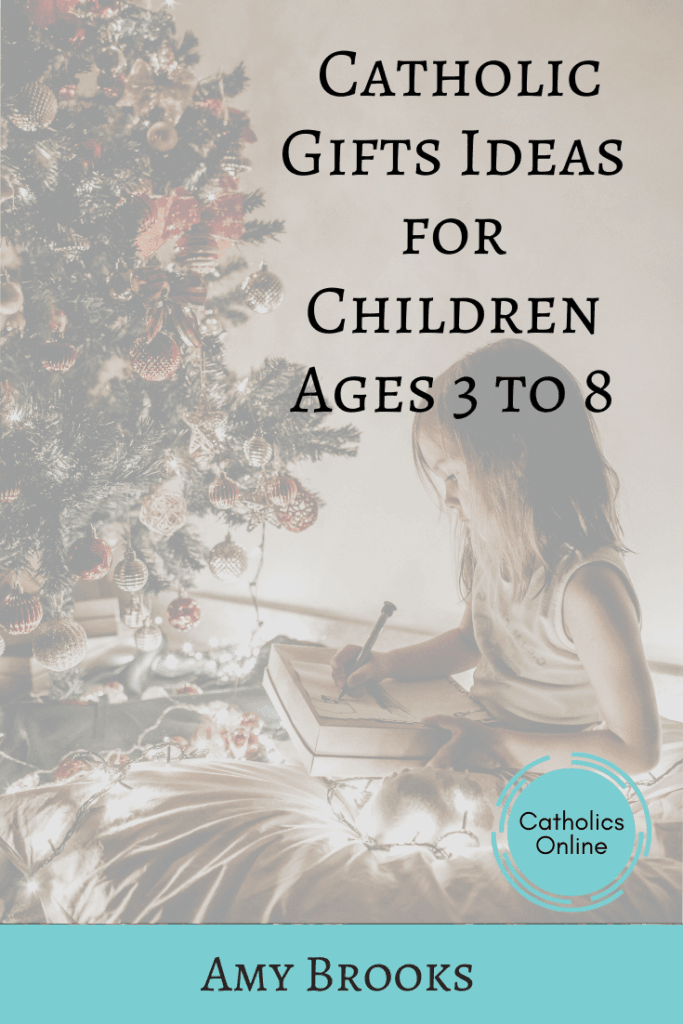 This post contains affiliate or associate links with several businesses (which means if you shop through the links, I earn a small commission). As an Amazon Associate we earn from qualifying purchases.
Whether you are a parent wanting more opportunities to pray with your child or a Godparent or Grandparent that wants to give a gift that nourishes the soul and pleases the child, we have some great ideas for you!
If you are looking for Stocking Stuffers, check out this post: 
37 Catholic Gifts That Actually Fit inside a Stocking

Here are Catholic Gift Ideas for Children Ages 3 to 8!
Catholic Dolls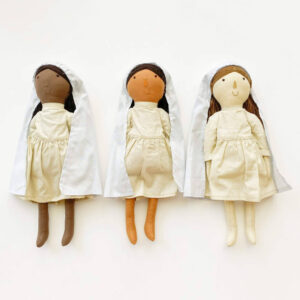 Mary continues to appear to us just as we are. Therefore, a Mary doll should look like the child who owns it. Our Lady of Guadalupe appeared as an Indigenous woman to Juan Diego. Our Lady of Aparecida appeared as a Black woman in Brazil. Our Lady of Fatima appeared as a Portuguese woman. Our Mary doll comes in three different skin tones – dark, medium, and light. Each child should see him or herself reflected in Mary's face, our loving Mother to all.

Mary is crafted from calico cotton with a polyester filling.
She has embroidered features and long, wool yarn hair.
Each Mary doll is dressed in the same outfit – a removable beige dress and Marian blue veil.
Natalie the Nativity Angel is a Christian alternative to the mischievous elf popular this time of year. It's a great way for kids learn to think of others and the true meaning of the season and prepare for the birth of Jesus.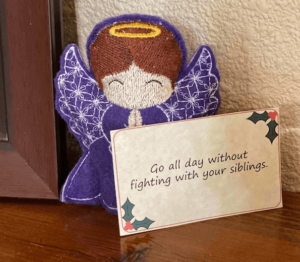 Natalie (meaning "birthday" or "Christmas") the Nativity Angel comes to visit during advent to help you prepare for the coming birth of Baby Jesus. Each night of advent hide Natalie in your home for your children to find next morning with a note with a Good Deed to do that day.

Natalie is approximately 4″ tall.
A Saint Nicholas Soft Saint Doll from Trendzilly
St Nicholas Handmade Soft Saint Doll is approximately 14″ tall made with soft fleece, making it perfect for your little ones to cuddle up with. Every part of this doll is cut out by hand and is embroidered with a sweet friendly face your child will love. A lot of detail went in to every part of this doll. Great for both Boys and Girls this is the perfect gift for St. Nicholas Day (December 6th) or Christmas. What better way to help little ones learn about the saints.
Adventure Bag and Adventure Log
The Catechism of the Catholic Church states: 
"God created everything for man,222 but man in turn was created to serve and love God and to offer all creation back to him".  Enjoying God's creation is a wonderful way to grow in love and appreciation for Our Lord!
Adventure Bags and Logs make it EASY to find adventure, everyday! Just grab you bag and off you go!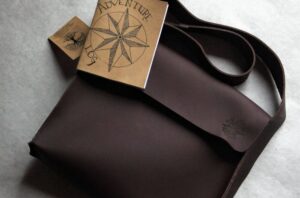 Future Saint Dry Erase Activity Cards
These reusable dry-erase activity cards are perfect to engage your little future saint at Mass or Adoration.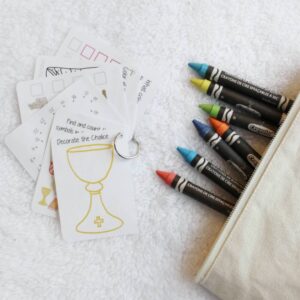 This shop, Annunciation Designs, has a TON of great options for your child!  From Saint Banners, to a subscription to letters from Saints to tee shirts and more!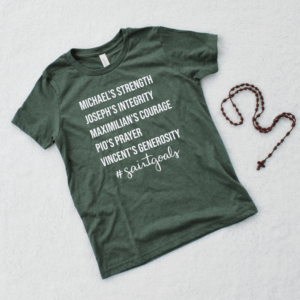 Hair Bows 4 Life makes Saint bows, Christmas bows, Sacrament bows and even bow ties!  Check them out to get your child's patron saint and a fun bow to wear for Christmas!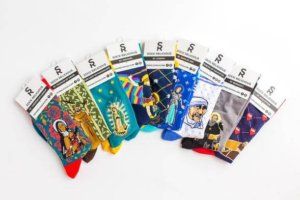 Kid's Socks from Sock Religious!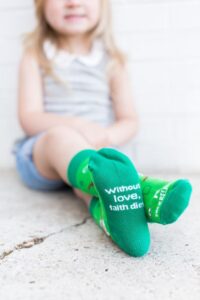 We love Saint Michael the archangel,  Saint Nicholas, Saint Benedict, Saint Joan of Arc, Saint Therese', and even a pair of Nativity socks!  There are more to choose from and seriously – who doesn't need a pair of matching socks!!???
My son is in 3rd grade and he is taking Latin at his school.  I think he will love these Latin phrase pencils!
I'm not sure if the Latin pencils are still available, but they do have a PRAY ON PAPER set available!
Use coupon code CATHOLICSSAVE and get 10% off!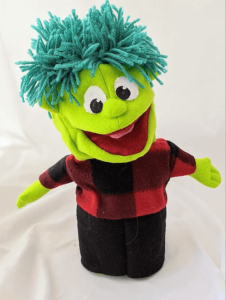 Is your child really loving puppets lately?  You can get videos of puppets teaching about our Catholic faith and you can also purchase puppets from this lovely ministry: Faith and Puppets!
Catholic Coloring Books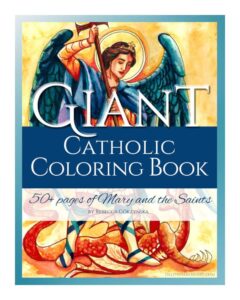 A Giant Catholic Coloring Book
50+ Catholic coloring pages for home and school. Instant digital download.  This is great to use all year long!
Brother Francis has a big selection of coloring books.  Choose from coloring books about the Saints, praying, the Rosary, Sacraments and even holy days, including the story of Saint Nicholas!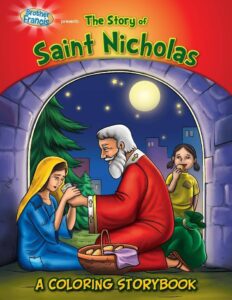 Catholic Family Crate Subscription
This is an awesome gift to give for the child or children in a family to receive all year long.  Great gift for a family!!!
Each crate has certain recurring elements such as: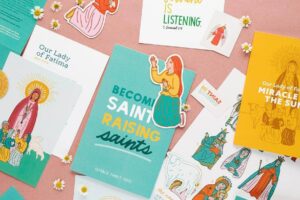 * TWO Collectible Feast Day Art Prints that highlight the Saints and include their incredible stories written right on the back!   
* A FREE Spotify playlist to infuse your home with faith-filled music.     
* A "Beautiful Words" print of a Traditional Catholic Prayer to help with focus and memorization.     
* TWO hands-on Feast Day Activities that require zero prep and effectively relate an important teaching to your kids.     
* A "Virtue Chat" table topper that prompts rich conversations and creates space to invite virtuous behavior in.     
* And a surprise catechesis element that changes every month!
In addition, we include an easy to follow guide that even your older kids could follow.
Get more gift ideas here: 2020 Catholic Stocking Stuffer Gift Guide
Catholic Books
I can assure you, as a mother of 3 year old twins – and an 8 year old, that books are great gifts.  And this year, especially!  Our library is open by appointment only!  And anyone with a child under 8 will tell you – we are sick of reading the same books to our little ones.
My children LOVE when I read to them.  I hide books that get requested over and over again so that I can have a break haha!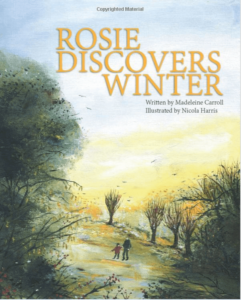 Here are some books to give as gifts this year!
Author Madeleine Carroll has several books we recommend!  Rosie Discovers Winter, 
The Donkey's Journey are all lovely!
The book Gifts is perfect for Christmas!  This book ships internationally!
God Made the Moonlight by Erin Broestl
In this lovely read-aloud for ages 3 to 5, children embark upon on a journey steeped in the magical wonder of the moon and its Creator. A young girl travels from the city to the country, describing phases and aspects of the moonlight with a heartfelt understanding of beauty. "God put it there for all to see, but especially because He loves me." Jean Schoonover- Egolf's watercolor illustrations delight on this journey of simple faith and family life.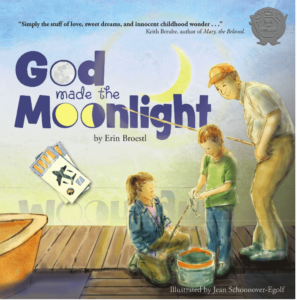 And this brand new book about Temperance is fun and so colorful!
Wendy loves to shop. She shops and shops and shops till her wardrobe is about to POP! The funky fashionista has to face it: she has too much stuff. Using her creative side, Wendy organizes a clothing drive, complete with fashion show, at her school. With the help of her friends, she learns to temper her penchant for the posh with the spirit of charity. Penned in a fun, rollicking rhyme, this tale of temperance will have even the youngest of Wendy fans quoting stanzas from Wacky Wardrobe. Debut author Maria Shappert writes in a captivating language that is a delight to ears of all ages. All editions are packed-to-the-brim with bright, colorful, hand-crafted illustrations by Ohio artist Jean Schoonover-Egolf.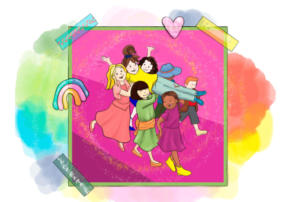 Looking for a younger child, toddler or newborn baby?  Check out this post: 
Sign up for ours newsletter and stay inspired all year long: Yes, I want to be inspired all year long!