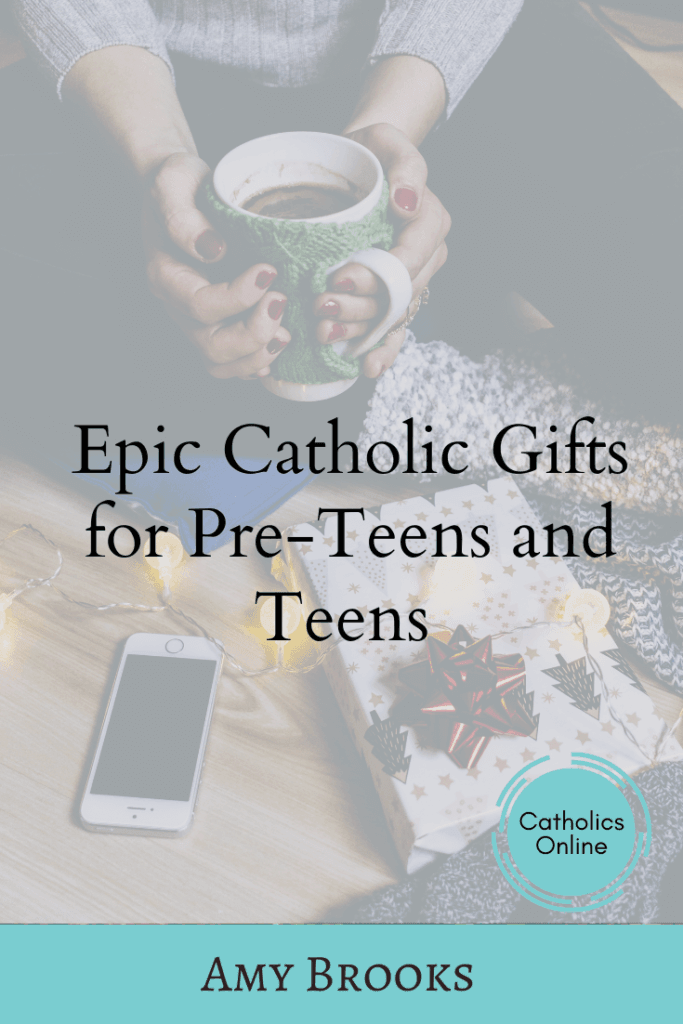 For the young Catholic, nourishing faith, prayer and life in the Sacraments is vital.
It is so important to continue to plant the seed of faith while the young person is discovering what makes him or her unique and what the world is trying to sell them.
Being rooted in the truth that God loves them, thirsts for them and created them with purpose is a great gift to give the young.  We want to help you present that gift of faith in ways that is relevant to today's pre-teen and teen.
Gift Giving Pro-Tip: Don't just give one item.  Combine your Catholic gift with something more relevant to their wish list.  For example, my 11 year old Godson will be getting a Be Yourself Journal, Saint Patrick Socks and a Video Game (or gamer gift card).
Here are some gift ideas that will help nourish faith in Catholic teens and tweens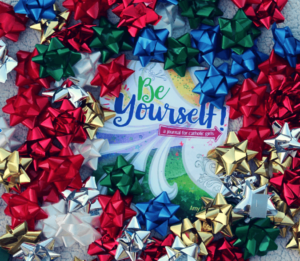 Be Yourself: A Journal for Catholic Girls has been ranked in the top 50 of Amazon in the categories of Children's Journal Writing; Children's Inspirational Books and Children's Inspirational Books consistently throughout 2020.
This journal has been highly recommended by Leah Darrow, Kristin Reilly (One Hail Mary at a Time) and Abby Johnson.  If you have a 10 through 14 year old to shop for – this gift, paired with Catholic stickers and gel pens is sure to delight!
The Journal was so popular, many people asked "where is the Boy's Journal".  So this year, I am happy to announce, Be Yourself: A Journal for Catholic Boys is available!
The Boy's Journal is great for boys ages 9 to 14!
Sara Estabrooks, author and blogger at To Jesus, Sincerely says this about the new boy's journal: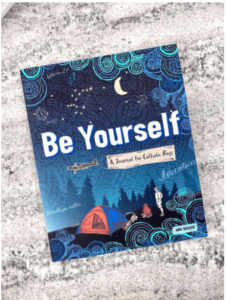 "I was really hesitant at the idea of a journal… for boys.
Boys don't like to "journal," right? But I gave it a try – because it's Catholic, and it looked super cool! When it arrived in the mail, my 9 year old was – to my surprise – super excited!! He tore open the package and actually hugged the book.
It's not just a traditional journal… it's full of games, puzzles, and activities. There's plenty to read, and some journaling prompts, too. There are a ton of totally boy topics – like superheroes and adventures, and camping, and fighting spiritual battles.
My son really loves this journal, to my surprise and delight! He packs it in his adoration bag when we go. I would definitely recommend it for your pre-teen or teen!"
I would pair this with a basketball, some Catholic pencils and the Adoration bundle by Someday Saints.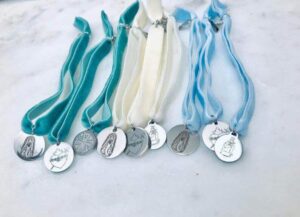 Mary With You has a variety of bracelets for both boys and girls!  Some of them are water proof, so they are perfect for the avid swimmer.
The small business describes it's goal here:
Mary with You wants to help you in every moment throughout the day, that there is an opportunity get you closer to the goal of 'being a saint' when following the example of our Mother Mary, caring and helping us imitating the actions of Jesus.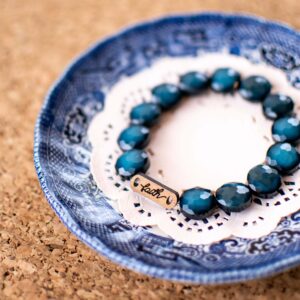 Jewelry, Stationary, Tattoos and more from Pink Salt Riot
Our favorites include: Temporary Tattoos (gold)
and the Created for Love Temporary Tattoo set*
The Sticker Squad Subscription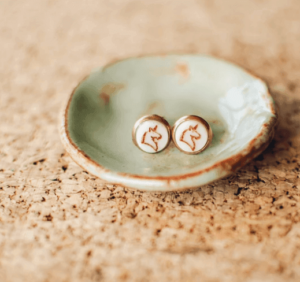 If you are shopping PINK SALT RIOT – use COUPON CODE CATHOLICSSAVE and get 10% off your order!
Really, we could go on and on.  This company is the ideal shop if you are looking to get a gift for a teen!
Want to see more temporary tattoos?  Check out Just Love Prints Tattoo Collection!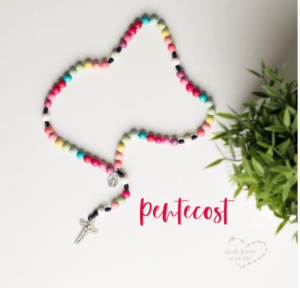 Tee Shirts
Nerdy Catholic Tees has a ton of fun t-shirts!
For the Catholic teen who likes superheroes: Saint Patrick The Original Green Lantern Tee is great!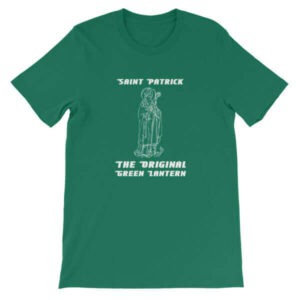 A Gift from Voyage Comics & Publishing – Catholic Stories that Entertain!
Tired of boring, faith-based entertainment?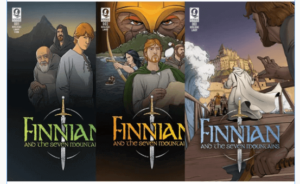 At Voyage Comics & Publishing, we create quality products that entertain, inspire and highlight the beauty of the Catholic faith.
We understand how many Christian comics and media offers sub-par products that don't appeal to a wide audience.
That's why we created Voyage Comics & Publishing.
We aim to provide amazing stories, rooted firmly in the Catholic faith, that anyone can pick-up and enjoy.
Got a Catholic Kid who love STAR WARS?  Get them a THIS IS THE WAY T-SHIRT!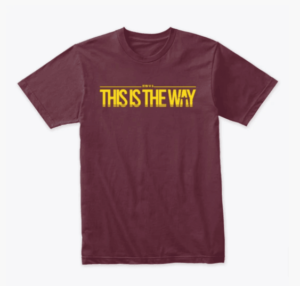 A Saint Medal from Sagely Sparrow
Sagely Sparrow connects faith and fashion with jewelry and gifts inspired by the lives and lessons of the Saints. Owner, designer, and creator, Lisa Quinn, seeks to inspire future saints to strive for holiness through wearable daily reminders of saintly virtues.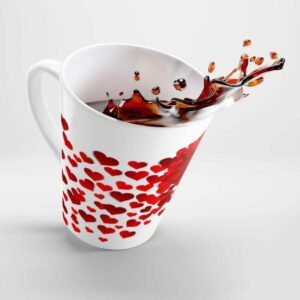 A Hearts Latte Mug from Uplift by Lily
and add some Chocolate Hearts from Trappistine Quality Candy!
Not only will you be supporting a Catholic small business owner, but a whole community of cloistered Catholic nuns too!
This might make a great teacher's gift too!
Catholic Stickers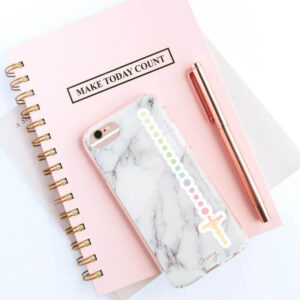 The following shops sell the coolest Catholic stickers!
We love the Planner Stickers by Sweet Little Ones!
Kimberly's Design Studio even has holographic stickers!
Just Love Prints sells stickers and we love their "pick-me-up bundle"!!!
You can purchase stickers individually from Someday Saints, in bundles, or get the
Prayer Book and Sticker Gift Set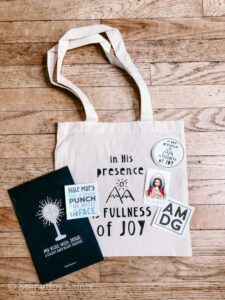 The ultimate gift set for children ages 7 and up! Tote bag, prayer journal with guided reflections on the Psalms, stickers, and a holy card. Consider gifting it all to one child, or dividing up the items among your children based on age and interest.
A Mosaic Sacred Heart iPhone Case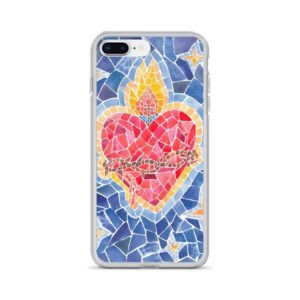 Is your pre-teen or teen finally getting a phone?  Give them this beautiful and unique watercolor Mosaic Case so they can take the Sacred Heart of Jesus with them everywhere!t
This sleek iPhone case protects your phone from scratches, dust, oil, and dirt. It has a solid back and flexible sides that make it easy to take on and off, with precisely aligned port openings.
Adeodata Design also sells Marian Face Masks and Gaiters.
TO HEAR HIS VOICE: A Mass Journal for Catholic Kids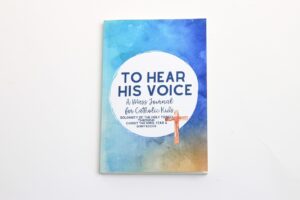 In our parish, the missals have been away since the Pandemic.  I plan on purchasing this for my 8 year old son – and maybe one for me too.  It can really help to be able to see the readings and to read them ahead of time.  I love how this gives kids and teens the space to reflect and walk away from Mass feeling like they got a bit of wisdom or inspiration from the Liturgy of the Word.
This Mass journal is for children ages 8 and up.
Designed with a variety of learning styles and social/emotional needs in mind, To Hear His Voice provides space for every child to encounter and live out the Word of God. Weekly entries include:
each Sunday's readings
space to draw, journal, or take notes
discussion questions to help you delve into the meaning of the Scriptures
writing prompts to help you and your family apply Church teaching
prayers and suggestions for evangelization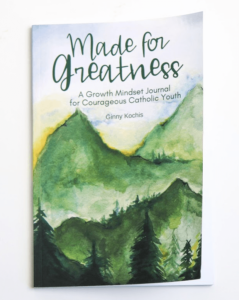 Made for Greatness is a hard copy growth mindset journal unlike any you've ever seen. Through a study of the Cardinal and Theological virtues, the Works of Mercy, Scripture passages, and the lives of the Saints, your child will build a brain capable of facing any battle life throws at it – not because of his own power, but because he is rooted in Christ and His church.
A Hoodie from Totally Catholic Tees

TOTALLY CATHOLIC TEES has been in the t-shirt business for over 20 years. We are family-owned and operated and are committed to providing quality Catholic tees for everyone to wear and share in The New Evangelization.
Is your teen learning to drive or does he or she drive a car?  Get them an auto rosary from Gifts by Beth!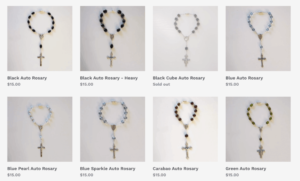 Auto rosaries are typically one-decade rosaries with a clip that can be easily and conveniently displayed in the car, primarily designed for hanging behind the rear view mirror.
Give the teen you are shopping for a Novena Sock Club Membership!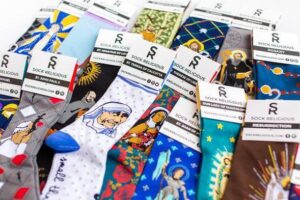 Want more ideas?  Check out our Stocking Stuffer Post!