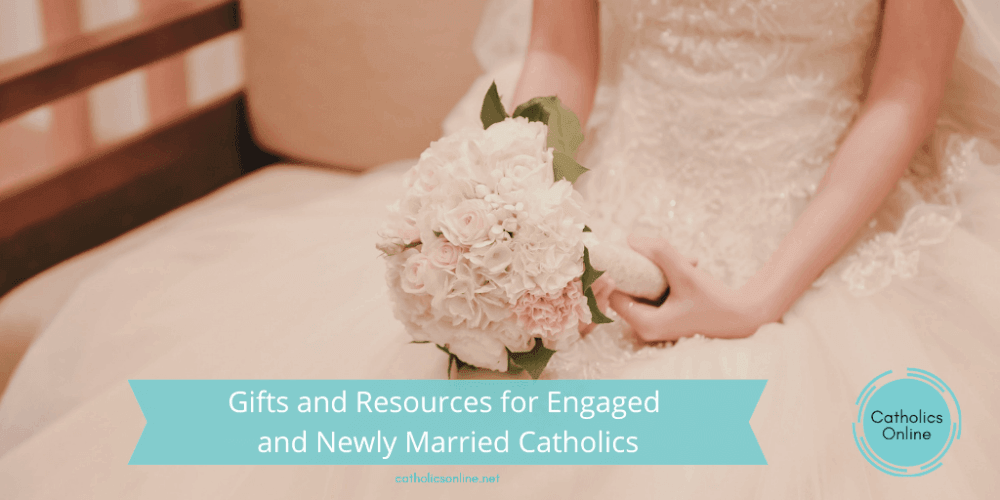 This post contains affiliate or associate links with several businesses (which means if you shop through the links, I earn a small commission). As an Amazon Associate we earn from qualifying purchases.
Know someone who just got engaged?  Did you just get engaged?  Either way, we have some incredible resources and gift ideas for you!
Whether you are just in the "picking up a bridal magazine" stage or the wedding date is just around the corner – we want to make sure you know about these Catholic Wedding ideas!
This guide is also for the friend or family member who wants to add a Catholic touch to a wedding or shower gift!
"The intimate community of life and love which constitutes the married state has been established by the Creator and endowed by him with its own proper laws. . . . God himself is the author of marriage."87 The vocation to marriage is written in the very nature of man and woman as they came from the hand of the Creator. Marriage is not a purely human institution despite the many variations it may have undergone through the centuries in different cultures, social structures, and spiritual attitudes. These differences should not cause us to forget its common and permanent characteristics. Although the dignity of this institution is not transparent everywhere with the same clarity,88 some sense of the greatness of the matrimonial union exists in all cultures. "The well-being of the individual person and of both human and Christian society is closely bound up with the healthy state of conjugal and family life."89 (Catechism of the Catholic Church, 1603)
Continue reading "Gifts and Resources for Engaged and Newly Married Catholics" →